Jan 8, 2017
Duke's Drive: 2016 FIAT 500C ABARTH Review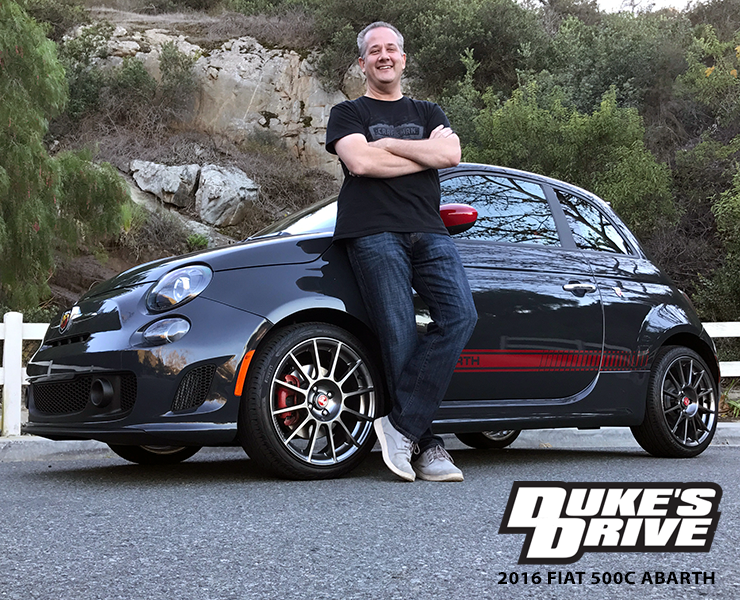 Duke's Drive is all about my experiences with driving new vehicles. It truly is a privilege to be able to drive a brand new vehicle for a week and share my thoughts with you. It is a responsibility that I don't take lightly, or for granted. I know the pains of wanting to test-drive a vehicle you're interested in buying, and it's not an enjoyable experience. These are the stories of my experiences.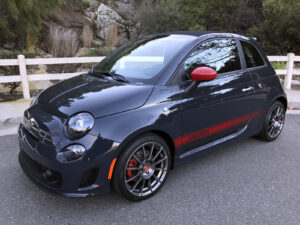 I'll be honest, I've been looking forward to trying out FIAT's most aggressive 500 for a while. I've driven 500's before, but based on everything I've read and heard, the ABARTH is supposed to be from an entirely different planet. While I fully believed it to be quicker than an everyday 500, for someone who is no stranger to seriously powerful muscle cars, I had my expectations set accordingly. Does this furious mouse live up to the lofty praise it has received? Only one way to find out…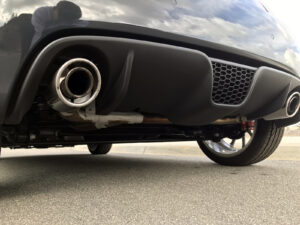 First things first: THAT. EXHAUST. Hand on heart, it's way, way beyond belief. I've driven muscle cars with power figures closing in on four digits, and even still, this 1.4L turbo four makes a sound I couldn't hear often enough. It just sounds so untamed, constantly popping, cracking and snarling anytime you get near the throttle. Sitting at a standstill, the burble is beautifully aggressive. For a direct comparison, it has the same kind of ferocity as the infamously loud Jag F-Type, just minus four cylinders. Cannot give enough praise to whoever found a way to make a 1.4L sound this intoxicating. Watch the video, below.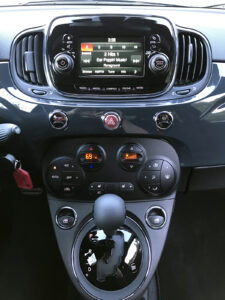 Before setting off, drop the ABARTH in sport mode and leave it there. The instrument panel changes completely, showing checkered flags, g-forces and shift points. The suspension tightens down, too, and the engine goes into its angriest setting. Rack up the RPMs and it'll backfire away (for me, most often from 1st to 2nd and then from 2nd to 3rd). It's a symphony of notes that don't sound socially acceptable at all, tailor-made for a sports car that embraces bad behavior. On narrow, constantly twisting backroads, I'm hard pressed to think of a car more fun or made for the job. It's just an absolute riot, and never allows smiles to disappear.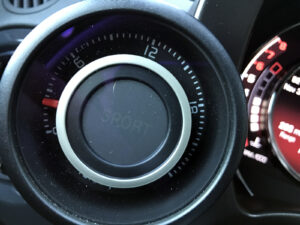 Complimenting the feisty performance is an equally well-designed interior. One of the first things you notice is the dedicated boost gauge mounted on the left side of the instrument panel. Easily the biggest I've seen from an OEM and further emphasizes that this tiny coupe wants to get going. Now. The seats are a touch small (no surprise there – it is a FIAT 500) but comfortable, along with sharp red stitching and the phenomenal flat-bottom steering wheel. Easily one of the best wheels I've come across, well weighted with all of the controls you want and nothing you don't. In case, for reasons passing understanding, you should tire of the exhaust note, the Beats audio system is capable of performing minor miracles. How a car this small can make HUGE sound I'll never know. Crank it up and you'll find deep bass, crisp treble and quality balance regardless of music selection.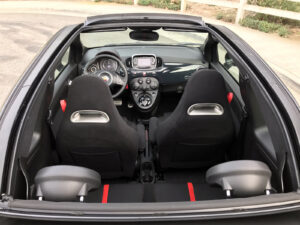 Interestingly, the 5ooC ABATH I had on test was a convertible. Generally, small cars + convertible tops do not get along. It's a combination made for lots of road noise and turbulence. Yet, once again, the 500 somehow defies the laws of physics and circumvents the problem. Top up or down, road and wind noise is minimized, but you still have the 'wind in your hair' open-top sensation. Pretty remarkable engineering to pull off that mix, particularly in such a confined chassis. Operating the top is about as simple as can be, with the open/close buttons near the top of the windshield (can be opened/closed while driving).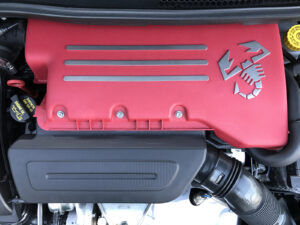 Moving to the exterior, let's not mess about: this is a seriously good looking little car. Scorpion and ABARTH logos are everywhere (including the engine cover), but in typical Italian fashion, they're beautifully laid out and not overdone. The red brake calipers are a nice touch, too. If I was going to order a 500 ABARTH, this is likely the same color scheme I'd spec. The dark gray paint contrasts perfectly with the red accents, resulting in a genuine head-turner.
Duke's Mods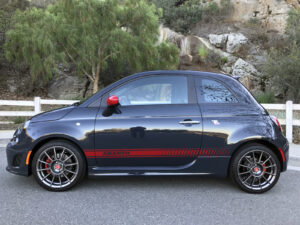 As it sits, the 500 ABARTH has a nice stance, but I'd probably still go for mild lowering springs or coilovers. Bringing this little FIAT just a touch closer to the ground is all it would take to eliminate the wheel gap, making an already angry car look that much more purposeful. I might also look into blacking out some of the chrome elements on the exterior. Since the rest of the car has such a sharp gray/black/red color scheme going on, extending that to some of the shinier chrome badging on the outside could have quite an effect.
Summary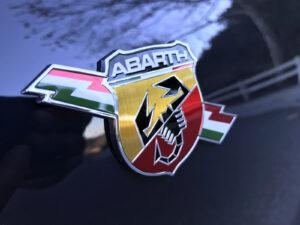 Sure, there are a few complaints. The horn sucks, the thimble used for a fuel tank empties quickly, and you get cut off by larger vehicles (mostly because it's such a small car they don't know you're there). These really minor "issues" aside, FIAT has very nearly made a perfect compact car. It's surprisingly quick, looks gorgeous, is hellfire-and-brimstone loud, and about as much fun as a car can be on narrow, snaking backroads. If you want a FIAT 500, there's only one option: it absolutely must be the ABARTH. Yes, $32,815 for my tester is a bit steep, but take off a few options you can live without, and you'll be much closer to the base price of $26,695. Which, for a FIAT 500 that is convinced it's actually a Ferrari, is about as solid a bargain as you're likely to find.
Please follow me on Twitter, Facebook, and Instagram, and read my other car reviews at dukesdrive.com.
On The Radio
I'm also a co-host on the syndicated radio car show "The Drive", hosted by my Motorz co-host, Alan Taylor. Here's what we said about the 2016 FIAT 500C ABARTH on the air, December 17, 2016!
Video
Photos
Summary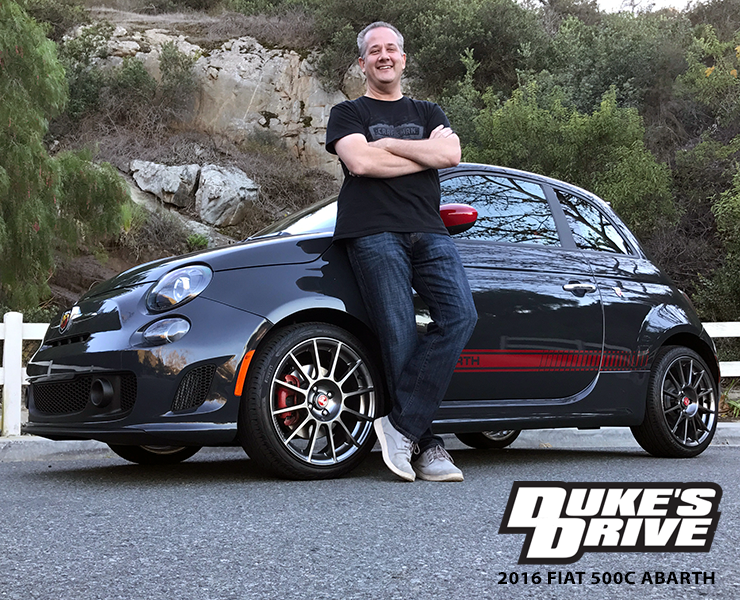 Duke's Drive: 2016 FIAT 500C ABARTH
Description
If you want a FIAT 500, there's only one option: it absolutely must be the ABARTH. Why? Read my review and find out!
Chris Duke
No Replies to "Duke's Drive: 2016 FIAT 500C ABARTH Review"
---