Jul 7, 2017
Duke's Drive: 2017 Chevrolet Camaro 2LT Coupe Review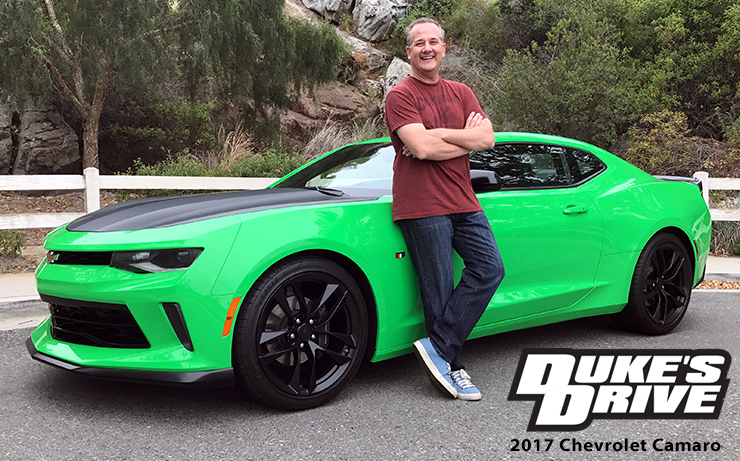 Duke's Drive is all about my experiences with driving new vehicles. It truly is a privilege to be able to drive a brand new vehicle for a week and share my thoughts with you. It is a responsibility that I don't take lightly, or for granted. I know the pains of wanting to test-drive a vehicle you're interested in buying, and it's not an enjoyable experience. These are the stories of my experiences.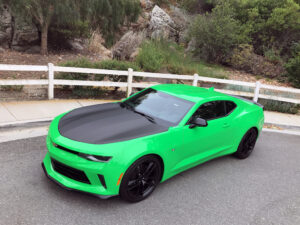 Just look at it. Whether you love the bow tie or its arch-nemesis, you have to admit: this is a seriously good looking car. This is the 2017 Chevrolet Camaro 2LT Coupe. However, there are a few potential wrinkles in what looks to be hugely promising. First, this is the V6, not the V8. And second, given that a new Mustang just dropped, does this incredibly green Chevy have what it takes to keep pace? I grabbed the keys to find out!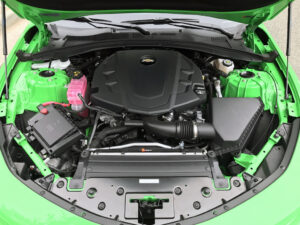 Before getting to anything else, let's address the large grey object in the room: yes, this is the V6 spec. In muscle car history, that hasn't always been the last word in performance. Clearly something no one told the Camaro performance team, because this 3.6L V6 is cranking out 335 hp and scampers from 0-60 in 5.2 seconds. Not exactly slow. That's partially thanks to GM doing a solid job of keeping the curb weight in check, with the 2LT coming in at a very reasonable 3,354 lbs. (for the four banger… add a few additional pounds for the V6).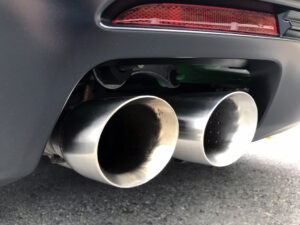 With the hammer down, the exhaust has a surprisingly nice tone. It's one of those "if this is how good the V6 sounds, what must the V8 sound like?" Better yet, the manual gearbox is an absolute joy. As far as I'm concerned, it plays a big part in making the 2LT such an engaging driver's car, especially with so much power on tap. Yes, you can get an auto, but trust me, if you can live with it, the manual is absolutely the way to go.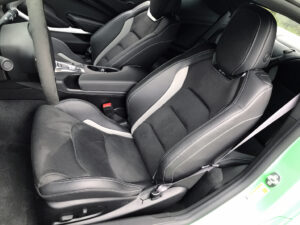 Beyond the powertrain, a host of other options help to further this Camaro's credentials. You'll absolutely want to check the box for the Recaro seats ($1,195), which strike a near perfect balance of support and comfort. I'd also spring for the Convenience and Lighting Package ($2,800). The heads-up display included in that pack is worth the price of admission alone. I also got a kick out of the suede steering wheel and shift knob (but wonder how they would look after a few years of daily use). The massive Brembo front brakes are included as part of the 1LE Track Performance Package (which is worth every penny of the $4,500 price tag and then some).
As for infotainment, Chevy has one of the best systems on the market. The MyLink Bose audio system with 8″ display is extremely easy to use, and offers both Apple CarPlay and Android Auto. Certainly not the norm, but a remarkably welcome combination. WiFi is built in as well, thought it carries a monthly cost: $10 for 1GB, $20 for 4GB and $40 for 10GB. Entirely up to you on whether the capability is worth the premium.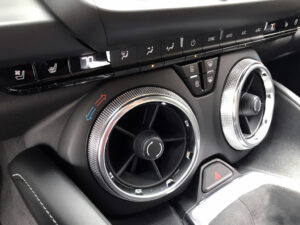 Other standout interior design elements include sleek HVAC design: simply turn the ring around the air vents to change temperature. Very nice touch. Plus, all air-con/heating buttons are lined up in one row below the touchscreen. I'm a huge fan of clean interior design, and this is a great example of getting it right. At night, get ready for a truly impressive light show. There are LED lights everywhere, controllable through the touchscreen, and virtually any color is up for grabs. It's a feature Chevy probably could have skipped, but I'm very glad they didn't.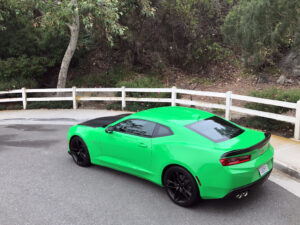 Now. With all of that out of the way, let's get to this Camaro's exterior. Krypton Green ($395 option) is one of those colors you either love or hate. Frankly, I'm not sure how you could hate it, because in person it's staggeringly good looking. Trust me when I say photos will never begin to do it justice. Combined with black 20″ aluminum wheels, and satin black blade spoiler, front splitter and hood wrap, this isn't just another muscle car. It's a statement. For some, it could be a little loud. Personally, I think it beautifully matches the character of the car and makes the crisp lines that much more potent. You could drive a very, very long way and not come across a muscle car this visually arresting.
Side note: beyond adding some (likely necessary) contrast to all of the green, I can't help but think the matte hood wrap also cuts down on a huge amount of glare. Nice win-win.
Duke's Mods
With just about every box ticked, this Camaro isn't exactly lacking. Both the exterior and interior are spot on, so I'd focus any modifications on the powertrain. First up, a properly aggressive exhaust system. The current exhaust does sound surprisingly good, but there's potential for a more classic muscle car soundtrack. While you're at it, consider throwing in a high-quality cold air intake. Combined, the V6 will breathe and perform even better.
Summary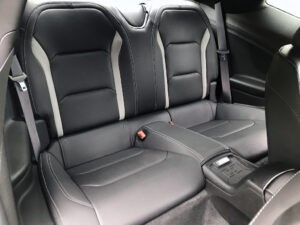 I started this review with two questions: is the V6 up to the task, and can this Camaro keep up with an all-new Mustang? Absolutely. As with all muscle cars there are some compromises: the back seat is laughably small, gas mileage is 'eh' (16 city, 28 highway) and why the wireless charging station is essentially in the back seat is beyond me. Those areas aside, it's hard to find a more attractive, comprehensive and capable offering than the 2017 Camaro 2LT.
As far as pricing is concerned, my tester started life with a $30,405 base. Then another $12k in options drove the sticker up to $43,085, which seems right around the going rate for a well-spec'd muscle car. The only thing to consider: what would you rather have, a loaded and track-ready V6 2LT, or base V8 SS? Now that's a question for the ages.
Please follow me on Instagram, Facebook, and Twitter, and read my other car reviews at dukesdrive.com.
On The Radio
I'm also a co-host on the syndicated radio car show "The Drive", hosted by my Motorz co-host, Alan Taylor. Here's what we said about the 2017 Chevy Camaro on the air, July 1, 2017. Start listening at 7:00 into broadcast.
Videos
Photos
No Replies to "Duke's Drive: 2017 Chevrolet Camaro 2LT Coupe Review"
---