Jan 26, 2015
Duke's Drive: 2015 Dodge Challenger Scat Pack Review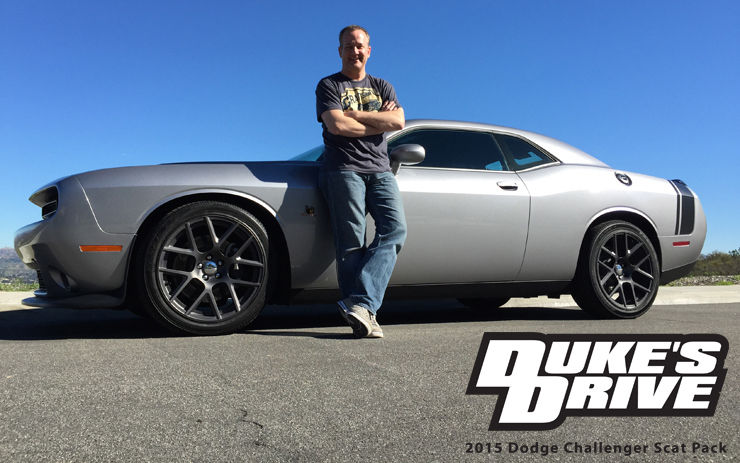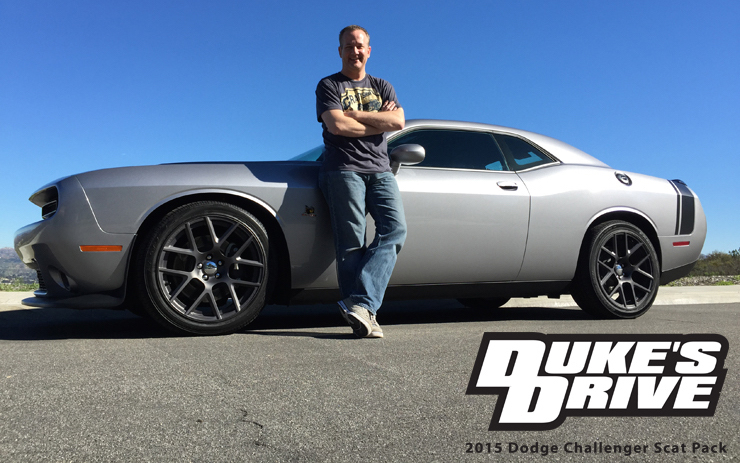 Welcome to "Duke's Drive", my new article series documenting my experiences with the latest vehicles available. My first one happens to be an incredible one, too. It's a 2015 Dodge Challenger R/T Scat Pack. When it comes to muscle cars, this one ranks right up there at the top with its HEMI V8 6.4L engine, capable of delivering 485 HP and 475 ft-lbs of torque, and the sound—oh the sound! But much more on that later.
I want to preface my first article by stating I'm not setting out to reproduce what is already being done by other journalists with their formal test drive reviews. For that, please check out Car and Driver. What I want to bring you is more informal. I don't even have it copy edited. These are my thoughts and experiences from my unique perspective as an automotive improvement expert and family guy with two kids. I will give you some key vehicle specs, but that's where I will usually stop. I will share with you the things that surprised me. I will give you the unique perspective from others in my life that are able to share in my experience. Most of all, I just want to have fun writing about cars, and I want you to have fun reading what I have to say.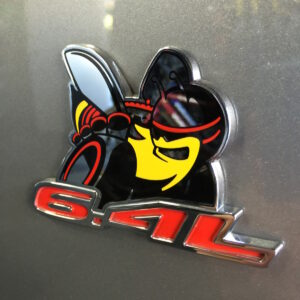 The first question I had about the Challenger Scat Pack (MSRP $59,995) when I learned I would get to drive it for a week wasn't the specs or anything specific to the car and its features. It was the unusual name of it. What's a scat pack anyway? I admit my history of MOPAR is a bit lacking, and that is changing quickly thanks to Dodge loaning me this vehicle. A quick Google search gave me the answer, though. I learned that the term "Scat Pack" was introduced in 1968 to refer to Dodge vehicles known for their performance. This included the Charger R/T, Coronet R/T, Coronet Super Bee, Dart GTS and Dart Swinger 340, and were easy to spot with their twin racing strips and scat pack decals.
Fast forward to 2015 and Dodge has brought the term back with this upgraded R/T version of the Challenger. This model sits right between the R/T and the 707 HP Challenger Hellcat which is a beast I hope to get my hands on at some point in the future. It's the same 6.4L engine I have in this vehicle, but supercharged along with a bunch of other key upgrades to deserve the title of the fastest production muscle car in history. Nice job, Dodge!
With my brief history lesson out of the way, Dodge dropped off this incredible ride at the Motorz studio, detailed with a full tank of premium gas, and all ready to go. I jumped in the Challenger and hit the road from San Diego to Scottsdale, Arizona to check out the Barrett-Jackson collector car auction and film an episode of Motorz with my co-host, Alan Taylor. There were a lot of firsts for me on this trip. The first time I've ever been to Arizona, Barrett-Jackson, and able to experience such a drive in a brand new Dodge Challenger. Throughout the course of my 1,000 mile trip to Arizona and back, I would giggle, smile, and be amazed at what this vehicle was capable of.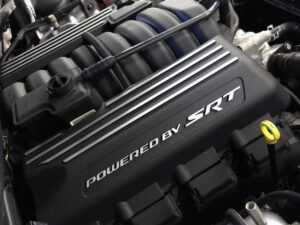 I knew that the 485 HP HEMI 6.4L V8 engine had a lot of power before I even got inside the vehicle. What was even more clear to me right away was the amount of low end torque it had. That 475 ft-lbs of torque was felt from the first tap of the gas pedal as I took off for my trip. I quickly found out how much power this vehicle has… endless amounts. So much it doesn't even know what to do with it! Whether you're starting off from a full stop or cruising along on the freeway at 80, there's always more power (Argh, argh, argh!) to go around. It was downright impressive, and surprising to me that even while cruising along at 80, giving the gas pedal a firm tap I'd find myself going over 100 in a couple of seconds. Yes, every time I stepped on the pedal I grinned, but at first I was giggling like a little boy falling in love for the first time. I quickly fell in love with all the horsepower this Challenger had to offer, but what's more to love? I found out a lot, as my drive to Arizona and my giggles and grinning continued.
My world is the aftermarket. For the past 7 years I've been showing viewers how to modify their vehicles through my show, Motorz. Over the past few years I've even shown viewers how to install superchargers, nitrous oxide, programmers, and other ways to take a stock vehicle and achieve more performance and horsepower. I get a stock vehicle, then I get the parts to make it better. The entire process is documented through my show, step by step. Getting a vehicle from the manufacturer with everything already there is a new experience for me. I call this vehicle "done". It's done inside. It's done outside. It's done up from the manufacturer already. And when I look at a vehicle and can't find any ways to improve it, it receives my official "done" award. Dodge did this vehicle RIGHT. It's DONE. Just buy it, drive it, and enjoy it. Sure, there's always things you can do to improve any vehicle further, but it's tough with this one. It's like Dodge went to a few thousand Challenger enthusiasts and asked them how they would modify it, and took all that feedback and made the Scat Pack. Da-done.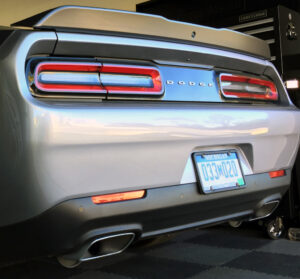 From the Brembo brakes to the optional and functional shaker hood, to the LED halo headlights, comfy race-inspired seats and Alpine/Uconnect stereo system with an 8.4″ touchscreen display, it's a car enthusiast's dream. The vehicle is stunning inside and out, but there's one typical aftermarket upgrade that this ride has which surprised the bejeebers out of me. The sweet sound of the exhaust. Oh… this exhaust… I could spend the rest of my article talking about it. It's so dialed in, it makes me smile and giggle every time I hear it from the moment the engine fires up, idles, or you step on the pedal. I won't spend the rest of this article doing so, but I will dedicate two paragraphs to it because outside of the power, to me the Scat Pack is all about its incredible sound that makes you never want to turn the stereo on. It's so much better than anything I could find on the Alpine/Uconnect stereo system's wide range of SiriusXM channels.
My experiences with installing aftermarket exhausts on vehicles is that they improve sound, looks, and increase horsepower. I've yet to encounter one that does not. It's one of the most frequently upgraded parts of a vehicle, and there has yet to be a vehicle that's gone through my shop without installing an aftermarket exhaust on it. Usually exhaust systems that come from the manufacturer need to be upgraded… and that's why so many aftermarket exhaust companies exist. What surprised me about the Scat Pack wasn't that it had an upgraded exhaust system from Dodge. It was how dialed-in it was. They didn't just go to Bassani and add on something that sounded better than the crappy stock pipes OEMs usually slap on to get the job done and pass emissions. This was engineered to be perfect for this vehicle's personality, and what this engine delivered.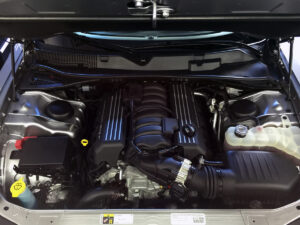 It is absolutely breathtaking how good it sounds, and it just brings a smile to my face to hear it. You have the sound of the roar of the engine, followed by an incredible crackle as it lets off. It is sweet music to my ears, and I frequently found myself not wanting to listen to the stereo (something I love to do while I drive), just so I could hear the engine and the exhaust. Another challenge for an exhaust is MDS (multi-displacement system engines) where they turn off 4 of the 8 cylinders to increase MPG. I have experienced this with a Chrysler 300C and an aftermarket exhaust that wasn't properly tuned for MDS. It sounded great, until it switched off 4 cylinders… then the exhaust drone inside the car was unbearable. Dodge, of course, dialed this in so it isn't a problem with the Scat Pack. And yes, I lied. I devoted 3 paragraphs to the exhaust. But now you know I'm serious :)
There are two ways to experience an unfamiliar vehicle. One way is to study up, read the owner's manual, and then give it a go. The other way is to just get in, fire it up, and let nature take its course. The vehicle will either be self-explanatory, or not. It's a true test of a vehicle to do the latter, and since I was short on time after wrapping up a new episode of Motorz and had to hit the road to Barrett-Jackson, that's just what I did. How do I turn on the headlights? How do I use cruise control? How does the darn stereo work? Bluetooth? How about nav? Lights? This fancy keyless entry stuff? I had no idea, but I had 7 days to figure it all out and my automotive adventure began to put this Dodge Challenger to the test.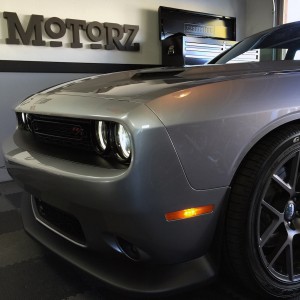 I've already talked about many surprises, however my 1,000 mile drive revealed other surprises that continued to make me giggle and grin. I swear, if anyone saw me driving this car they would wonder why the hell I was so happy. I would keep discovering new things and then giggle out loud to myself. Another surprise was the automatic high beams. I honestly had no idea that this feature even existed until I was driving along, turned them on, and the (incredibly intuitive, configurable and beautiful) dash behind my steering wheel stated "automatic high beams enabled". I looked at the graphic of the front end of the Challenger with high beams on in the middle of the dash and said out loud "whaaaaaattttt?" and then, you guessed it, smiled again. I'm a techie, so I immediately started to brainstorm what this meant. I thought, "it must mean that there's some sensor somewhere that detects oncoming vehicles with headlights on or the tail lights of the vehicles in front of me and then automatically turns the high beams off." I was out in the middle of nowhere at this point, so it took a few minutes for some company to show up. There it was! An oncoming car heading toward me and BAM! the high beams turned off. Next I approached another vehicle and the sensor "saw" the tail lights and BAM! they went off again, as if by magic. They automatically turned back on once the sensor detected the coast was clear. I found out later that there's a camera built into the back of the rearview mirror that does this wizardry. Wow. It works so well I can leave high beams on all the time now.
Next up: I go to change lanes and I start hearing some beeping sound coming from the car. Again I say out loud to nobody listening to this insane and giddy driver, "whaaaaaattttt?" I quickly noticed an amber triangle icon appearing in the side mirror. I thought, "this has to be some blind spot detection system." Sure enough, it was. Not only does it alert you via audio and an amber light within the side mirror, but on the dash as well. Incredible! More sensors built into the bumper determine this. Even more sensors detect objects when backing up and alert the driver, in addition to sensors that detect rain on the windshield and automatically turn on your wipers, and more. This thing is chock full of so many sensors, I can't find half of them. Modern tech has arrived, and it's absolutely incredible.
How would you like to be able to walk up to your vehicle, enter it, start it, stop it, and leave it safe in secure without having to take your keys out of your pocket? I realize that a lot of vehicles have these capabilities, but this was my first time experiencing it. As long as you have the key fob in your pocket or whatever bag you happen to be carrying with you, this dream is a reality with the Scat Pack (and many other Dodge vehicles). There's yet another sensor under the door handle that detects your fingers are ready to open the door. The doors unlock immediately. Crazy. You get in, sit down and depress the brake pedal, then push the start button and you hear the engine start and the sweet rumble of the exhaust. You're good to go, man! Drive down to your local Starbucks to get your Venti Frap, park it and to stop you just press the start button again. Hop out and there's a button on top of the door handle that you can press once to lock the vehicle. Go get caffeinated and grin knowing that your state of the art ride doesn't need a key, or even need you to press a button on a remote. It just needs you. How cool is this? So cool I had to blog about it. One added perk to having the key fob handy is the remote start. While you're heading out the door of that Starbucks to your Scat Pack out in the parking lot, double tap a button and you can hear it start up. Again, the sound of that exhaust… makes you want to run to it, get in, and drive.
Every vehicle I've been in with cruise control was the same. Turn it on, set your speed and while you're driving you can increase decrease, stop and resume. Another surprise for me while on my journey was this new thing I've never heard of called adaptive cruise control. Yes, it was another techie moment for me, and more grins. You enable this feature and set the distance you want to be away from the vehicle in front of you. Again, I giggled with excitement when I figured it out and it worked just how I thought something like this should work. I got close to another vehicle, and the Challenger slowed down automatically. I changed to an open lane, and it sped back up to the speed I had set it at. Some knucklehead changed lanes in front of me, and the vehicle applied the brakes for me to slow down. This was so automatic I found myself driving for hundreds of miles without ever touching the pedals. This is adaptive cruise control and it is so incredible I can't imagine making a long trip without it.
Another quick note: the voice of the on-board computer for navigation sounds exactly like Siri (Susan Bennett) on the iPhone. It's a dead-ringer, as if Dodge purchased the same voice that Apple did. At one point I had both my iPhone nav and the Uconnect nav on simultaneously to test it out and to make sure I wasn't getting lost. It was almost like hearing Siri in stereo. It was really strange, but I'm a fan of that voice for nav (as opposed to the default Android nav voice which is downright annoying), so I felt right at home. After my confidence grew with Uconnect, I told Siri to shut up!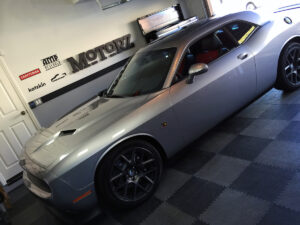 The Dodge Challenger Scat Pack gave me goosebumps. It made me smile… constantly. It made me giggle. It was comfortable to drive for long distances. It made me call my friends and tell them how freaking cool this vehicle was. After I got back home, I finally pulled the owner's manual out of the glove box and read through it to figure out a few other nuances I had missed. To my surprise, I had learned just about everything on my own, while sitting in the cockpit for 1,000 miles and about 6 hours each way. As I explained earlier, this was my true test of a vehicle… if a manufacturer was able to create a vehicle with so much technology and features, and so much intuitiveness that you can just get in and drive it without cracking open the manual, then it's a winner. Tim Kuniskis: whatever you're doing, brother, keep it up. I'm impressed, and I can't wait to drive more! #hellcat
The Princess Diaries ♕
I have two beautiful daughters. One has moved out and is in film school. My other daughter is 9 years old. As a proud father, I love to make sure she experiences these vehicles so I can solicit her for unfiltered feedback. They say that kids will say anything, and it's true. There is very little filtering that goes on in their minds. It's raw, and often humorous. My little girl loves to go fast, loves to hang out with me and my crew when we are filming Motorz, and her feedback on my automotive life is a necessity. Here's what she had to say about the 2015 Dodge Challenger Scat Pack:
"I like that it was very fast, that it had a sunroof, and I liked the smoke from the two tailpipes. I thought the interior red color was hideous, and when you turn the dash lights all the way up it's very bright and blinding. Plus, it's very hard to get into the back."
Well, there you have it folks. Her favorite colors are pink and purple, and if the seats weren't embroidered with the Hello Kitty logo, she isn't going to be pleased. It's also not a family car. That's why Dodge has the Charger with four doors… see her review of that next :)
Please follow me on Twitter, Facebook, and Instagram, and read my other car reviews at dukesdrive.com.
On The Radio
I'm also co-host on the syndicated radio car show "The Drive", hosted by my Motorz co-host, Alan Taylor. Here's what we said about the 2015 Dodge Challenger Scat Pack on the air!
Jan 17, 2015

Next up, "Duke's Drive" is the restyled 2015 Dodge Charger SRT with the same power plant, but with 4 doors. Let's see what it can do!
Summary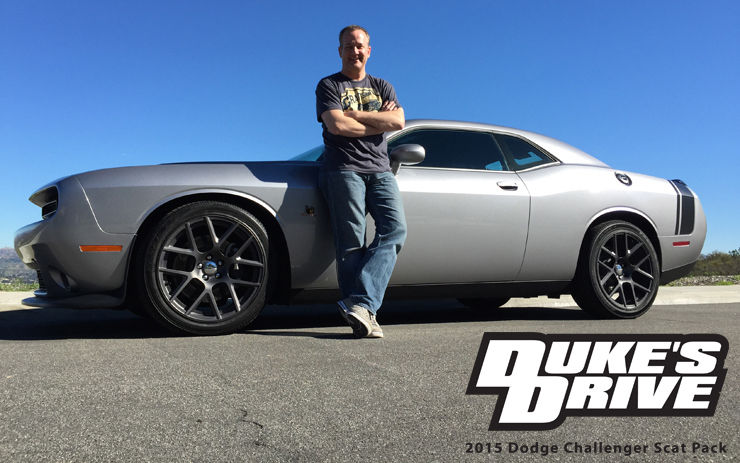 Duke's Drive: 2015 Dodge Challenger Scat Pack
Description
When it comes to muscle cars, the 2015 Dodge Challenger R/T Scat Pack ranks right up there at the top with it's HEMI V8 6.4L engine, capable of delivering 485 HP and 475 ft-lbs of torque, and the sound—oh the sound!
Chris Duke
No Replies to "Duke's Drive: 2015 Dodge Challenger Scat Pack Review"
---