Feb 10, 2015
Duke's Drive: 2015 Dodge Charger SRT 392 Review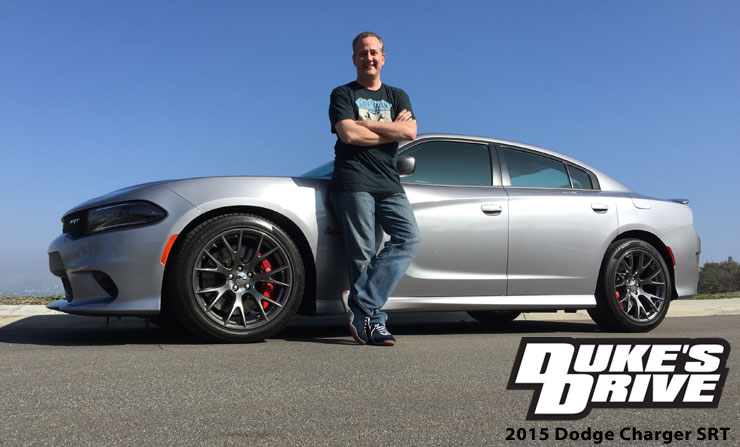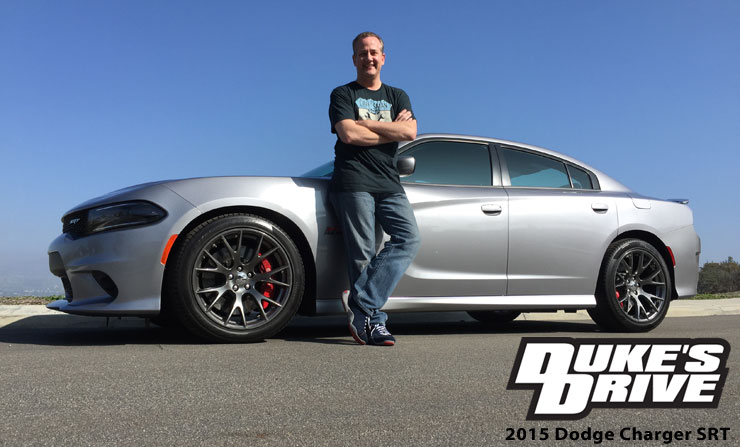 Duke's Drive is all about my experiences with driving new vehicles. It truly is a privilege to be able to drive a brand new vehicle for a week and share my thoughts with you. It is a responsibility that I don't take lightly, or for granted. I know the pains of wanting to test drive a vehicle that you're interested in buying, and it's not an enjoyable experience. You show up at a dealership, hand over your driver's license along with a pint of blood and your first born, and then maybe you get to take it for a spin for a few minutes. You feel rushed. You don't have time to properly configure it the way you would want to if it was yours. You don't get to learn all the nuances of the vehicle. It's not the best way to get to know a vehicle… to experience it, and drive it as you would any typical day of your normal life. These are my un-edited stories of my experiences.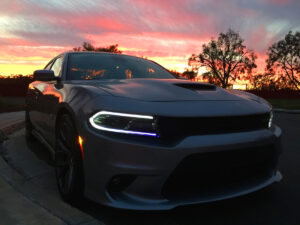 This week I'm driving a 2015 Dodge Charger SRT 392 (MSRP $55,916). Last time I drove the 2015 Dodge Challenger Scat Pack with the exact same HEMI V8 6.4L engine that cranks out an impressive 485 HP and 475 ft-lbs of torque, without a supercharger. So, basically I stepped out of a two door classic looking down-and-dirty raw muscle car that sounded like it just wanted to go fast, and into a four door sedan that is perfect for the family, but also looks and sounds just as incredible. However, with those extra two doors and curb weight, you'd think performance would suffer a little bit, right?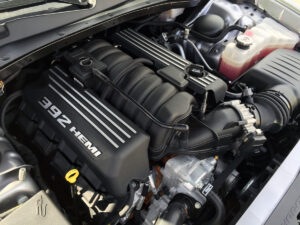 Tim Kuniskis, CEO of Dodge, told Alan Taylor in an interview, that the top-of-the-line Hellcat version of the Charger is actually faster than the Challenger Hellcat! Between the two of them you have the fastest production muscle car and the fastest sedan being sold in the world today. Unbelievable! I was able to drive both of the non-supercharged SRT vehicles (one step down from the Hellcat models) for a week each, and performance-wise the two were identical to me. The incredible sound that I spoke of so highly with the Challenger was there was well. I still found myself grinning and giddy with excitement every time I used the remote start to drive off, just so I could hear the exhaust fire up, outside the vehicle. Even if I was a couple feet away from the Charger, I still used remote start just so I could hear it start up.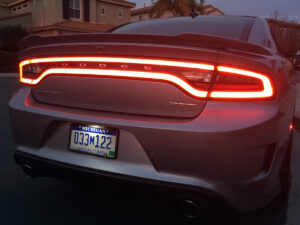 What do I hear? What is so incredible? I tossed my phone down on the ground behind the Charger and hit the audio record button so I could share it with you. This is just a simple engine start, a few revs of the engine, and then I hit the button to turn the engine off. Still, as cool as this sounds, it's nothing compared to being there in person and behind the wheel when you are hitting the pedal.
Just press play to hear the incredible exhaust notes:
Like the Challenger Scat Pack I just drove, the Charger SRT 392 isn't the top of the line. There are 707 HP Hellcat versions of both vehicles, which I hope to get behind the wheel of soon. The 485 ponies behind this engine is incredible though… more power than the vehicle knows what to do with. I can't imagine needing more, but I'm sure once I get my hands on a Hellcat, I won't look back. I love to step on the pedal and feel that raw American muscle car horsepower. It never gets old.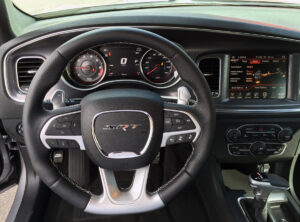 I was impressed with how much more spacious the Charger was over the Challenger, but still with that great sound, power, and features. The dash was very similar, and all the controls and that great Uconnect system was identical. The one difference I absolutely loved was the chunky flat-bottomed steering wheel. I've never driven a vehicle with one and I really liked it… I liked knowing which end was supposed to be up (or down in this case).
While I could easily see myself driving 1,000 miles in the Challenger by myself or with a co-pilot, I have a family of four and the kids wouldn't be as happy on a long trip. With the Charger's full-size rear seat and extra two doors, the complaints from the kids are gone. Not only that, they've got two USB ports to charge their gadgets on those long trips. It's all in the details, and on their journey to create the most bad ass sedan in the world, Dodge didn't forget them.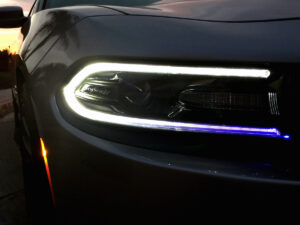 The 2015 Charger features an all new front end that I (and everyone else who saw my ride of the week) absolutely loved. It's all thanks to the redesigned LED DRL's (Daytime Running Lamps) and bi-function HID projector headlamps. They look so cool during the day, but at night they make a statement. Once you see them, you'll know it's a Charger in your rearview mirror for the rest of your life. They are unique and now iconic. The front end looks so much better (IMHO) than previous model years. Major props to the Dodge design team for coming up with something so aggressive and cool looking, just like the rear end.
While I'm taking about the exterior, let's be honest… this doesn't look like any other sedan on the road. It looks like a muscle car. A four door muscle car. It sounds like and drives like one, too. It. just. looks. bad. ass. Wheels and tires make a big statement for any vehicle, and on this Charger SRT, it sports 20-inch SRT "Hyper Black" forged wheels with Pirelli tires and Brembo brakes, which seem to have become the performance brakes of choice for a lot of auto makers these days, including the new 2016 Ford Focus RS.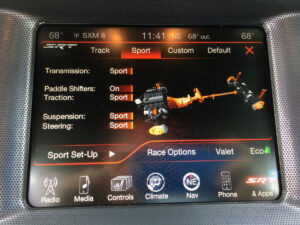 One thing I didn't cover on my Challenger review, which is the same on the Charger, is your ability to change the drive mode, even while driving. You can choose between default (stock), track, sport, or switch to custom and make it your own. Your selection alters the behavior of the transmission, traction, suspension, steering, and whether or not to enable the paddle shifters. This is controlled via the giant 8.4-inch Uconnect touchscreen mounted in the center of the dash, so it just couldn't be easier to change the way the vehicle behaves. Just tap and go!
Now that I've been able to drive the Challenger and Charger back-to-back with the same engine, a lot of people have asked me which one I would buy. It's a tough decision I would have to make because I do have a family and so the extra room of the Charger would definitely be beneficial. For me, though, I have always loved the look of the Challenger. It has that perfect classic muscle car look, and I hope that Dodge doesn't feel the need to keep tweaking something that is perfect, so that in 5 or 10 years from now it more-or-less looks the same. Whether it's night or day though, both vehicles look stunning and there's no mistaking what they are. I love what Dodge is doing these days. and with 100 years under their belt, it's clear that they aren't forgetting their roots, or what muscle car enthusiasts expect from them //
The Princess Diaries ♕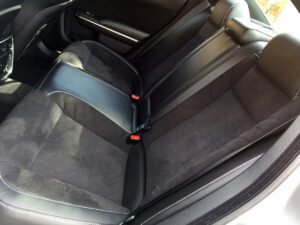 I have two beautiful daughters. One has moved out and is in film school. My other daughter is 9 years old. As a proud father, I love to make sure she experiences these vehicles so I can solicit her for unfiltered feedback. They say that kids will say anything, and it's true. There is very little filtering that goes on in their minds. It's raw, and often humorous. My little girl loves to go fast, loves to hang out with me and my crew when we are filming Motorz, and her feedback on my automotive life is a necessity. Here's what she had to say about the 2015 Dodge Charger SRT 392:
"Next time we go to a San Diego Chargers game, we have to go in this car. I like that it has four doors, the interior has better colors, and when you go very fast. I didn't like that there wasn't a sunroof."
So, add that into the mix… if you're a bolts fan, this is a no-brainer decision!
Please follow me on Twitter, Facebook, and Instagram, and read my other car reviews at dukesdrive.com.
On The Radio
I'm also a co-host on the syndicated radio car show "The Drive", hosted by my Motorz co-host, Alan Taylor. Here's what we said about the 2015 Dodge Charger SRT 392 on the air!
Feb 7, 2015
Summary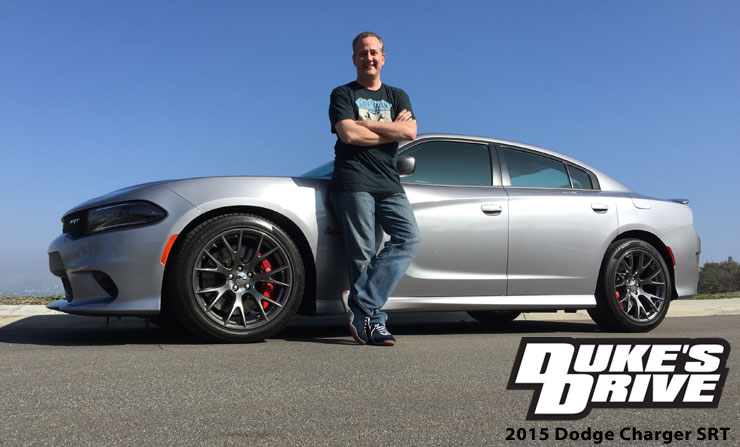 Duke's Drive: 2015 Dodge Charger SRT 392
Description
Duke's Drive this week is a 2015 Dodge Charger SRT 392. How does the 4-door Charger compare to the 2-door Challenger I just drove that had the exact same engine? Find out!
Chris Duke
1 Reply to "Duke's Drive: 2015 Dodge Charger SRT 392 Review"
Feb 10, 2015 (1:00 pm)

See what Chris Duke has to say about the 2015 Dodge Charger SRT 392 :)

#dodge #dodgecharger #bonhamchrysler… http://t.co/5J8xnkQg8g
---