Oct 30, 2015
Duke's Drive: 2015 Dodge Dart GT Review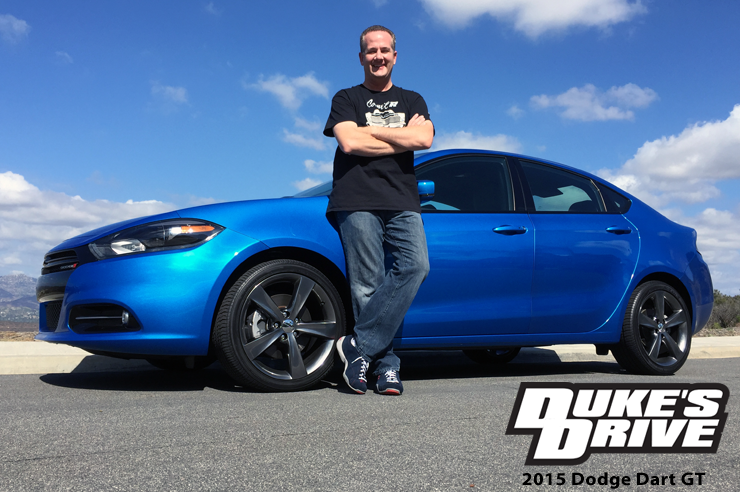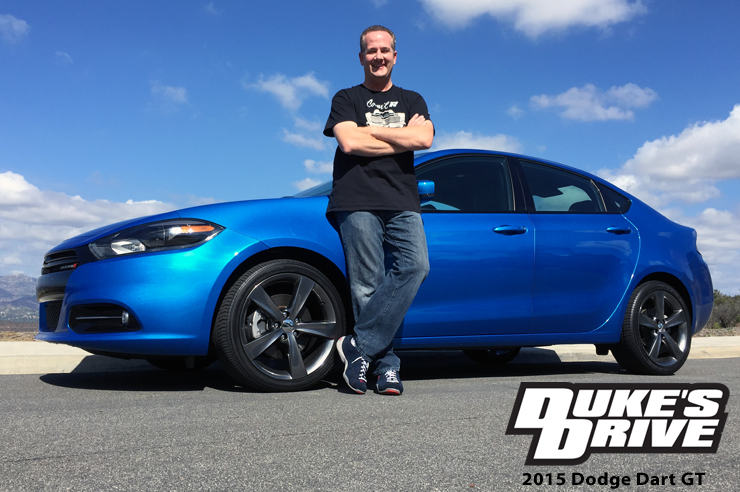 Duke's Drive is all about my experiences with driving new vehicles. It truly is a privilege to be able to drive a brand new vehicle for a week and share my thoughts with you. It is a responsibility that I don't take lightly, or for granted. I know the pains of wanting to test-drive a vehicle you're interested in buying, and it's not an enjoyable experience. These are the stories of my experiences.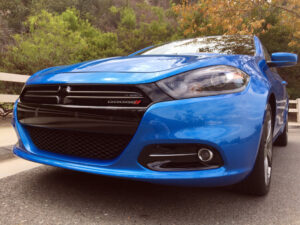 The Dodge Dart is an interesting addition to the Dodge lineup and has for sometime left me curious. You've no doubt seen them around, possibly even showing up at car meets. Yet, it remains somewhat of an automotive enigma. Out there, but not well known to enthusiasts. After having the keys to this sleek blue example, I have a few immediate conclusions: A) Buy one now and B) Buy one sooner than that. Let's dive into why…
The most critical item when it comes to the Dart is which spec you choose. The standard Dart is fine, but with a basement point of entry, ordering the GT package is a must. For starters, the base Dart and GT are barely the same car. Here's a quick list of things either standard or optional on the GT that cannot be had with the entry-level car:
Black, 18″ wheels
Automatic headlamps
Fog Lamps
LED "racetrack" tail lamps
Black headlight surrounds
Dual rear exhaust with bright tips
Crosshair grill black surround
GT Napa leather seats (six way adjustable)
8.4-inch touchscreen display (with six speaker stereo system)
That's just the beginning of what separates the trim levels. Even the SXT and Aero feel surprisingly restrained and a touch lacking when compared to the GT. All for a grand total of $21,645.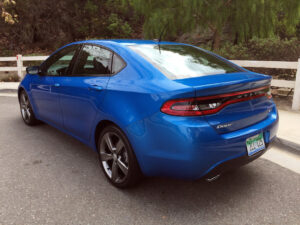 So it's impressively equipped and bonkers cheap. Plus, it isn't exactly hard to look at. With black wheels, deep blue paint and aggressive lines, it looks more like a tastefully modified project than a factory fresh model. Believe me, that's a compliment (more to come on modifications later on in the article). Since this is a budget sedan in 21st century America, you'd hardly be judged for assuming the money was spent on the outside, which typically leads to a harsh interior. Not the case, or anything close to it.
Instead, the Dart provides a great cabin to spend some quality time in. Upon entering, the first items you notice are unexpectedly great seats, a solid driving position and strong visibility.  Plus, for when it's tricky to know exactly where the car is, a combination of cameras providing blind spot and rear cross path detection inject extra confidence and awareness. As is little secret by now, I'm also a huge fan of the UConnect infotainment system and ParkView parking assistance (such a big time saver).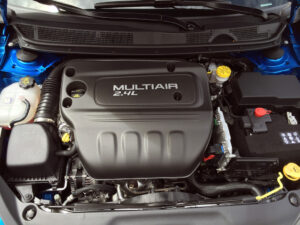 However, and that's a HUGE however, all of that pales in comparison to my favorite part of the Dart: the prolific engine. After reading the numbers, you may think I'm ready for psychological help: it's a 2.4L inline-4 putting out 184 horses. Before driving this blue bolt, I could have had a similar reaction. Make that mistake at the lights and you may run into trouble quickly. Don't ask me how, but the low-end torque this four banger puts out is beyond logical explanation.
From the new Mustang GT to Dodge Challenger SRT and beyond, I've driven a multitude of very quick cars. Thanks to whoever at Dodge took one for the team and sold their soul, this 2.4L is right up there on the fun scale. Just barely get on the throttle and the Dart does its best impression of a carrier takeoff. It. Just. Goes. Eventually, the power does fall off up-high on the tach. But for it to have the stones it does anywhere in the rev range is jaw dropping.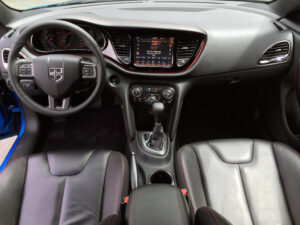 Know how everyone says the 200 hp BRZ/FR-S feels underpowered? This is the opposite effect. You fully expect 184 ponies to struggle. You really do not expect them to haul mass. The Dart quickly become one of the most unreasonably fun cars I've yet driven. Plus, as a way of making that potential clear, the tuned exhaust sings a genuinely attractive song. It's not exactly aftermarket but it more than does the job.
At this point, you're probably waiting for the other shoe to drop. Throughout my time with the car, I was too. Bizarrely, it never really happened. Having said all of that, there is always room for improvement. Curious to know how to make your Dodge Dart a true world class performer? I just happen to have a few ideas…
Duke's Mods
Whenever you're looking to increase performance, tires should be at the top of the list. There's nothing technically wrong with the Dart's rubber, but by upgrading to high performance options, the difference in handling and steering feel can be dramatic. Personally, I'd recommend taking a look at the Michelin Pilot Sport PS2. Though it's not the cheapest tire you'll find, there's a reason why so many high end sports cars wear them. The grip, feel and limit handling they provide are unmatched for the price. Outstanding first addition.
With the four corners much more firmly planted, it's worth taking another look at the stellar 2.4L four banger. Performance-wise it's pretty on-point from the factory, but it may leave you wanting a little more bark to match the bite. In that case, MagnaFlow has you covered. Think of their Dart exhaust system as "OEM Plus." It's designed to incorporate OEM quality, fit and finish but with substantially improved smoothness, gas flow and strength. It's an ideal option for those looking to improve the Dart's lungs without going full racecar in exhaust note.
To finish off a solid trio of upgrades, think about dropping in a performance air filter. Though a huge air intake looks impressive at car meets, unless you plan to have your engine tuned around one, they typically provide minimal gains for substantial investment. Instead, you can see similar performance improvements for significantly less with a solid panel air filter. For my money, I'd go with K&N's drop-in option. Not only does it improve airflow, but also is reusable, possibly saving you money over a factory paper air filter in the long run.
Summary
Bone stock, the Dodge Dart GT is a remarkably good budget sport sedan. Even if we ignore the budget part, it's still one of the best compact buys I've seen in the last several years. From an attractive exterior to well appointed cabin and gem of an engine, this is one not to miss. Add in a few of the above mentioned modifications for good measure, and you'll have a sport sedan ready to punch way, way above its weight class.
Please follow me on Twitter, Facebook, and Instagram, and read my other car reviews at dukesdrive.com.
Exhaust
On The Radio
I'm also a co-host on the syndicated radio car show "The Drive", hosted by my Motorz co-host, Alan Taylor. Here's what we said about the 2015 Dodge Dart GT on the air!
February 20, 2016
Photos
Summary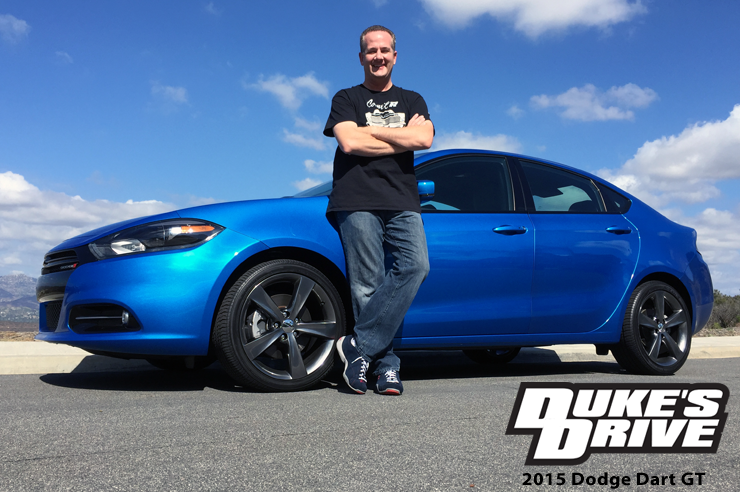 Duke's Drive: 2015 Dodge Dart GT
Description
The Dodge Dart is an interesting addition to the Dodge lineup and has for sometime left me curious. Read on to find out why this blue bullet surprised me.
Chris Duke
No Replies to "Duke's Drive: 2015 Dodge Dart GT Review"
---