Sep 30, 2019
Duke's Drive: 2019 Jeep Renegade Review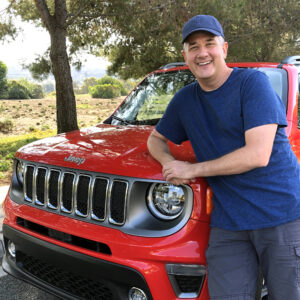 The jig is up, the news is out! The 2019 Renegade Limited 4×4 is Jeep's compact 4×4 SUV. It's cute. It's got Jeep DNA in the front end and Easter eggs inside and out (have fun finding them all!) But what surprised me the most? Read on…
For my drive, I took it on a road trip from San Diego to Phoenix to film an episode of Motorz. The trip itself, in addition to all the driving I did over the weekend, racked up about 1,000 miles. I got to know the vehicle quite well over the course of the 7 days I had it.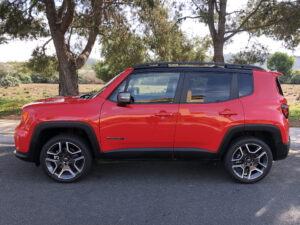 First, let's start with the not-so-amazing things. The road noise (but far less than a Wrangler for obvious reasons) which was apparent while making phone calls on a highway using Apple CarPlay, difficulties in refueling at an Arizona gas station (I couldn't for the life of me figure out the steps to make its capless fuel-filler happy in order to stop shutting off the pump… seems to be a common problem), the massively over-sized rearview mirror housing, and the location of the headlight knob (I hit it a few times with my knee getting in, turning the lights on). Besides these minor things, this is a fun little SUV.
My tester came in at $33,265 with a base of $27,895. The upgrades include LED lights, safety features, 19″ wheels, and my favorite FCA Uconnect infotainment system along with a thumping Beats audio system (it's awesome). This is also a true 4×4 vehicle with different driving modes for snow, sand, mud, and rock.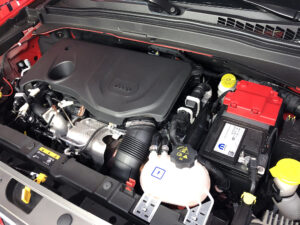 I make it a point of not researching a ton about the vehicles I get before I test drive them. That way I can naturally be surprised about them… mainly the engine. I knew this had a 4 cylinder turbo engine–that's fairly common these days. I didn't recall the size. I got in and drove it for the first time. Peppy… snappy! I am now used to getting 4 cylinder turbo engine vehicles to test drive that have a surprising amount of power. I figured this has got to be a 2.0L or more. The low end torque for city driving is amazing. Press the pedal, and it reacts. Passengers said the same thing.
So having been convinced at this point that it was at least a 2.0L engine, I looked into it. It said 1.3. Wait, what? This peppy SUV has barely more than half a 2-liter bottle of Coke for an engine? It can't be! But it was true. I looked into it some more. 177 hp and 200 lb-ft of torque? Not overwhelming numbers but still quite respectable. I'm officially sold.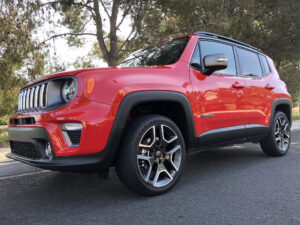 Next, I had to hit the highway to see what this little-engine-that-could could really do. That's where this 1.3L engine reared its tiny head. Yes, of course it can handle the highway. And yes, it even handled passing vehicles on a two lane country road on my long drive. But did it do it quickly? No… but it managed just fine. I just wasn't as blown away by its performance there as I was on city roads.
It makes sense. It's a formidable engine in the city, and a capable engine on the highways. It's also fuel efficient, coming in at 23 city and 29 highway. Need more power? You can also get the Renegade in a 2.4L version… which I hope to test drive as well so I can see the difference.
If you're looking for a compact SUV that can go off-road like nothing else in its segment, rides nice and comfy, and has the surprising amount of power to move you (and the upgraded awesome sound system to move you in other ways), then the 2019 Jeep Renegade is for you. Even though it's not a Wrangler, it's a still Jeep thing… and I understand ?
Please follow me on Instagram and Twitter, and read my other car reviews at dukesdrive.com.
Photos
No Replies to "Duke's Drive: 2019 Jeep Renegade Review"
---