Jun 2, 2023
Go. See. This. Movie. This Weekend! (Spider-Man: Across The Spider-Verse)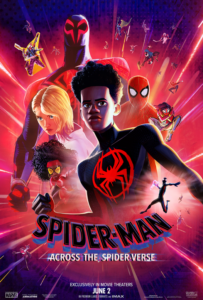 I'm extremely overwhelmed and emotional as I type this post. My daughter, Melanie, has been involved on the production team at Sony Pictures Animation as the script and story coordinator for over 3 years, working exclusively on the film that was finally released today, Spider-Man: Across the Spider-Verse, this summer's blockbuster movie extravaganza.
But that isn't the whole story, or at least not until a few months ago. If the story about her involvement ended there, I would still be an overly proud father and as emotional as I have been all this week, leading up to this weekend's release of the film. Not going to lie, today I'm a bit of a wreck. No man my age should be tearing up this amount. I'm extremely proud of both my daughters and get emotional all the time, even more-so during times like this.
The rest of the story is even more awesome and it wouldn't have happened if she wasn't there from the beginning of production. You see, during the early stages of creating an animated film they don't have the voice actors there to record their lines. It makes sense, because the lines change a hundred times before the production team pulls them into a vocal booth and hits the record button. As the film comes together, they record "scratch" audio (stand-ins for the actual voice actors) so that they can start putting together the animation with audio. The audio recordings are just placeholders for when the real actors are signed on and recorded.
Along the way, Melanie recorded a bunch of scratch audio lines–just using her iPhone. The lines were mostly computer voices, such as Gwen's smartwatch (think Siri) and a machine in the film. She later found out that sometimes they end up keeping those lines in the final film. A few months ago they decided to keep 4 of her lines, then it was 3. Still amazing to even have 1 line in a major motion picture like this. As the final days drew near (literally the last few days) she found out that she has 9 total lines in the movie. So now she's also credited for "additional voices" and will reap the benefits that the other voice actors in the film receive. So fucking incredible.
One of Melanie's many roles throughout the production process of the movie was to be involved with the actors during their "records", as they're called in the biz. It was exciting for her to tell us about the recording sessions and tell us stories about the actors themselves. She was involved with the majority of them, but never did I think that she would be credited for lines in the film. So, this is just icing on the cake for her first movie ever. Hearing Melanie's voice multiple times throughout the movie and then finally seeing her name go by twice in the "scroll" after the movie is going to turn me into a teary mess of a man and I can't wait for it.
The movie came out today (Friday June 2nd) but I'm not going to see it until Sunday at Sony Pictures Animation's own in-house theater with friends and family. Tomorrow I'm going to re-watch the original Spider-Verse movie since it's been a few years and then Sunday will be the big day for me and my family. This weekend is going to be amazing, fun, and emotional.
The reviews are overwhelmingly positive–5 stars everywhere. As I write this, Rotten Tomato's "TomatoMeter" stands at a 96% reviewer rating and a 98% audience score. Every review I read from others (whether they're an official movie reviewer or not) gives me goosebumps. There were hundreds (thousands?) of people involved in this film, but to know how involved my daughter was with it from the start, then to read the reviews, just makes me so proud of what she's accomplished with her amazing team at Sony.
Please go see this movie with your friends and family. They're all gonna love it!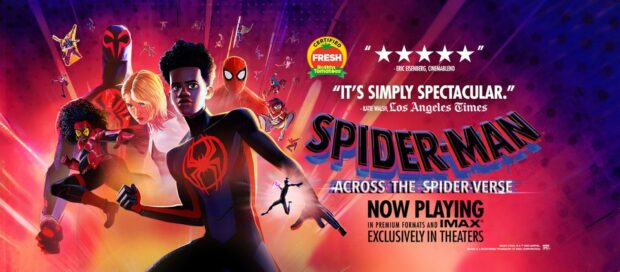 No Replies to "Go. See. This. Movie. This Weekend! (Spider-Man: Across The Spider-Verse)"
---