Jul 18, 2022
Review: Uuffoo Outdoor Rock Bluetooth Speaker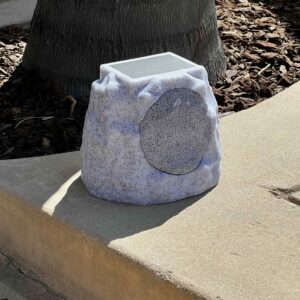 This is my review of the Uuffoo outdoor rock Bluetooth speaker from Amazon. I got it during Prime Day for $64. Here's the thing… it was on sale, only 1 left in stock, and no reviews. I figured what the hell… I could always return it right?
It can change colors, has a built-in solar panel, and is made for sitting outside so you can "rock out".
Our pool area is quite large, and I think too large for this little 3-4" speaker. It sounds like how you'd expect a small speaker in a plastic rock enclosure to sound. Ok but not great.
It paired quickly with my phone as "Stone Speaker". I didn't encounter any streaming issues with the Bluetooth connection as I moved around the pool.
Aesthetically it looks great. It's light colored and while lightweight, I didn't feel like a strong gust of wind could move it.
Charging is done through the barrel (non-USB) connector at the bottom which has a small rubber seal to keep water out when not charging. I wish it was USB-C or micro-USB and rear-mounted so you could leave it plugged into power in case the internal battery is dead and the solar isn't charging fast enough.
There's a simple on/off button at the bottom that doubles as the color change button when it's powered on. You can set it to a specific color, have it slowly rotate through colors, or you can cycle to the color mode where it attempts to "beat" to the music you're playing. It kinda works. The LED light looks best at night.
As for the solar panel, I didn't test it out. Since the speaker isn't loud enough (I turned the volume all the way up on my phone since your device's volume button IS the rock speaker's volume button), it's not a keeper for me. It may be for you though. Link is below.
Official product name: Uuffoo Outdoor Rock Speaker Wireless Bluetooth Speakers Waterproof Solar Powered with Rechargeable Battery for Patio, Pool, Deck, Yard, Garden and Home.
No Replies to "Review: Uuffoo Outdoor Rock Bluetooth Speaker"
---