Jan 22, 2021
Samsung Odyssey G9 Mac M1 5120×1440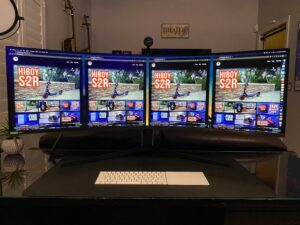 This is how to get 5120×1440 on Samsung Odyssey G9 on Mac M1.
I have a 16GB 2020 Mac mini M1 with the Samsung Odyssey G9 ultra-wide 49″ monitor. I bought this USB-C to DisplayPort cable to get the max resolution of 5120×1440 but I had to jump through a few hoops to get there. Here's how to do it.
These are the simple steps with macOS Big Sur 11.1:
1. The G9 must be set 60Hz, at least initially (Adaptive Sync also needs to be disabled, but I believe changing to 60Hz does this automatically). So yes, that means you cannot use your monitor at 240Hz. So, boo. I don't use it for gaming, but rather for productivity/dev so I don't really care about it. If you do, then keep 240Hz and you'll have to also live with the reduced 3840×1080 resolution. I've been able to get it to work with 120Hz but initially set it to 60Hz.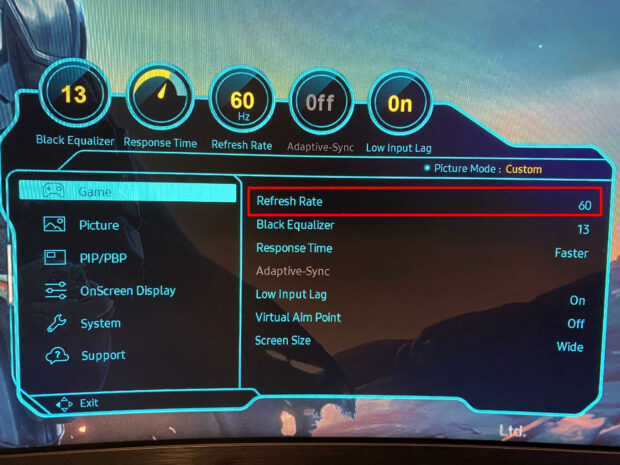 2. Go to System Preferences > Displays and while holding down the OPTION/ALT key, click "Scaled".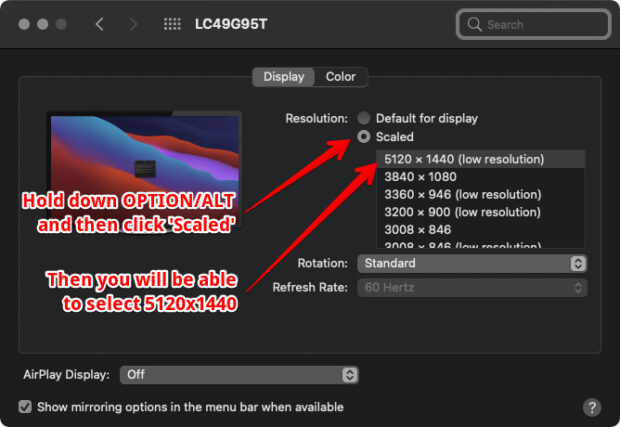 3. Now select the 5120×1440 resolution. Boom.
This is the way.
6 Replies to "Samsung Odyssey G9 Mac M1 5120x1440"
André S.

Mar 22, 2021 (4:54 am)

Dear Chris,

Interesting article.

Is the eye-screen distance the same wherever you look on the screen?
This is an important issue for me when choosing a curved screen (progressive glasses).

Regards,
André,

Chris Duke

Mar 22, 2021 (8:11 am)

It is the most curved monitor you can buy (still, I believe) but the ends of the screen are still definitely further away than the center. I wear reading glasses and it's perfectly acceptable for me.

André S.

Mar 22, 2021 (8:23 am)

Many thanks for your feedback :-)

Regards,
André

Stefano

Jan 27, 2022 (4:18 am)

Dear Chris,

Thank you for this article!

Do you know if your instructions could be also applied to a MacBook Air M1?

Kind regards,
Stefano

Zeeshan Jafry

Jun 18, 2022 (8:11 am)

Thanks. I still dont get the resolution higher than 3840×1080 even if i hold down the option key. Could it be due to the reason that i am using HDMI instead of d dig display port

TurboBMR

Sep 18, 2023 (8:55 pm)

Yes, you need a thunderbolt to display port 1.4 cable.
---