Apr 24, 2018
11 Spring Cleaning Tips For Your Car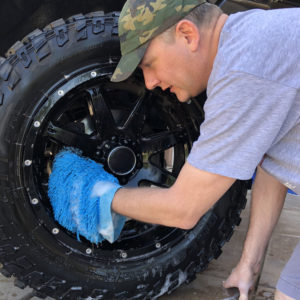 The following post was sponsored by the GM BuyPower Card from Capital One®. All opinions are my own and not directed by Capital One. To learn more about the GM BuyPower Card, click here.
Welcome to Spring! Ahhh yes… the time of year when the weather improves, you go outside a little bit more and start cleaning the house. It's nice to open up all the windows and smell that fresh air and a clean house, isn't it? Well, don't forget about your second home where you spend a lot of time as well… your vehicle!
In fact, more than half of respondents of a recent survey, the 2018 Driving Resolutions Survey commissioned by the GM BuyPower Card, actually said they clean the interior of their vehicle on a regular basis. The survey also revealed a couple more vehicle cleaning resolutions:
A majority of drivers said keeping their vehicle clean, both inside and out, was a top resolution
Thirty-nine percent of drivers want to give their vehicle a regular exterior cleaning
There's no time like the present to get started on those cleaning resolutions, and I'm here to help you get motivated. I created the checklist below for you so you don't miss anything!
And while everything here you can do yourself to save money, there are a few things that could dip into your wallet. Wiper blades, new tires, maybe new floor mats, or if you decide to take your vehicle to a professional detail shop to get your mess cleaned up. It could quickly add up. So when you're out shopping, it's a great idea to use a rewards card.
As a GM BuyPower Card cardholder, I love its reward structure for accumulating Earnings*. Check this out: every dollar spent can be put toward the purchase or lease of a new Chevrolet, Buick, GMC or Cadillac vehicle. Cardmembers earn 5% back on the first $5,000 of purchases each year, then 2% unlimited beyond that. Plus, there are no limits on earning, and your Earnings don't expire for the life of the account. All GM dealers participate in this program, so you don't have to worry about going to a specific dealership to redeem your Earnings!
Now on to the Spring Cleaning checklist!
Now that winter is over and the sun has re-appeared, it's time to give your vehicle a good scrubbing. You know you've been neglecting it. Don't delay any longer, as those harsh winter elements and road debris are causing damage to your paint right now. If you let it sit much longer, things could get worse, and things could rust. Don't just clean what you can see standing up. Grab a power washer and get down underneath and spray down the underside of your vehicle, your wheel wells, and all those places where the sun don't shine!
With a super clean exterior, now is the perfect time to give your paint a good detail and wax job. Because of those winter elements, your paint has way more build-up and microscopic deposits. Too busy? Take your vehicle to a professional detail shop and have them take care of it for you. It might cost you around a hundred bucks, but it will be worth it.
You've been stuck inside your vehicle longer than you normally would be when the weather is pleasant. Whether it's the cold snow, hail storms, or just downpour… you hide from the elements by staying inside your car during those winter months. The result is more dirt, grime, odor, and French fries between your seats. Vacuum everywhere, and use that crevice tool to get the ketchup packets, too.
Still stinky? Your seats are a great source of keeping odors in your vehicle. Grab a good cloth or leather seat cleaner and give them a good cleansing after vacuuming.
As with your seats, your carpet is equally at fault for that winter stench. Who knows what you tracked in with that mud and snow that melted right into the fibers of your carpet. First, take out your floor mats and give them a cleaning. Vacuum under the mats, and under your seats. Use a carpet cleaner to give a deep clean to those high traffic areas where your feet rest, as well as the rest of your family.
I love vehicles with cup holders. We used to buy new family cars based on the number of them. But when it comes to messy, they're the worst, especially during winter when you spend more time in your vehicle hiding from the elements and eating in your car. You know when you go through the drive-through and they hand you that soft drink that's too full and dripping down the side? Where does it go? Right into the depths of your cup holders. Over time they turn into sludge holders. So gross! Grab a terry cloth towel, get it good and wet with some hot water and start scrubbing. You've got your work cut out for you. Many OEMs make removable cup holders. If yours can be removed, take them out of your vehicle and put them in your sink and give them a good scrubbing. Or toss them into the dishwasher, if you feel it's safe to do so.
Your center console. Gear shifter. Steering wheel. Emergency brake lever. What else do your hands touch when you get into your car and use it? All these things need a good cleaning. Even if you can't see the dirt, it's there… trust me. Especially your steering wheel. Grab a wet terry cloth or microfiber towel and go around your steering wheel once or twice. Now look at the towel. See what I'm talking about? All the other things I just mentioned (and more) are just as nasty. Start scrubbing, buster.
Can you see clearly now the rain has gone, Johnny Nash? I bet those wipers have seen better days after all the back and forth action they did on your windshield this past winter. It's a great time to inspect the rubber of your wiper blades and replace them if they're no longer letting you see all the obstacles in your way.
When was the last time you popped your trunk and gave it a good cleaning? Winter months tend to cause us to store more junk in the trunk than usual. Get back there and pack up those umbrellas, ponchos, snow gear, and other things you no longer need. Then vacuum and clean so you have room for those beach chairs. While you're back there, check your spare to make sure it's topped off with air.
Did you switch to winter tires? When you do take them off, be sure to inspect the tread to see if they need to be replaced with new winter tires. That gives you the next 5 or 6 months to shop for new ones. If you weren't using winter tires, this is a great time to check the tread, check for nails, or other tire damage.
Now that your car is all sparkly, try to keep it that way. Pick up a car duster to dust off your car every day. I know a lot of people don't like them, but they work really well and I recommend them to everyone. It extends your wash time, which allows you to save water and/or money if you take your vehicle to a car wash or professional.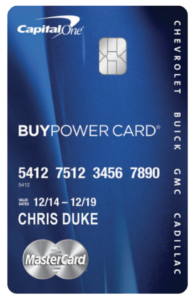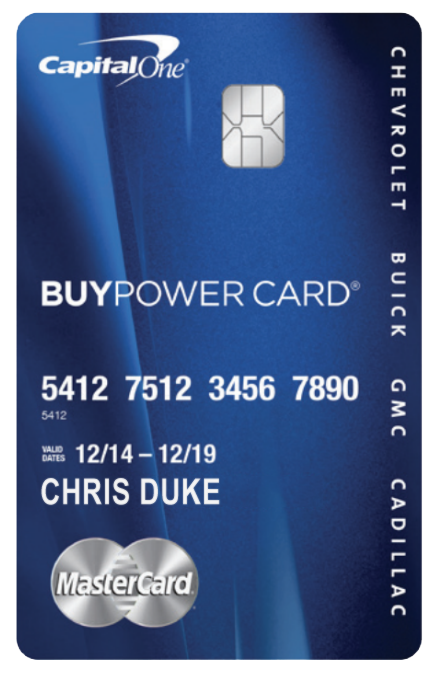 So, whether it's expenses from the end of winter like spring cleaning, or getting ready for summer (come to think of it, I need a new BBQ), there's no better time to start saving for a new vehicle. The GM BuyPower Card allows you to easily do that! Go to www.buypowercard.com like I did, and apply online today.
* BuyPower Card Earnings may not be used on fleet vehicle incentive programs or with some other offers and discounted sale programs, such as the GM Employee Discount.
No Replies to "11 Spring Cleaning Tips For Your Car"
---