Tool Talk #006: CRAFTSMAN V20 Air Inflator
Posted on March 19, 2019 by Chris Duke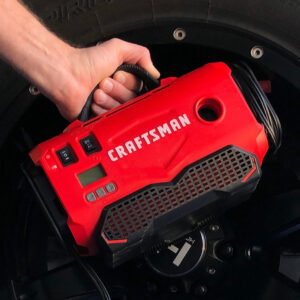 In this episode of Tool Talk, I take a look at the CRAFTSMAN V20 Multi-Purpose Air Inflator.
Watch now on my Instagram @chrisduketv
📺 Direct link: https://www.instagram.com/
Links
V20* CORDLESS INFLATOR (Model #CMCE520B)
Buy at Lowe's:
CRAFTSMAN Air Inflator (Power Source: Battery; Car; Electric) (Item #1033802)
Social Qs
@leethelawnguy_diyer: "How long is the 12 volt cord?"
The AC wall plug is 20 inches long, so you'll most likely need to use an extension cord. Also, the 12V power cable is a little over 10 feet long.
@vintagespeedshop_c10s: "Did you notice any power difference when using battery vs. Ac vs. DC?"
I didn't notice any difference in the operation of the inflator, no matter which power source was used. With that said, I haven't done any in-depth testing here. When I do, I'll let you know!
Disclaimer
I am sponsored by CRAFTSMAN, however "Tool Talk" is a video series I created outside of my contract. All opinions and content direction are my own. I do this for my love of tools, the brand, and educating others about great new products. Thank you for watching.
---