Nov 1, 2011
TV Show Production on a Budget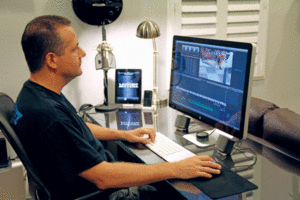 It's amazing what you can do these days with a limited production budget and some knowledge… including producing a national TV show.
Technology, within regard to video production, is an amazing thing. It's constantly improving on a weekly basis on all fronts, including hardware and software. If you don't stay in touch with the changes you are not doing yourself any favors. I can vouch for this with my own personal experiences in producing a car show called "Motorz" which I also host. It's available on DIRECTV and DISH Network every week, as well as many cable networks.
Most people don't know, but the first two seasons of my show were filmed using a basic wireless lav-mic system and a single Canon HG10 AVCHD hard drive-based camera, edited with Apple's Final Cut Pro. I was just messing around with the concept of my show, growing it little by little and hoping it would go somewhere. To my surprise, it quickly gained a lot of attention as an Internet-only show and as a result, sponsors started stepping up. This allowed me to invest that money back into my show, and replacing equipment was at the top of my list.
In 2009 I had the golden opportunity to work with eBay Motors and the Ford Motor Company, installing products "live" at the SEMA Show industry event in Las Vegas. Filming at this event with a consumer camcorder would look bad, plus we needed a better quality camera. Once again, sponsors stepped up, and as a result I was able to purchase new equipment. I had previously purchased a Canon 5D Mark II DSLR after reading a lot about its success with HD video. I returned it after learning about the difficulties in recording audio at the same time. There needed to be more kinks worked out before I could use it for production, as there was no way I was going to spend the extra time in post syncing up the audio with the video. I'm a one-man show (except for my shooter) and making that extra step to record great audio on a separate device just wasn't in the cards. By the way, it was also at this event when I was approached to put my show on television, which began the 22-minute format for TV.
After doing a tremendous amount of research, I decided on the Canon XH A1S camcorder. It recorded HDV video, but on tape. Moving from a hard drive-based Canon HG10 camera to a tape-based camera wasn't at all desirable, so I added a Sony HVR-MRC1 memory recording unit to allow simultaneous recording onto the internal tape drive, as well as an external CompactFlash memory card. This allowed for dual recording–instant backups of all my videos. I used the CF card's movie files and never had to touch the tape.
The downside to producing a car show with the Canon XH A1S was that due to costs, it was our only camera. It was also heavy and hard to maneuver for tight shots inside a vehicle, under the hood, etc. It shot interlaced video which caused me a lot of problems in post, and it didn't allow us the flexibility of changing lenses. The XH A1S was used for approximately a year.
During this year, the DSLR video market blew up. Canon released three more cameras that supported HD video: the 7D, 60D, and the T2i/T3i. Features got better, costs decreased, and manual audio controls appeared. It was time for me to make the change to DSLRs for our production. I spent a few months toward the end of last year doing research online, trying to find other shows that put the Canon DSLRs into their production. I found that DSLR cameras were being heavily used for small projects and weddings, but I couldn't find any real use of them for mainstream television shows. I had a lot of questions–some of them I could find answers for, but many I could not. I already had an old Canon 30D still camera DSLR that I used extensively when I shot photos of vehicles for magazines and websites. As a result, I had a lot of high end lenses. What harm could there be in just buying a new Canon body to see if this new age of video via DSLRs would work for us?
After doing extensive research, I decided to try the 60D. The 5D Mark II was pricey and was the logical choice for most video professionals, but I just wanted to try it out, so that seemed unrealistic. The T2i didn't have the features I wanted. The 7D had some desirable features, but there were no manual audio controls. The 60D was just right! Not only does it have the manual audio controls I needed to pipe in my own audio, but it has an articulating LCD display so we could still see what we're shooting in those tight shots. I bought one.
After performing some test shots, I was blown away. It was as if each frame of video could be paused and it looked as good as a still photo. The body was only $999 and I was in heaven because I had my wide arrange of macro, wide angle, prime, and telephoto lenses to slap on there and get some amazing video. From that first day of shooting video with a DSLR, I never turned back. I soon learned all the downsides, but I would overcome them.
All of the Canon DSLR cameras allow you to pipe in audio via the mic input jack. But there is no headphone jack. This makes it impossible to monitor your audio, which is critical especially when using wireless microphones. The solution was to use the Zoom H4n external audio recorder to monitor the audio. It could also be used to record, but I've never used it as such. I simply use it as a pass-through device so that we can plug our headphones into the side of the H4n to monitor our mics. The added benefit of the H4n is that it will accept two XLR audio inputs (the same number we had on our XH A1S) so we could continue to have dual channel audio from our two Sennheiser wireless mics. After some tweaking of audio levels on the Canon 60D as well as the H4n, dual (separate) channel audio is recorded right on the Canon 60D's Quicktime movie files right along with the video. No need to sync it in post.
Another drawback of shooting with a DSLR is that there is no way to auto-focus while shooting. This isn't any different from Hollywood, but they usually have someone in charge of the camera, and someone else in charge of focus. I have a single shooter and don't have the luxury for a dedicated person to pull focus. You also can't rely solely on the small LCD on the back of the camera. Get a field monitor such as the the SmallHD DP6. I bought this one because it has an amazing 1280×800 display and is small and light. It also has two different built in features to help you pull focus, but surprisingly we never use them because we can pull focus so well just by using the LCD. This is the one add-on to our bare-bones 60D that sealed the deal for us using it in production.
We've filmed 62 episodes over the past 3 years and about 4 of those episodes have been produced using the Canon 60D. You can easily tell the difference in quality when watching the show on YouTube in HD. I recently purchased a second 60D for a backup camera as well as a "B" camera to be used with our sliders when our main "A" camera is mounted on our tripod with the rest of its gear attached. In addition to the SmallHD DP6 field monitor and the Zoom H4n, our rig includes a Redrock microMattebox to help keep our studio lights off our camera lens.
I have a 6-foot Stage Zero motorized dolly for long product shots, a smaller Kessler Pocket Dolly which gets the most use due to its size and flexibility, and even a home-made spider dolly made from skateboard parts which can be used for 360-degree shots and other table-top shots. With these three camera sliders in my arsenal, I can pull off Hollywood movie-style shots on a budget. It adds a lot to the show, especially the popular "Partz" segment which showcases new tools and products for vehicles.
On the software side, despite a lot of recent uproar in the professional video editing community, I've made the change from Final Cut Pro 7 to Final Cut Pro X. Our upcoming Season 5 will be completely cut in FCPX. I admit that I was upset with all the changes Apple made to the new version, but instead of complaining I decided to give it an honest run for its money. I spent a week making my way through Ripple Training's FCPX video training series and learned that there are new and better ways of doing everything. Before educating myself I was frustrated at what I couldn't do. After taking the time to learn about the new features, I was not only educated but blown away at how much easier my work-flow is.
We finally shot the first episode of Season 5 and I got to try out FCPX in my real-world production environment. Every step of the way I had a big grin on my face because everything was so much easier. Taking the time to educate myself on the new ways of doing things had paid off and just like making the switch from a tape-based camera to a DSLR camera, I'll never look back. FCPX is not a mature version 10.0 software product, however. It has a lot of bugs and is really more like a version 1.0 product. I've been able to work through the bugs without much stress, but it's far better than FCP7 which had its own share of problems, like crashing all the time when working on large projects. "Motorz" is cut on a Mac Pro with 8 cores (16 when hyper-threaded) and 20GB of RAM. FCPX uses the heck out of it, whereas FCP7 didn't. I also use Apple's 27-inch Cinema Display and a Drobo-S external drive array for backups of completed projects. For the longest time, however, I edited my show on a 15" Macbook Pro with an external monitor, which would be even faster now with FCPX.
Keeping up with technology keeps my costs down and greatly improves my production quality. Most of all, it improves my work-flow which is the biggest benefit of all because time is money, and since I do all post production myself, I don't have a lot of it.
About Chris Duke
Chris Duke is the Host and Executive Producer of Motorz (www.motorz.tv), a television series that shows you how to maintain your vehicle and install accessories, step-by-step. In addition to partnering with Sears for his show, Chris is also a Sears Blue Tool Crew advisor, featured in the current Sears tools print and online catalogs.
Additional Links
Facebook: www.facebook.com/motorztv/
Twitter: www.twitter.com/motorz/
IMDb: www.imdb.com/title/tt1641330/
No Replies to "TV Show Production on a Budget"
---