Oct 13, 2022
youtube.com/@chris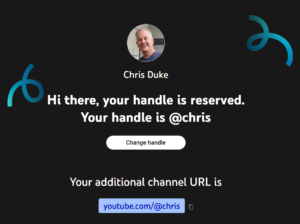 A few days ago Google introduced YouTube handles: "a new way for people to easily find and engage with creators and each other on YouTube." If you have a YouTube channel, you can get yours by going to youtube.com/handle.
At the time, I wasn't able to grab mine. Hoping that I would get my invitation soon to secure mine, I waited for the email–which arrived this morning. My channel was originally called "Motorz TV", however over the past few years I re-branded it as "Chris Duke". I can't change the official YouTube link from youtube.com/motorztv but now there's a new way!
So this morning when it was my turn to choose a handle I first tried @chrisduke because it made the most sense (other than @chrisduketv) but sadly it was already taken by a channel with zero videos. How did that happen? Whatever. I then changed it to @chris and to my surprise it was available! How could that happen? I'm surprised it was available!
While full support of YouTube handles won't be rolled out until later this year, the additional URL is. How cool is that?
No Replies to "youtube.com/@chris"
---