Oct 25, 2017
Duke's Drive: 2017 Dodge Durango Citadel Platinum AWD Review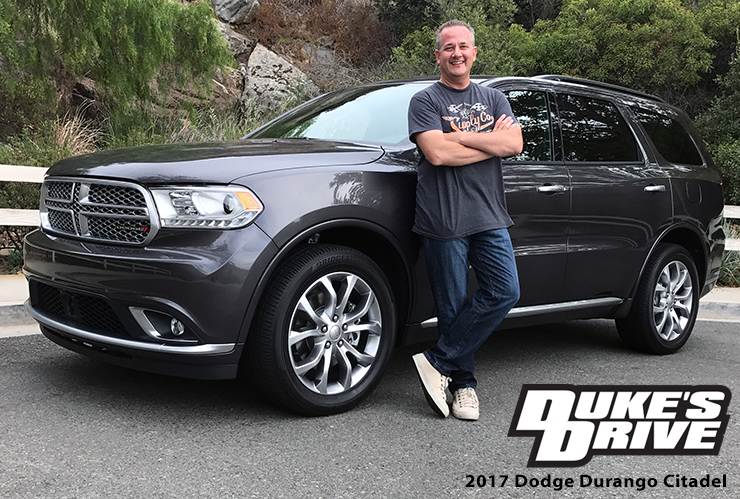 Duke's Drive is all about my experiences with driving new vehicles. It truly is a privilege to be able to drive a brand new vehicle for a week and share my thoughts with you. It is a responsibility that I don't take lightly, or for granted. I know the pains of wanting to test-drive a vehicle you're interested in buying, and it's not an enjoyable experience. These are the stories of my experiences.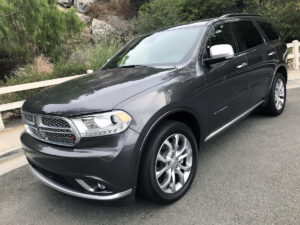 One of the advantages of reviewing a wide spectrum of vehicles is being able to track how models change year over year. The Dodge Durango has long been one of my all-time favorite people movers, combining aggressive styling, surprising performance (in the right spec) and way more than enough interior space to get the job done. The 2015 model was strong, and 2016 raised the bar further (still one of my favorite color combinations). With 2017, the Durango again returns. Does the latest edition live up to the precedent, or is age starting to take its toll? Let's get started.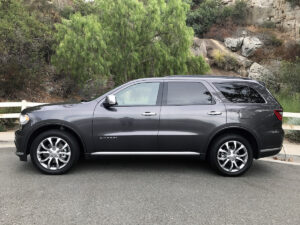 Whether you love 'em or hate 'em, you have to admit Dodge has found a way of making every model stand out. In previous years, if you wanted a large, spacious people mover, it was time to face the music of the minivan. Not anymore. Firmly putting the bad in badass SUV, the Durango shares much of the same muscular, defined look that Dodge has successfully applied across its model range. Instead of trying to hide its size, this hauler instead uses it to its full advantage, giving an aggressive look that isn't common in its class.
Helping that sharp stance was my heavily-optioned tester's Customer Preferred Package 25P. Don't let the less-than-thrilling name mislead you. With 20-inch Satin Carbon Finish Wheels, black headlights, grille surround and much more, it's a box well worth checking.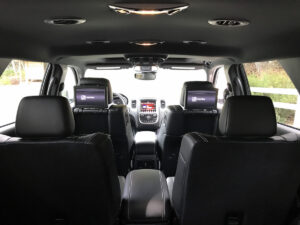 Much like the exterior, when you step inside, it's incredibly hard to spot differences from the 2015/2016 models, but that's not necessarily a bad thing. The luxurious, well-appointed interior is just as pleasing as before, especially with the Beats premium audio system and Blu-Ray/DVD rear seat video setup. Dream come true for long trips with the family. As for Adaptive Cruise Control with Stop – that's becoming a deal breaker for me. It's so good, and so useful, I'd be hard pressed to buy something in this class without it.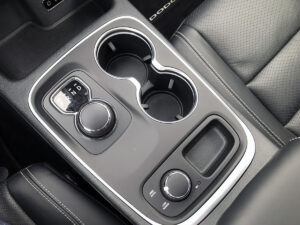 Admittedly, I still don't understand the need for the rotary shifter. The basic automatic gear selector didn't need to be fixed, and even if it did, I don't think I'll ever embrace this as the solution. Hopefully it eventually changes, but it's one gripe in an otherwise beautifully designed cabin.
After this many years on the market (without a significant refresh), you'd think this interior layout would start to show its age. In some ways, that is starting to become the case. But overall, it has held up well and is still a great place to spend substantial amounts of time.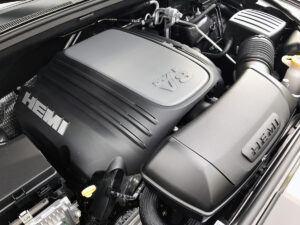 Saving the best for last – that engine. That sweet, sweet 5.7L HEMI V8. This puppy brings 360 hp to the party and oh yeah, you will notice. Zero to 60 is dispatched in a scant 6.2 seconds and the 1/4-mile goes bye bye in 14.7. Pretty strong numbers for a not-exactly-light family hauler that can also tow 7,400 lbs. (that tow rating will even leave a Grand Cherokee V8 gasping for air). My one complaint: you can't hear that beast of an engine sing! But, there are plenty of fixes for that…
Duke's Mods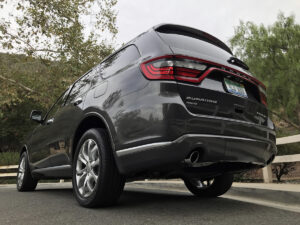 Honestly, don't even wait to break the car in for this one. Pick it up from the dealership, drive it to your local performance shop, and install an aggressive exhaust system. The 5.7L HEMI V8 is one of the best sounding engines I've heard, and it badly deserves to have stronger vocal chords. A quality aftermarket exhaust setup will make the Durango sound every bit as mean as it looks, without compromising daily driver usability.
Also, with the sleek lines and almost "power wagon" profile, bringing the ride height a little closer to mother Earth dials up this SUV's purposeful, "Saturday Night's Alright for Fighting" aesthetic even further. When combined, a great sounding exhaust, deep window tint and a mild drop take the Durango's street appeal to an entirely new level. Which, considering how good it looks in the first place, is saying something.
Summary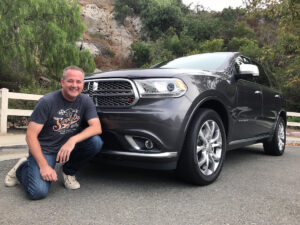 No way to sugar coat it – the 2017 Durango, particularly my tester, isn't exactly what you'd call cheap. Coming in at $57,865, that's approaching the top end of the segment. However, to be fair, this example has pretty much every conceivable option checked. Stay a little restrained when spec'ing yours (for me, the sunroof could have easily been left off), and it's possible to remain much closer to the $43,995 base price.
Having said that, even for $57k, the 2017 Durango is still a phenomenal overall offering. Combining a plethora of space, brutal-good looks and a powertrain that is equally at home on the street or drag strip, it's a package that continues to be a segment leader, and one I'm always sad to see go.
Please follow me on Instagram, Facebook, and Twitter, and read my other car reviews at dukesdrive.com.
Photos
No Replies to "Duke's Drive: 2017 Dodge Durango Citadel Platinum AWD Review"
---