Sep 22, 2017
Duke's Drive: 2017 FIAT 124 Spider Abarth Review
Duke's Drive is all about my experiences with driving new vehicles. It truly is a privilege to be able to drive a brand new vehicle for a week and share my thoughts with you. It is a responsibility that I don't take lightly, or for granted. I know the pains of wanting to test-drive a vehicle you're interested in buying, and it's not an enjoyable experience. These are the stories of my experiences.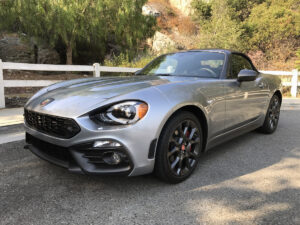 It's hard to imagine the challenge the designers of the 2017 FIAT 124 Spider Abarth faced. Whenever the "greatest sports car of all time" conversation is thrown around, the Mazda Miata is always included. Given that the 124 Spider is essentially a rebodied MX-5, FIAT's engineers had one job. Take one of the greatest driver's cars of all time – and make it better. Did they succeed? I grabbed the keys to this latest Italian roadster to find out!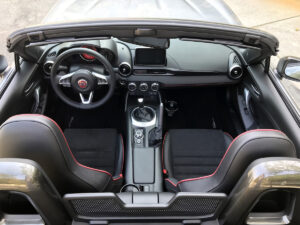 First things first: unless you know cars, you likely wouldn't pick out the 124 Spider as a Miata in a different suit. While the 2017 MX-5 is almost all curves, the 124 mixes in some sharper edges, bolder styling lines and a slightly more aggressive overall stance. Check the Abarth box, and you'll dial up the exterior sporting credentials even further, along with a healthy dose of tasteful red interior piping and stitching on the seats and gauge cluster. Bonus points for the Ferrari-like red tach.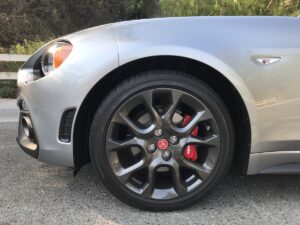 As good as the latest Miata looks, I'd take the 124 Abarth over it every day of the year. Take the badges off, and it wouldn't be hard to convince the uninitiated that this is a new Maserati two-seater. Not bad for a sub-$30k car. During my time with the 124, it turned heads wherever I took it. Credit to the LED headlight halos, red Brembo(!) brakes, 17″ gunmetal aluminum wheels and more.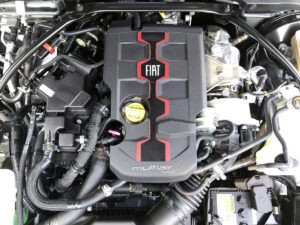 Does the bark match the bite? Ehhh… kinda. The 1.4L I4 turbo gets the job done, but that's about it. Also, what happened to the very mean growl that comes out of the 500 Abarth, which has the same engine? The sound has been oddly neutered here (more on how to rectify that problem later). With the six-speed manual, first and second gear pull decently hard, but then you're out of steam. A little disappointing, but then again, hopefully it won't be long before big turbo kits show up. Until then, it feels right about as quick as a Miata.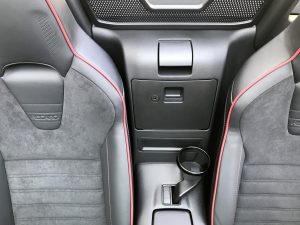 Once you get inside, as you'd expect, space is at a premium. There is no glove box, instead you get small compartments behind both seats and a larger cubby between them. Of course, that's a somewhat silly complaint in a two-seat roadster. If you get this car, you're not buying for practicality. Plus, while the trunk is far from large, you can fit a few smaller suitcases back there. I do have to ask what exactly Mazda/FIAT was thinking when it comes to cup holders. Not only do they look fragile, but you're either banging into them with every gear shift, or sacrificing passenger legroom. Feels like an afterthought.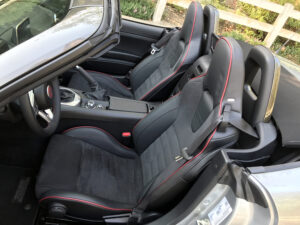 On a positive note, the Recaro seats are outstanding, holding you in firmly without sacrificing much comfort. Note: they are a little tight for the larger driver, so give them a test feel before ordering. Otherwise, the interior is classic Miata. Very intimate, with surprisingly nice design, reasonable materials and phenomenal access to all essential controls. With the exception of space (expected), it's a job very well done.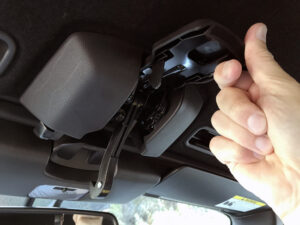 The top itself is equally well designed. Pop the single interior latch, push it back and lock it in place. Done. To put up, just reverse the process. It's incredibly easy and can be done without struggle from the driver's seat. Awesome example of simple, effective engineering.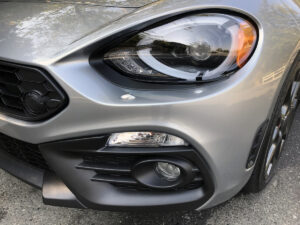 Much like the Miata, if you're looking for straight line speed, the 124 isn't your car. This thing absolutely lives in the corners, and if you find a long b-road, few cars can match the fun factor this roofless Italian delivers. Cornering is balanced, road feel is surprisingly good, and the manual is a joy to row through the gears. Think of this as a budget alternative to a Lotus Elise. In that context, the little FIAT absolutely shines.
Duke's Mods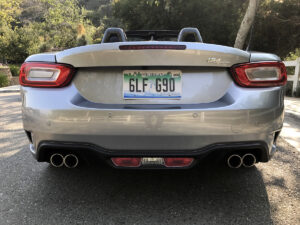 Power and noise. The 124 Abarth doesn't have much of either, but at least one is an easy fix. While we probably will have to wait a while for larger turbo kits to show up and prove reliability, making the I4 scream isn't an issue. MOPAR offers a (surprisingly) mean sounding exhaust system that's available from the factory, including a warranty. Order from your FIAT dealership, and they should be able to take care of the install as well. I'd probably also look into a set of lowering springs. The car's handling is solid, but a little less wheel gap would make this Italian sports car look even more exotic.
Summary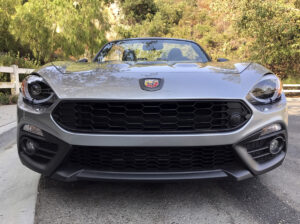 The big question: would I have a 124 Abarth over an MX-5? For the $28k base price, absolutely. At my tester's $35k… I'm less convinced. Don't get me wrong, this is a great roadster, but I'd be hesitant about dropping nearly Mustang GT money. If you can live without the Recaro seats or a few of the tech options, you'll end up with a nicely priced, gorgeous Italian roadster that will be turning heads and corners for a very, very long time to come. Not a bad buy in my book.
Please follow me on Instagram, Facebook, and Twitter, and read my other car reviews at dukesdrive.com.
Photos
No Replies to "Duke's Drive: 2017 FIAT 124 Spider Abarth Review"
---