Sep 22, 2017
Duke's Drive: 2017 Ford Mustang GT Review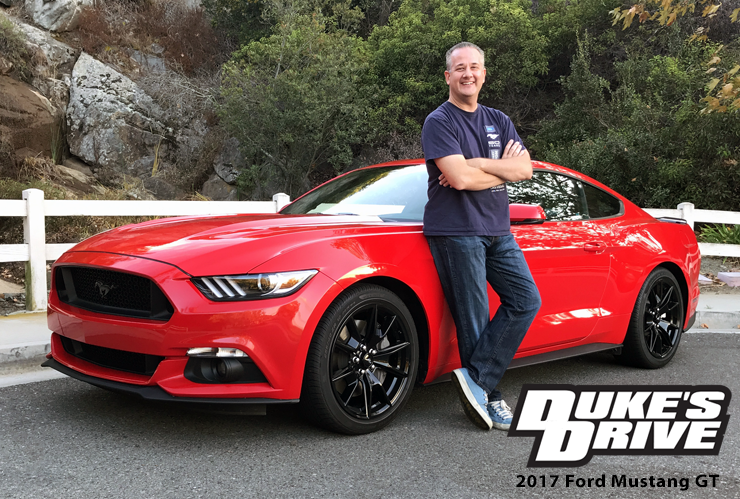 Duke's Drive is all about my experiences with driving new vehicles. It truly is a privilege to be able to drive a brand new vehicle for a week and share my thoughts with you. It is a responsibility that I don't take lightly, or for granted. I know the pains of wanting to test-drive a vehicle you're interested in buying, and it's not an enjoyable experience. These are the stories of my experiences.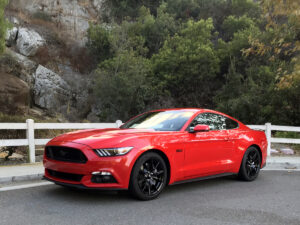 The Ford Mustang outsells its competition every year. Some model years it might best to not fix what's broke and continue the R&D while putting out a new model with minor tweaks. Kind of like the iPhone's "S" in-between years. That is the case with the 2017 Ford Mustang GT. Still, being a huge fan of the Mustang, I wanted to see if I could find changes since I reviewed the 2016 model, so I hopped in and took this "race red" GT for a test drive.
While Ford introduced two new blue colors in 2017, namely "Grabber Blue" and "Lightning Blue", the only significant technological change was adding Apple CarPlay® and Android Auto® smartphone integration into their Sync®3 infotainment system. I am a huge fan of CarPlay, so this was a very welcome change once I hopped in and plugged in.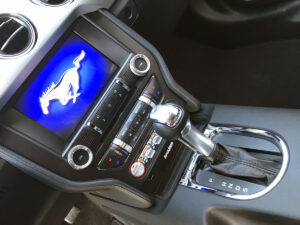 I love manual trans muscle cars, so test driving an automatic ($1,195 option) left me wanting to control that monster V8 on my own. You just can't go wrong with 435 HP and 400 ft-lbs of torque, no matter what transmission is controlling it. And that dual rear exit exhaust note kept the smile on my face. There's simply nothing that can keep me from grinning when I'm behind the wheel of a V8 that sounds so good. In a world where manufacturers are going electric, it's quickly becoming a luxury to have such a thing.
As driven, this 2017 Mustang GT Coupe Premium's sticker totaled $42k (without options, $37k). This included the previously mentioned automatic trans, a black accent package that carried a $995 price tag (well worth it), and the 12-speaker Shaker system at $1,795. Is the stereo system upgrade worth it? If you're an audiophile, I'd say yes. How else are you going to install 12 speakers on your own and have it sound this good? If you're not, then you make the call. I listen to music all the time when I drive so it's important.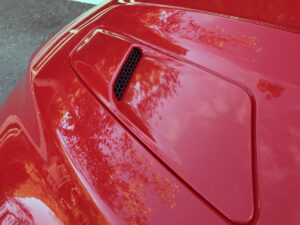 My pony came with heated and cooled seats, which was needed on my long drive to and back from Lake Mead, Nevada (673 miles from San Diego) during the summer heat. The MPGs helped, too. It got 18 MPG average (15 city, 24 highway). Not bad for a monster 5.0L V8. One thing I missed from the 2016 model were the LED hood vent turn signals. Those were replaced by hood vents for this 2017 model year. It was such a cool feature. Ford, why did you take it away?
With a best selling vehicle year after year as the Ford Mustang, it's really hard to come up with complaints. It drives smoothly, it has more power than it knows what to do with, it looks amazing no matter what the angle, and it truly is the best bang for your buck. So when I try really hard to find things that bug me, it's a bit of a challenge.
Since I took it for such a long drive recently, I spent a crazy amount of time behind the wheel. What did I notice? When you step on it and are flying down the freeway at about 80 MPH, I noticed the hood flutters a bit. Not a huge deal, because that speed isn't normal. The steering wheel, once positioned comfortably for me, ended up being placed right over the speedometer. And I couldn't for the life of me figure out how to get the current speed on the digital instrument panel. The side mirrors are small (hey, it's a sports car, get over it Duke!), so as a result there are some bad blind spots–but the obstacle warning LED lights in those mirrors help you stay out of trouble. For my final nit picking, I'd have to say that the seatbelt strap strangles my collar bone which was uncomfortable during that long drive. I had to put it around my shoulder on the outside, or under my armpit which isn't the safest thing to do. There was a bit too much tension and the height wasn't adjustable.
Summary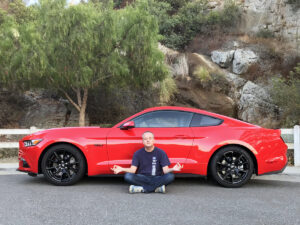 When it comes down to it, the Ford Mustang GT is a lightweight and inexpensive option when you compare it to its competitors. Super fun to drive (especially if you opt for the manual transmission), and turns heads no matter where you go because of its sharp looks and that beautiful stock exhaust note. You can't go wrong. During this "S" year for the Ford Mustang, I can only imagine the 2018 Mustang will bring some amazing changes. I can't wait! The legend continues!
Please follow me on Instagram, Facebook, and Twitter, and read my other car reviews at dukesdrive.com.
Photos
No Replies to "Duke's Drive: 2017 Ford Mustang GT Review"
---