Jan 28, 2017
Duke's Drive: 2017 Ford Escape SE Review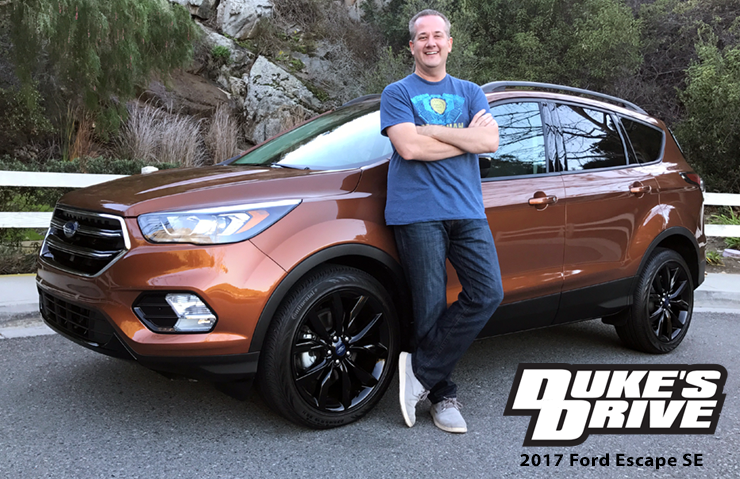 Duke's Drive is all about my experiences with driving new vehicles. It truly is a privilege to be able to drive a brand new vehicle for a week and share my thoughts with you. It is a responsibility that I don't take lightly, or for granted. I know the pains of wanting to test-drive a vehicle you're interested in buying, and it's not an enjoyable experience. These are the stories of my experiences.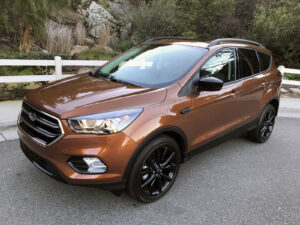 Of all the cars we see multiple times each day, surely the Ford Escape is near the top of the list. It's one of those compact SUVs that's so common it can be easy to overlook. Yet, it's ubiquitous nature exists for a reason: the Escape is a strong recipe. A package that offers a surprising amount of utility but without the sheer mass typically associated with a sports utility vehicle. In essence, the Escape is the antithesis of the Suburban, which for many buyers, is a compelling offer. Now entering 2017, how well does that original, albeit evolved, formula stack up to increasing competition? I drove it for a week to find out.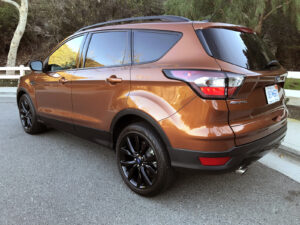 Right off the bat, the latest generation of the Escape isn't a bad looker. No, it doesn't have the same weak-at-the-knees effect as some of Ford's more stunning models (looking at you, Fusion and Mustang). But, with the optional SE Sport Appearance Package (including black wheels), sharp headlight/taillight design and well-placed accents, I prefer the look to a number of other compact SUVs on the market. I'm not quite as wild about the 'Canyon Ridge Metallic' color, but there are of course other alternatives.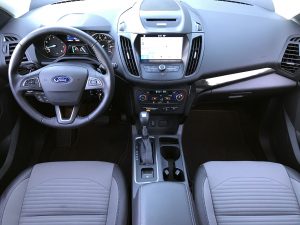 Stepping inside, my tester came spec'd with the Equipment Group Package ($1,395), which includes the SE Tech Package, SYNC 3, reverse sensing system, roof-rack side rails, blind spot info system and SYNC Connect. Again, that's a $1,395 package. That's huge value for money. Additionally, the very handy $495 Power Liftgate was fitted, along with the $1,495 Panoramic Vista Roof. With the exception of the $1,500 sunroof, the Escape offers quite a lot of kit for minimal investment. The final sticker came to $31,470, which for a fairly loaded Escape, seems like a tempting number. Although I wouldn't recommend directly comparing the two, for reference purposes, the BMW X1 starts at $33,100.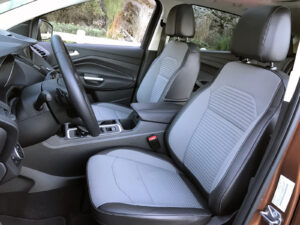 In terms of overall interior design, it's typical modern Ford: very nicely laid out, and everything is where you'd logically expect it to be. One item of note: I was pleasantly surprised by the use of seating materials. Leather is used on the outside and headrests, while a ribbed cloth material is fitted elsewhere. It's an interesting combination and I found it to be particularly comfortable. Nice touch. If you hate start/stop (yours truly included), you probably won't fall in love with the fact that it's standard on the SE. If you want to avoid it, there's always the lower-level "S" model.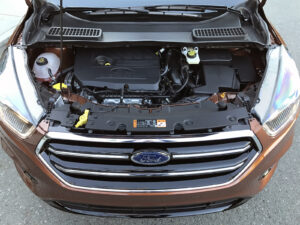 Then we get to the engine. To start with, I completely understand nobody buys a Ford Escape for the same reasons someone buys a Mustang. These are two completely difference audiences, one cares deeply about performance. The other… not so much. Even still, I am a little surprised how down on power the 1.5L EcoBoost engine can be at times. Given how aggressive the Escape looks, you'd expect something similar when you put your foot down. In some applications, 179 hp is more than fine. Heck, the Miata only makes 155, and it's an absolute riot. In the Escape, that means 0-60 in 9.2 seconds. Even if you don't care about speed, you'll notice the lack of it. If you're even mildly interested in acceleration, I'd hugely recommend springing for the hot 245 hp, 2.5L. The difference between darkest night and break of day.
Duke's Mods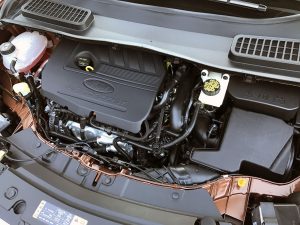 I'll be very delicate about this: MORE. POWER. The Escape is a great platform and a very compelling package. The only flaw in my book is the lack of acceleration. Give it a tune, bigger turbo, intake and exhaust and you'll more than fix the problem. Or, probably the more reasonable approach, just spring for the 2.5L EcoBoost straight from the factory. Additionally, I definitely wouldn't mind a more powerful sound system. Aftermarket solutions can be found at reasonable price points, and can make a profound difference in your driving experience.
Summary
Huge value for money, attractive design, reasonable functionality and plenty of space to haul the family. Though it has changed over time, the 2017 Escape still offers the same traits that made it a success in the first place. While I wasn't flattered by the powertrain, that's corrected easily enough by opting for more powerful models. Otherwise, it's hard to fault this compact Ford SUV. I imagine we'll continue to see a number of these on the road, for all of the right reasons.
Please follow me on Instagram, Facebook, and Twitter, and read my other car reviews at dukesdrive.com.
Photos
Summary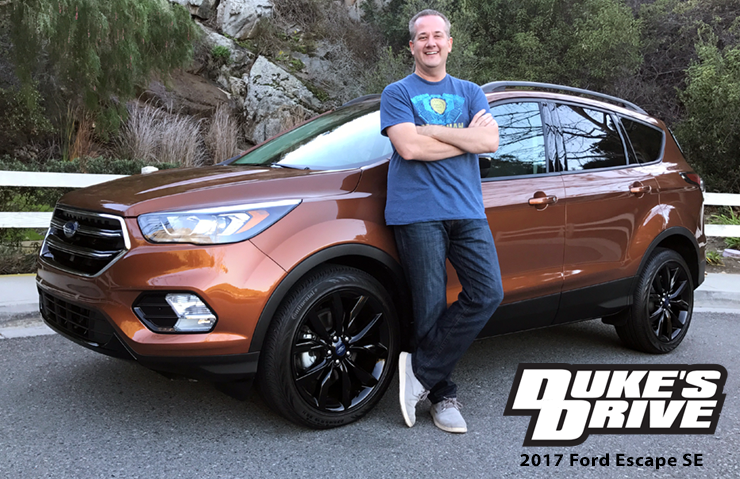 Duke's Drive: 2017 Ford Escape SE
Description
How well does the 2017 Ford Escape SE stack up to increasing competition? I drove it for a week to find out.
Chris Duke
No Replies to "Duke's Drive: 2017 Ford Escape SE Review"
---