Jan 25, 2017
Duke's Drive: 2017 Ford Fusion Hybrid Review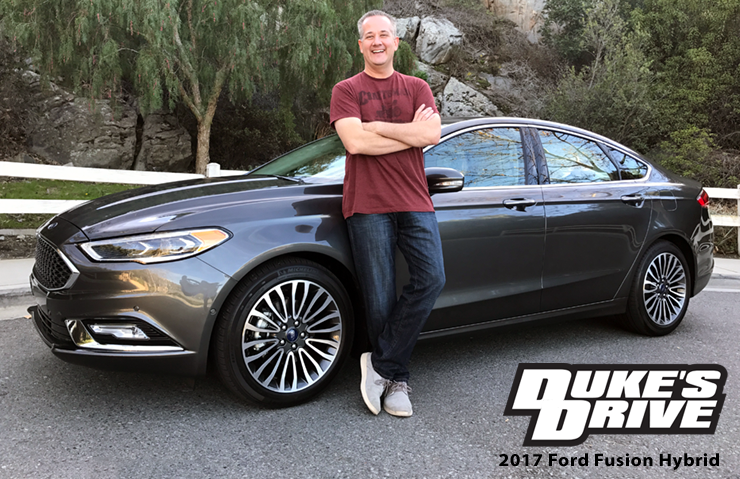 Duke's Drive is all about my experiences with driving new vehicles. It truly is a privilege to be able to drive a brand new vehicle for a week and share my thoughts with you. It is a responsibility that I don't take lightly, or for granted. I know the pains of wanting to test-drive a vehicle you're interested in buying, and it's not an enjoyable experience. These are the stories of my experiences.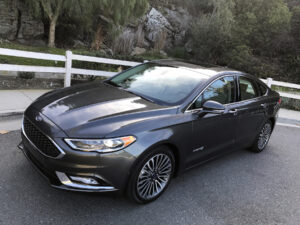 Over the years, the Ford Fusion has developed a reputation as a surprisingly tempting alternative to German and Japanese sports sedan rivals. From its razor-sharp exterior styling to well-designed interior and potent handling, the Fusion (known as the Mondeo in other parts of the world) has become a a credible threat to competitors like the BMW 3-Series and Mercedes-Benz CLA. However, that's in EcoBoost spec. Can the Fusion Hybrid offer an equally compelling package? Let's grab the keys and find out…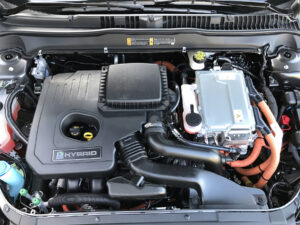 Not only was this the first Ford Fusion Hybrid I've gotten behind the wheel of, it's the first hybrid in general I've ever driven. Immediate impression: driving without any engine noise or activity is a surreal experience. Until you really get on it, the naturally-aspirated four cylinder remains dormant. When you do put your foot down hard, the resulting acceleration isn't exactly what you'd expect. The engine doesn't have a turbo and wow is that apparent. Pretty decent guess that if you're buying a hybrid big power isn't a priority. But still, worth noting.
Moving away from performance, the interior is typical Fusion, which is quite a compliment. Controls and dials are laid out perfectly, with equally impressive materials. It's one of those cars you sit in for the first time, and immediately feel at home. As far as interior layouts go, this is one of the most intuitive you'll find.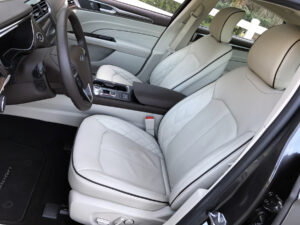 Spec'd in Platinum trim, the interior comes with virtually all of the toys and top-tier materials Ford offers. That includes premium feeling leather, quality stitching and tech including SYNC 3 and Adaptive Cruise Control (ACC). I can't overstate how big a fan I am of ACC with Stop-And-Go. A lot of automotive tech innovations are 'take it or leave it' for enthusiasts, but that's one I'd always option.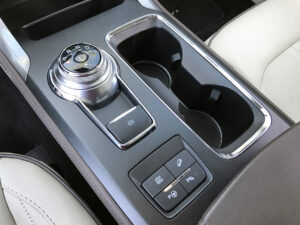 I've driven a pretty wide spectrum of cars, and even compared to the best of the bunch, this interior is nearly without fault. Admittedly, I'm still not wild about the rotary gear shift dial, and the sound system isn't as impressive as some of the higher-end units I've had in other testers. Those minor gripes aside, it's pretty much perfect. Not surprisingly, it's reminiscent of the Ford Explorer I tested recently.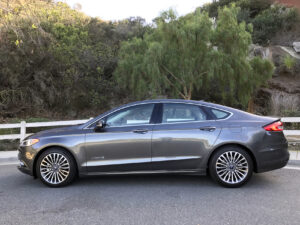 As beautiful as the interior is, the exterior is the Fusion's real party piece. My goodness is this a gorgeous thing to look at. The Aston-Martin(ish) grille sits right at home with this well-tailored suit, which provides cutting-edge looks without going too far. I still remember how impressed I was the first time I saw a Fusion years ago, and the effect has only grown over time.
Duke's Mods
ADD. BOOST. This four banger is absolutely dying for a little extra oomph when pedal and carpet meet. At minimum, I'd look into a quality aftermarket ECU tune to add a little anger to the hybrid's 188 hp. If you're willing to drop some additional cash, bolt-ons ranging from an intake/exhaust combo to full-on turbo would go a very long way. Of course, at that point, it's well-worth going for one of the more powerful Fusion models from the factory.
Otherwise, considering how gorgeous the exterior is, all I'd add is window tint and some slightly more attractive wheels.
Summary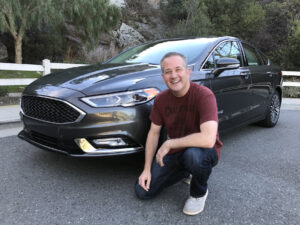 As-tested, my 2017 Ford Fusion Hybrid came in at $37,895. Given how stunning the exterior is and nearly-perfect interior, that's a huge bargain, but there are two points to keep in mind. First, the lack of power (which, given it's a hybrid, might not be a deal breaker). The second, to my considerable surprise, is the MPG. For a hybrid, particularly one that sacrifices power in the name of efficiency, 43/41 mpg average is good but not great. My '16 four cylinder Jetta routinely gets in the neighborhood of 40 mpg and it's not a hybrid. Calling 43/41 mpgs 'poor' would be ridiculous, it's still impressive, just not quite what I expected.
Overall, this is an outstanding full-size sedan. If power isn't a big deal, the cost savings in fuel make the Fusion Hybrid the one to go for. If you prefer to use a slightly heavier right foot, the Fusion range easily still has you covered. Just head for rather excellent 2.6L EcoBoost V6 instead.
Please follow me on Instagram, Facebook, and Twitter, and read my other car reviews at dukesdrive.com.
Photos
Summary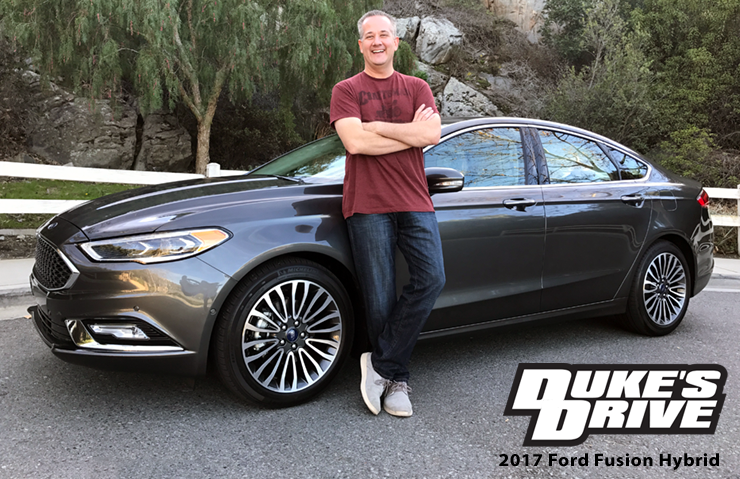 Duke's Drive: 2017 Ford Fusion Hybrid
Description
Over the years, the Ford Fusion has developed a reputation as a surprisingly tempting alternative to German and Japanese sports sedan rivals. Can the Fusion Hybrid offer an equally compelling package? Read to find out!
Chris Duke
No Replies to "Duke's Drive: 2017 Ford Fusion Hybrid Review"
---