Dec 1, 2022
$295 DaVinci Resolve Studio with Speed Editor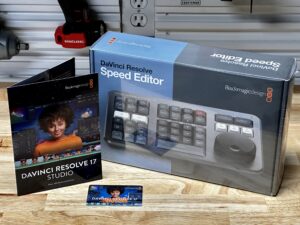 This isn't a sales pitch. This isn't for an affiliate referral kickback. I have nothing to do with this company. I paid full price with my own dinero. This is to help the Internet. No strings. Want to save $100? Read on!
I recently decided to try to make the switch from FCPX to DaVinci Resolve and after some initial tests with the free version, I wanted to take it to the next level with the paid version: Resolve Studio. I also wanted the Speed Editor keyboard, though (especially since early beta reviews of the iPad version show it works there too!)
When the Speed Editor was initially released by Blackmagic Design, they included it for free with the Studio license: $295. Since then they've increased the cost $100 to $395. I missed all possible Black Friday, Cyber Monday, and Amazon Prime Days — if that was even an option.
Adorama currently has a combo deal but they're out of stock and it's also the dongle (hardware key) version. Meaning, if I wanted to switch between my Mac and PC, I'd have to move that stupid thing around. I wasn't having it. With the digital software license key, you can license two computers. Sold! Well, not by them. My search continued and this is what I found:
Here's how to score this deal:
Go to this link to see what you'll be ordering. If it says it's out of stock, go to step 2. Take a look at all the details, especially the part about it being non-refundable. There's lots of info on this page–and click the tabs below the photos for even more details.
If that page shows it as being out of stock, go to this link. This is how I had to order it but since then it has been corrected. You'll notice here on the search results page is that item and an add-to-cart button. Click it and you're on your way to getting both the software license key for 2 computers and a brand new Speed Editor for the same cost as the license alone.
Before I purchased it, I contacted them using their website form and got a quick response from Josh. He's the one who cleared up my confusion about it being out of stock when it wasn't. The issue has since been resolved.
I ordered it at 3:10 pm, got a shipment email notification at 3:14 pm with UPS tracking number, and a few more minutes later (3:19 pm) I received the serial number and activation key for DaVinci Resolve Studio. It worked as expected on both my Mac and PC using the latest version, 18.1. Now that is fast!
This company, Coremicro, is located in Fremont, CA (Northern California) so while I was able to get the license key quickly via email (during normal business hours), the keyboard will take 2 days with free shipping to get here in San Diego. Let me just say–the keyboard isn't required at all… but if I can get it for free, why not? I'll definitely use it.
This was my first purchase with them. I've never heard of Coremicro before, but they have an actual business address, phone number, and respond quickly via email. Hopefully this testimonial will help you out if you're thinking of taking advantage of this incredible offer that doesn't exist anywhere else.
12/3/2022 Update: The Speed Editor keyboard arrived today as expected, in a factory-sealed box. What I wasn't expecting was for the license card and its envelope to be included as well. I was happy to get the digital license key so quickly via email but it's nice to have the physical card as well. I updated the featured photo above with what showed up today. Thanks, Coremicro!
12/21/2022 Update: DaVinci Resolve Studio is now available on the iPad. Get it here from the App Store.
No Replies to "$295 DaVinci Resolve Studio with Speed Editor"
---