Dec 1, 2022
Switching from FCPX to DaVinci Resolve after 15+ years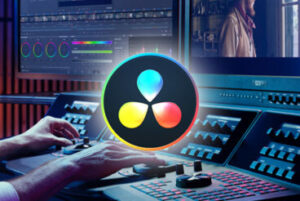 I recently decided to try and make the switch from editing my video projects in Apple's Final Cut Pro X (FCPX) to the very popular alternative, Blackmagic Design DaVinci Resolve Studio. I've used FCPX to edit over 100 episodes of my TV show, Motorz, plus over 40 episodes of Tool Talk and countless other projects over the past 15+ years.
I had high hopes that Apple's Final Cut Pro X would keep advancing like it did during its early stages. FCPX came out in 2011 and I was an immediate early adopter after using Final Cut Pro 7 for years prior. Over recent years, Apple just hasn't kept up with the competition. Everyone also assumed they would port it to the iPad but to date, that still has not happened. The alternatives work great, but are too siloed in their own world for me to bother with.
At this year's WWDC, Apple announced that by the end of the year Blackmagic Design would have a version of DaVinci Resolve Studio for the iPad without dumbing it down too much. This week the reviews started popping up on YouTube of the beta and it's legit. This is what pushed me over the edge. I started watching as many videos and reading as many articles as I could find. The idea of not being restricted to edit only on my Mac became extremely appealing.
I have a Mac mini and an iPad Pro, both with the M1 CPU. I also have a Microsoft Surface Pro 8 which is basically the Windows 11-equivalent to my 12.9″ iPad Pro. On the go, I'd like to be able to edit on my PC or my iPad. With FCPX that is not possible, and doesn't look like ever will be. With DaVinci Resolve, that will be possible this month.
Resolve is a bit of a departure from FCPX's magnetic timeline and simple interface. I've already installed it on my Mac and PC and with Blackmagic Cloud I can easily edit a project on one computer, then switch to the next to continue editing. It really works well. From what I've seen, it will work the same with the iPad Pro… and you can even use the Blackmagic Speed Editor keyboard to edit, alongside your finger and Apple Pencil. Wow.
The basic concepts are the same between the two apps, and even some of the same keyboard shortcuts work. Resolve even has an option to configure the keyboard for shortcuts you're used to in other NLEs such as FCPX and Premiere Pro. I decided to start fresh with Resolve and keep the default keyboard shortcuts so I'm not scratching my head while watching future video tutorials. But make no mistake about it, there's a learning curve and I've already experienced it. It's going to take time after mastering FCPX.
While DaVinci Resolve is free to download and use, they also have a Studio version for $295 that doesn't hold back on its features. I took the plunge today and ordered it with the Speed Editor keyboard (it didn't cost me anything extra with the deal I found). I also fired up a $5/mo account with Blackmagic's cloud service so I can test it out (which I already have and it works great between PC and Mac) when the iPad app becomes available.
There's much discussion and debate about how Apple is treating their "pro" users online. I tend to agree with the majority of the thoughts… Apple's interests don't include taking it to a true professional level. It is 11 years old and while it still works great, looks great, and is super fast… it also feels like a dying product.
I'm looking forward to trying something new and being able to edit on more devices. And if it doesn't pan out, well–I'll have a Resolve Studio digital license to sell. I don't think it will come to that. I love where Blackmagic Design is going and the momentum behind their frequent updates packed with amazing AI features. This is the future of video editing. Now if they could just give me that FCPX magnetic timeline…
12/21/2022 Update: DaVinci Resolve Studio is now available on the iPad. Get it here from the App Store.
No Replies to "Switching from FCPX to DaVinci Resolve after 15+ years"
---