Apr 16, 2019
Craftsman V60 Cordless Lawn Mower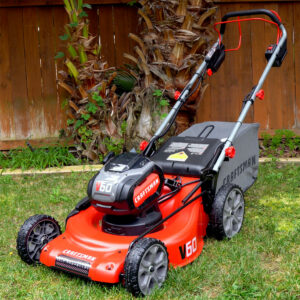 In this episode of Tool Talk I review the new CRAFTSMAN V60 Cordless 21" Self-Propelled Lawn Mower.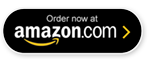 Self-propelled mower
Push mower
Video Corrections
Hot Rod Speed?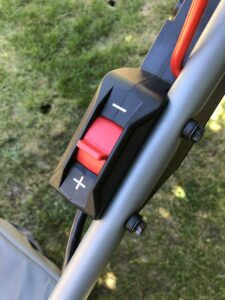 In this episode I talk about how fast the mower is, and my final recommendation is to purchase the push mower version instead of the self-propelled if you have a small yard. The truth is that I missed a very important feature that was staring at me (literally) right before my eyes. There's a variable speed adjustment dial/knob for the self-propelled wheels.
This was a major "duh" moment for me and I apologize for missing it. The self-propelled mower's speed can be adjusted from very slow to very fast. I found, after further testing, that a little past the center was my preferred speed.
All The Batteries?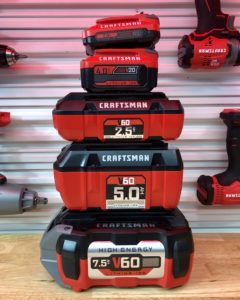 In this episode I show what I believed to be all the lithium ion currently available batteries from CRAFTSMAN: the 2AH and 4AH batteries for the V20 platform, plus the 2.5AH and 7.5AH batteries of the V60 platform.
I was informed that there is another V60 battery, a 5.0AH that is currently exclusive to the electric push mower. This photo shows the complete stack.
The V20 batteries are for power tools and outdoor, while the V60 batteries are exclusive to outdoor tools. These currently include the hedge and string trimmers, a blower, a chainsaw, and the two electric mowers.
The V20 batteries work interchangeably, meaning you can use a 4.0AH battery in a tool that came with a 2.0AH battery. This is the same for the V60 platform as well, however the 5.0AH V60 battery is currently exclusive to the push mower and the 7.5AH V60 battery is exclusive to the self-propelled mower. Interestingly, the smaller 2.5AH V60 battery will work in the mowers, but is not recommended due to the power requirements of the mowers.
The V20 and V60 platforms have different mounts, so you cannot use a V20 battery in a V60 powered tool (or vice-versa). To that end, it's entirely possible to use the largest 7.5AH battery in the other outdoor tools such as the string and hedge trimmers, blower, and chainsaw. It looks a bit strange, and increases the weight significantly, but it is possible. See photos below.
Manufacturer Information
V60 21-In. 3-in-1 Self-Propelled Lawn Mower features a powerful motor and is equipped with a 7.5Ah battery allowing you to Power
Through Yardwork. The V60 battery platform makes this product compatible across all V60* CRAFTSMAN tool. You'll find a complete line of outdoor tools and equipment essentials for a job that will make you proud.
Features
OPTIMAL CONTROL: Powerful V60 performance with variable speed self drive mechanism for optimal comfort and assist
MOWING CONVENIENCE: 3-in-1 mulching, bagging and side discharging
PREMIUM DURABILITY: 21-In. metal deck for premium durability
ADJUSTABLE: Single lever height adjust from 2-In. TO 3.6-In.
COMPACT STORAGE: Vertical folding position for optimal storaging
Disclaimer
I am sponsored by CRAFTSMAN, however "Tool Talk with Chris Duke" is a video series I created outside of my contract. All opinions and content direction are my own. I do this for my love of tools, the brand, and educating others about great new products. Thank you for watching.
Merch
Please help support and promote my show! Shirts are now available at Amazon Prime. Click here to shop or search Amazon for "Tool Talk Duke".
3 Replies to "Craftsman V60 Cordless Lawn Mower"
Gary Lepisto

Jun 9, 2020 (5:38 pm)

Purchased the V60 Craftsman looking to purchase /extra battery for this unit is there any available.

Phillip Allen

Jul 26, 2023 (7:50 pm)

Hi, I have the v60 7.5A self propelled mower. Do you know where I could purchase a replacement battery?

Jul 26, 2023 (8:58 pm)

Hey Phillip! If you just google "buy craftsman v60 7.5 batteries" the first result that showed up for me at Tools Roller Shop looked like they had it in stock for $99. You can also check Amazon for knock-offs, or even eBay.
---