DIY Windshield Washer Fluid
Posted on April 11, 2017 by Chris Duke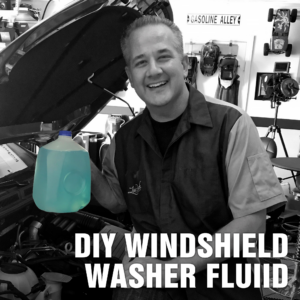 Are you out of windshield washer fluid for your vehicle and, like me, you are tired of running to the store to get more? Not only can the process of getting some when you're out be a nuisance, but did you know that you can make some right now without leaving your home using stuff you've already got?
It's not so much that it costs a lot (averaging $2-$5 per gallon). It's just a hassle. I ran into a situation the other day while doing some basic maintenance on my F-150, and I really didn't want to run to the store just to get a gallon of blue liquid… again.
If I didn't figure out a quick and easy way to do-it-yourself, I'd forget about it. Then the next time I am out driving and need to clear my windshield and it's still empty, some expletives would be spoken!
In this very moment, not only did I find out how to "brew" my own windshield washer fluid at home in a couple of minutes, but I found out that most commercially sold washer fluid is made of nasty, extremely poisonous chemicals that could poison you, your children, and your pets!
Here's how easy it is to create your own windshield washer fluid that is not just safe and environmentally friendly, but you can do it right now without leaving your home or your shop…
Like this post and want to see more? Please be sure to sign up for my newsletter.
Please follow me on Instagram, Facebook, and Twitter, and read my other car stuff at chrisduke.tv.
Subscribe to my newsletter
Sign up today and receive updates to your inbox. I will never share or sell your email.
---
No Replies

to "DIY Windshield Washer Fluid"
---