Mar 23, 2017
The New Red iPhone 7: Get This Case Instead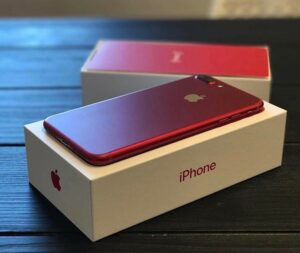 Tomorrow morning at exactly 8:01am PDT Apple will begin selling a new phone in a special edition (PRODUCT) RED color. But what if you just bought an iPhone 7, six months or less since it came out? What do you do? Get a red case, silly.
It's a wise marketing tactic–mid way through a product's lifecycle (before the new iPhone comes out in another 6 months or less, that is), introduce a new variant that will give a boost to sales. If I had to guess, though, the sales won't be that stellar since most people who wanted to upgrade to an iPhone 7 have already done so by now. Those that have one aren't likely to incur the hefty cost ($749 or $869 for the Plus model) just to get a color change.
I have to hand it to Apple–all the marketing photos and videos make it look absolutely beautiful. If you're into red smartphones, that is. In a world where all smartphones start to look the same and by now the newness of an iPhone 7 has worn off, it's a natural instinct for many people (including myself) to get the latest from Apple. But do you really need to?
Let me break it down for you. The new red iPhone is the same iPhone that came out last September. Same guts. Same cameras. Same screen. In fact, the only thing that's different is the color of the back and the sides. You're going to end up putting a case on it anyway, so why not just get a red case? It will look virtually the same. Plus one gripe I've already heard is that the new red iPhone only comes with the white front. No black option.

I did some digging on Amazon and found the perfect option for you. I'm actually in the market for a new case for my iPhone 7 (change things up because I'm bored with the dark blue one I currently have), which is why I was poking around. I ordered a blue version of this red case and will update this post with my real world tests once it is received.
And no, I'm not going to give you a "Top 5 iPhone Red Cases" or fill up this post with a bunch of nonsense. I'll save us both a lot of time by giving you my #1 top recommendation based on all of my research.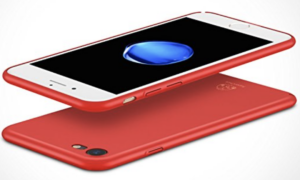 Pros
Extremely slim .3mm case. Having had several cases this thin (including my current case), I can testify that it makes your phone feel like it doesn't have a case on at all, while still offering scratch protection. Drop protection–not so much.
It comes in other colors like light and dark blue, champagne and rose gold, and space black.
Unlike the new red iPhone, if you damage this case or get it scratched, just buy a new one.
No circle cutout over Apple logo. This is my personal preference, though. I hate cases that try to show the logo. It just looks stupid.
Average of 4.5 stars from 138 customer reviews.
Only $12 ($14 for Plus model). That's a savings of $737, or $855)! Thank me later.
Amazon Prime! Need I say more? And free one-day if you order $35 or more worth of Prime stuff.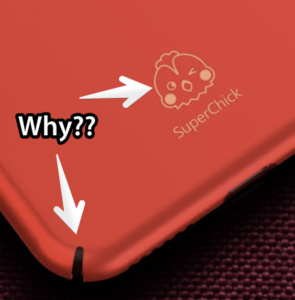 Cons
It adds .3mm thickness to the back and sides. I promise you won't notice, though.
There are two cutouts in the bottom corners. I assume this is to prevent breakage of the plastic when installing on your phone.
No shiny Apple logo on the back, but do you seriously need to advertise it? I prefer a logo-less back.
SuperChick logo? What? Why?
There are definitely other options for red cases. Just search "iPhone 7 red case" at Amazon and you will see more options. However, if you want to get as close to the look of the new red iPhone 7, look no further.
The TORRAS red case is available for both the iPhone 7 and the iPhone 7 Plus, right now. You don't even need to wait until 10am tomorrow morning! ☺️
One more thing…
Like this post and want to see more? Please sign up for my newsletter, below.
Please follow me on Instagram, Facebook, and Twitter, and read my other tech stuff at dukestech.com.
No Replies to "The New Red iPhone 7: Get This Case Instead"
---