Aug 29, 2015
Duke's Drive: 2015 Chrysler 300S HEMI Review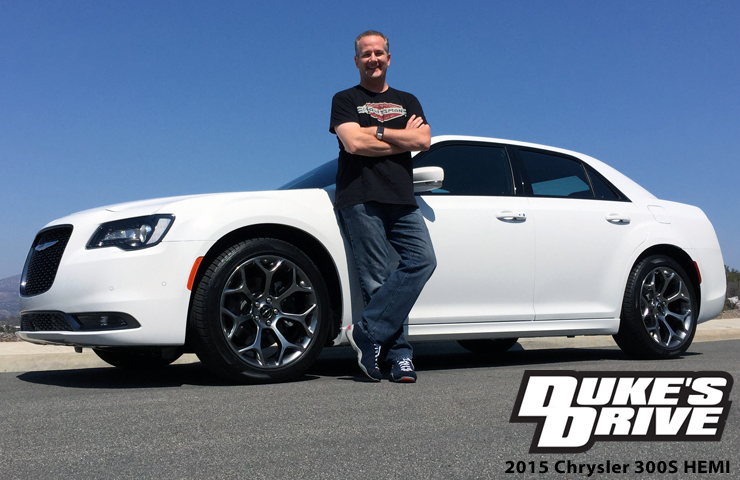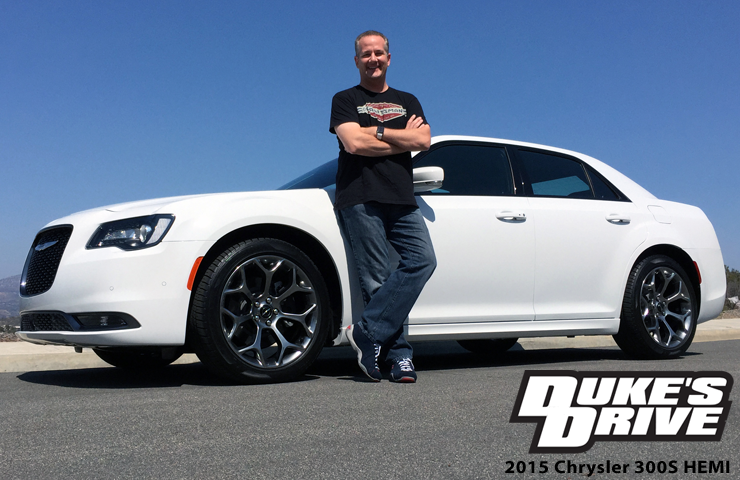 Duke's Drive is all about my experiences with driving new vehicles. It truly is a privilege to be able to drive a brand new vehicle for a week and share my thoughts with you. It is a responsibility that I don't take lightly, or for granted. I know the pains of wanting to test-drive a vehicle you're interested in buying, and it's not an enjoyable experience. These are the stories of my experiences.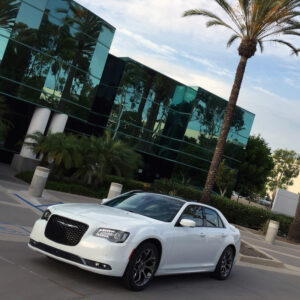 Over the years, the Chrysler 300 has seen a number of alterations. Put the most recent model next to a 2006 300C and the changes become remarkably clear. Having owned an '06 for a few years before heading back to trucks, I was curious to see where things had headed. That opportunity presented itself when I came across the keys of a 2015 300S. It didn't take long to discover the evolution from 2006 to 2015 has been more than skin deep.
One of the bigger changes is the model lineup itself. There are now three trim levels; 300, 300S and 300C. The 300 Premium is the base car (think rental car fleet), the 300S is the sportiest of the trio and 300C is the most luxurious. The prices reflect that order, with base coming in at $31,695, the S slightly higher at $35,070 and range topping C beginning at $38,070. New for 2015 is the 300C Platinum trim at $42,395. All can be had in either RWD or AWD, with the latter running about a $2,000 premium.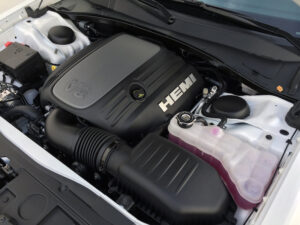 The base engine is a pretty healthy 292 hp, 3.6L V6, with the ponies jumping up to 300 for the S model. Looking for a little more? Not a problem. Though the Premium only has the V6, all of the upper tiers can be ordered with a HEMI 5.7L V8. Not sure if that power bump is worth the $3k price increase? Power goes to 363 hp, torque hauls at 394 lb-ft and the eight-speed transmission shifts from a standstill to 60 in 5.3 seconds. Those numbers feel even more impressive behind the wheel. Considering the 300S carries a hefty 4,408 lbs., it heads towards the horizon with surprising urgency.
That heft, however, does become a little much through the corners. Though the electric power steering does have nice weight, some numbness is present and the two-ton weight makes itself fairly known. Considering not many cross-shop a 300S and pure sports car, it's not a big issue, just one to be aware of during a test drive.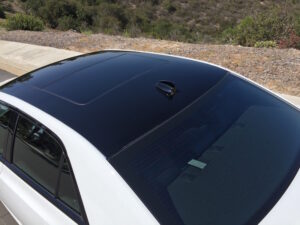 The exterior, however, is pretty much flawless. As the design has evolved, its become increasingly attractive. With this iteration, the terms both 'stunning' and 'sexy' apply to pretty much every angle. I'm a particularly big fan of all the black elements, including the black grille, dark trim and subtle accent pieces. On a white car, it's pretty jaw dropping. Best of all is the black roof with integrated panoramic sunroof and shade. The combination makes this car look less like a stock 300S and closer to a very tastefully modified one. In my book, that's a good thing.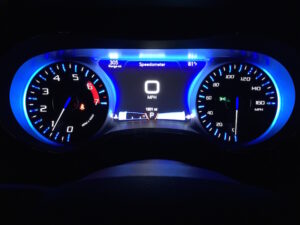 The 300S' true tour-de-force is the interior. Though this may be only the middle trim level, the majority of the touch surfaces and controls are either leather or soft-touch, solid and would feel at home in some German contemporaries. The steering wheel feels great and shift paddles are placed within easy reach. The dash, particularly at night, looks phenomenal with blue LED backlighting and crisp, centrally mounted digital display.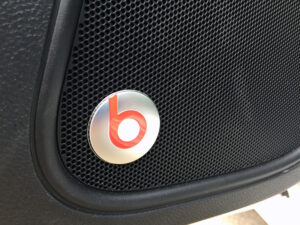 Speaking of technology, this 300S incorporated a few of my favorite Fiat-Chrysler Automobile (FCA) toys. The UConnect infotainment system remains among my favorites, along with parking assist, keyless entry, remote start and adaptive cruise control. If you haven't experienced adaptive cruise before, it alone is worth a test drive. Pretty amazing technology. In case that wasn't enough, the 552-watt(!) amp and Beats Audio 10-speaker system is enough to make the mirrors vibrate.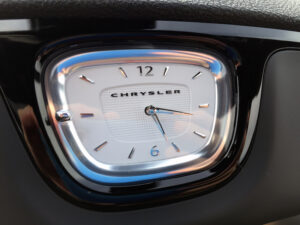 If I were to nitpick, the only item that feels genuinely out of place is the analog clock. Considering that everything else is digital, I think we can let that tradition go. It doesn't have any real purpose, isn't always easily readable and doesn't mesh with other interior elements. But, again, that's a small issue in an otherwise strong interior.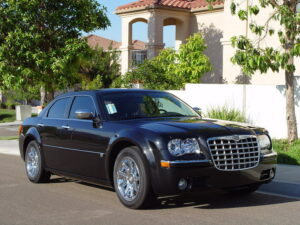 All in, this 300S came with a sticker of $45,555. While that is a pretty substantial number, the overall package is hard to beat. It's surprisingly fast, looks amazing, has a solid interior and more than a few toys. Getting that from rivals is likely going to add thousands on top, making this a relative bargain. Does it take home my recommendation? I'll put it this way. I quite liked my black 2006 300C, enough to park one in my driveway (see photo). And this, in every way practical, measurable and desirable, is miles better still.
Duke's Mods
Considering just how good the 300S turned out to be, many would be satisfied with the stock package. However, if you're looking to take your Chrysler a few steps further, the aftermarket is more than ready. Since the 300S' balance of comfort and performance is bang on, I've put together a few upgrades that contribute to driving dynamics without compromising luxury.
First up, let's take a look at suspension adjustments. Stock ride height is fine but if you'd like to bring it a little lower, tuck the tires or get even more aggressive, the factory springs need to go. For a budget friendly solution, check out RideTech's ShockWave air suspension. Available for the 300 range, ShockWave allows for a wide range of quickly adjustable ride heights. For example, keeping it factory for the daily commute, putting it on the floor during car meets and somewhere in between for great backroads.
Better yet, unlike springs which can compromise comfort, this air suspension works to enhance both handling and ride quality, not one over the other. I've used similar air suspension systems on Motorz before, including a Mustang GT. You'll likely be happily surprised at how much of a difference even a small drop can make.
With your 300S now looking more purposeful, why not make it sound the part? Though it is slightly on the more expensive side, Corsa's Sport exhaust system for the 300 is an outstanding combination of tone, performance and quality. Instead of dramatically increasing the car's volume, the Corsa Sport exhaust adds depth and character to your 300's voice, without being intrusive or adding drone. Beyond sound, the stainless steel system reduces back-pressure, allowing the engine to work easier and open up a few more horsepower. If you're interested in adding substantially more decibels, Corsa's Xtreme exhaust is the same system but further amplified.
To round out a strong base set of mods, I'd suggesting looking into a performance air intake. Anytime you can make your engine's job easier, you're increasing its ability to make power. By dropping in a high-quality air intake, you'll notice an improvement in sound and a slightly more eager throttle response. That's especially true if you plan on tuning the vehicle, which will multiply any gains.
My recommendation is to pick up an aFe Magnum Force Stage 2 intake. With a respected name like aFe and OEM quality finish, you're adding a system that's perfectly at home in a high-end Chrysler's engine bay. It's also easy to install, is a breeze to maintain and is a cost effective way to make easy bolt-on power.
Please follow me on Twitter, Facebook, and Instagram, and read my other car reviews at dukesdrive.com.
On The Radio
I'm also a co-host on the syndicated radio car show "The Drive", hosted by my Motorz co-host, Alan Taylor. Here's what we said about the 2015 Chrysler 300S on the air!
December 19, 2015
Photos
Summary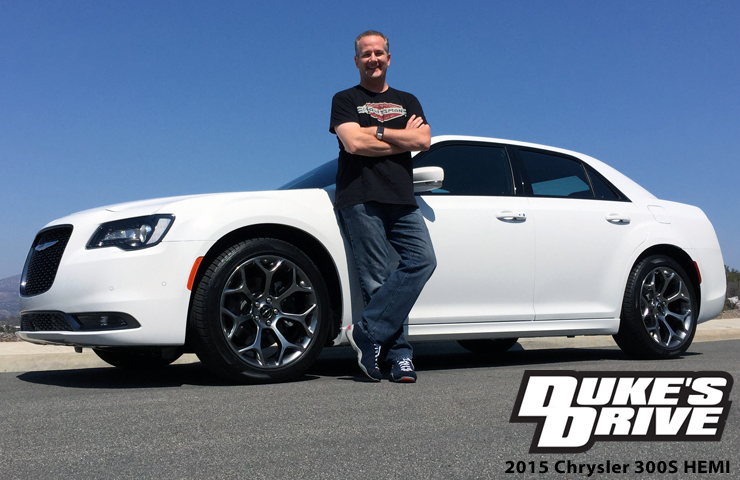 Duke's Drive: 2015 Chrysler 300S HEMI
Description
Having owned a 2006 300C for a few years before heading back to trucks, I was curious to see where things had headed. That opportunity presented itself when I came across the keys of a 2015 300S with a HEMI V8.
Chris Duke
No Replies to "Duke's Drive: 2015 Chrysler 300S HEMI Review"
---