Feb 15, 2016
Duke's Drive: 2015 Ford Mustang EcoBoost Review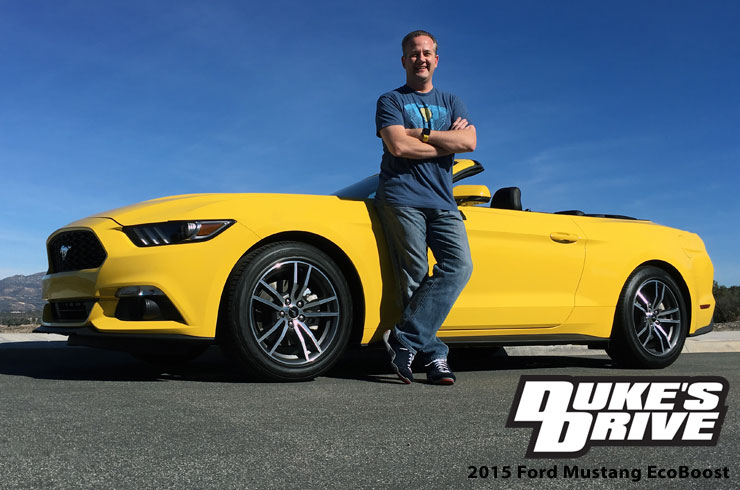 Duke's Drive is all about my experiences with driving new vehicles. It truly is a privilege to be able to drive a brand new vehicle for a week and share my thoughts with you. It is a responsibility that I don't take lightly, or for granted. I know the pains of wanting to test-drive a vehicle you're interested in buying, and it's not an enjoyable experience. These are the stories of my experiences.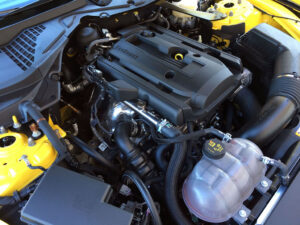 Few recent sports cars have been quite as controversial as this one: the 2015 Ford Mustang EcoBoost. Instead of the typical V8, pop the hood on this latest pony and find a 2.3L turbocharged inline-four. Is a small-displacement, turbo powerplant a brilliant (albeit unexpected) chapter in Ford's history, or not quite deserving of the Mustang moniker? To find out, I grabbed the keys to this screaming yellow example and ultimately reached an interesting verdict. Let's get started with this boosted Duke's Drive!
Might as well address the elephant in the room right away: when you cut the number of cylinders in half, it's noticeable. After the 5.0 GT that I drove earlier, it's easy to tell the EcoBoost is a very different breed. Having said that, it's far from slow. Displacement may be minimal, but the boosted four-banger still cranks out 305 hp and 0-60 mph in 5 seconds. That's WRX STi territory for $10k less. Not exactly a bad deal. Plus, although there's nothing like the Coyote V8 howl, Ford has done a decent job making the EcoBoost sound about as good as could be expected.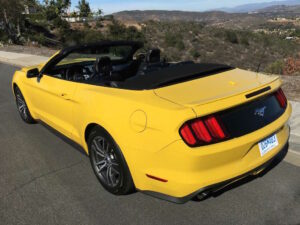 Pull on the highway, let the turbo spool up, and this Mustang will pull for days. It's a genuinely surprising amount of power, the only drawback being that it's not always accessible. On a twisty backroad, it's occasionally difficult for the turbo to spool up quickly enough to be effective. Of course, considering how well this pony handles, you might not even pay attention to power delivery. Thanks to decreased weight and beautifully capable suspension setup, this is one of the best canyon carvers to yet wear the Blue Oval.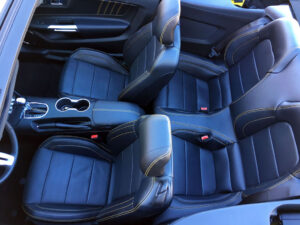 Performance aside, I'm a big, big fan of how Ford has reinvented its interiors. The EcoBoost is no exception. From the toggle switches to yellow stitching and great positioning of all driver controls, it's an outstanding place to spend time. As could be expected, there certainly are drawbacks. The rear seat is completely non-existent. Even my 10-year old daughter struggled to find any leg room. Additionally, since this is a not-particularly-expensive convertible, cabin noise can be pretty loud. Neither of those aspects are deal breakers, just things to be aware of before buying.
When it comes to pricing, my advise is to add as few options as possible. The EcoBoost can be a great deal, particularly when paired with the optional Performance Package, but the total can quickly rise. My tester was $36,000, which is well into GT territory. Ditch the convertible, add the performance pack, and you'll have a much more reasonable total.
Duke's Mods
Two fairly minor modifications can play a huge role in waking up the at-times mild Mustang EcoBoost. First up, a substantially louder exhaust system. The noise from the turbo four isn't bad by any stretch, but letting it breathe easier adds far more personality. Aim for an exhaust system with a deep tone and you might be surprised by how much character it adds.
Second, go with a COBB AccessPort. Known for upping the power of import favoites (ex. Evos, STIs, etc.), COBB has recently starting making handheld tuners for Ford models. Starting with the Focus ST and now the Mustang EcoBoost, the AccessPort allows you to adjust boost pressure, flash your ECU with custom maps, install or modify launch control, etc. It's an inexpensive, safe and enjoyable way to extract a little extra performance from your turbo pony.
Summary
Though it doesn't have the brutal charms or speed of the GT's V8, the EcoBoost makes an outstanding case for a small displacement, forced induction pony car. Less weight, affordable price and lots of tuning potential is a pretty attractive combination. Grab one in Triple Yellow, add the Performance Package and throw in an exhaust and AccessPort for one bargain performance machine.
Please follow me on Twitter, Facebook, and Instagram, and read my other car reviews at dukesdrive.com.
Exhaust 
Photos
Summary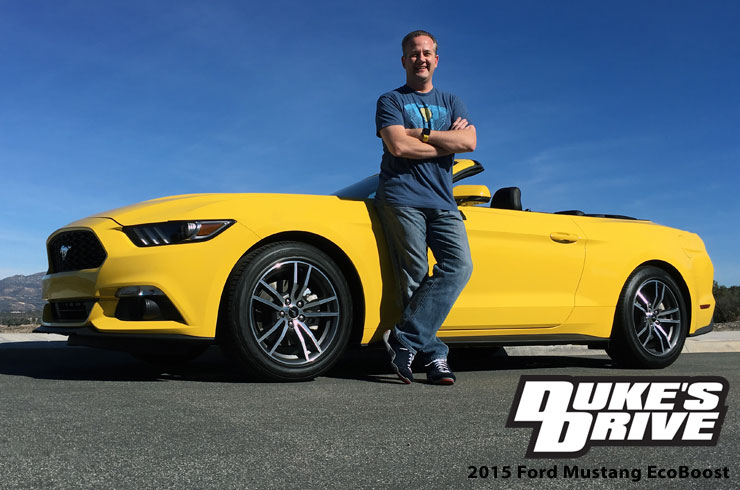 Duke's Drive: 2015 Ford Mustang EcoBoost
Description
I grabbed the keys to this screaming yellow 2015 Ford Mustang EcoBoost and ultimately reached an interesting verdict.
Chris Duke
No Replies to "Duke's Drive: 2015 Ford Mustang EcoBoost Review"
---