Mar 15, 2015
Duke's Drive: 2015 Jeep Grand Cherokee SRT 4×4 Review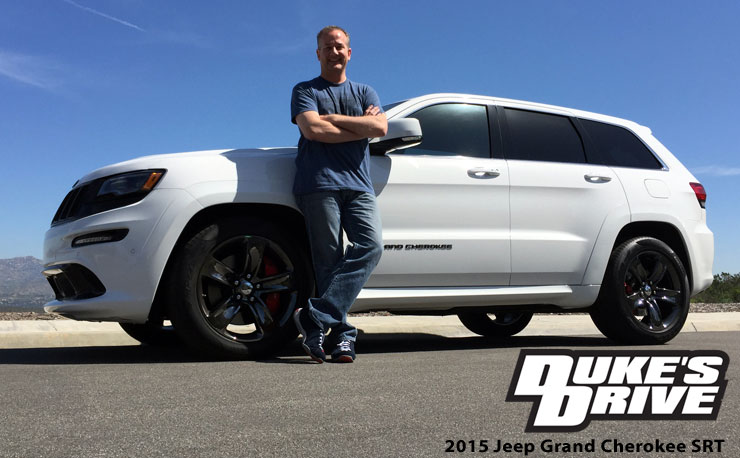 Duke's Drive is all about my experiences with driving new vehicles. It truly is a privilege to be able to drive a brand new vehicle for a week and share my thoughts with you. It is a responsibility that I don't take lightly, or for granted. I know the pains of wanting to test drive a vehicle that you're interested in buying, and it's not an enjoyable experience. These are my un-edited stories of my experiences.
In my opinion, cars don't get much better than sheer American muscle. Both of my previous Duke's Drives, the Challenger Scat Pack and Charger SRT 392, were classic powerhouses through and through. The Challenger brings striking looks while the Charger can comfortably take five cross-country. Just in case you need a third option, say hello to the insane 2015 Jeep Grand Cherokee SRT.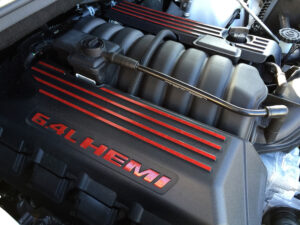 The standard Grand Cherokee is a great all-terrain vehicle. But add the letters SRT to the back and everything changes, beginning with the engine. I dare you to say this without smiling: this Jeep SUV has a 6.4L HEMI putting out 470 hp. To all four wheels. That's good for a 0-60 dash of 4.6 seconds and a top speed of 157 mph. To give some context, it'll take a 2014 Porsche Boxster GTS PDK a second longer to find 60. This isn't just an SUV anymore. It's a ground based missile.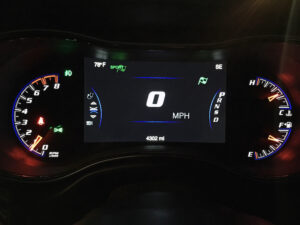 A key advantage of the Grand Cherokee SRT over its muscle bound brethren is obvious once you step inside. This interior is a truly phenomenal place to spend time. Huge amounts of space and quality materials all around make the $64,395 asking price seem fairly reasonable. The model I tested was a pretty steep $72,375, but leave a few boxes unchecked and things stay closer to home.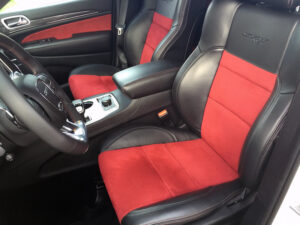 One option I would highly suggest is the Customer Preferred Package 28J. It's unquestionably expensive at $3,995, but it genuinely transforms the car. There is a stunning leather/suede combination throughout the cabin, including a suede headliner, which would feel equally at home in a six figure sports car. Additionally, SRT accents find their way to the exterior, including a black grille, red engine cover and black chrome trim. It's a great looking package, especially against a white exterior.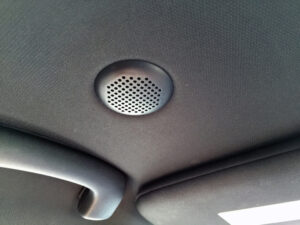 In an interesting twist, this SRT has a feature usually reserved for headphones: active noise canceling. Since the V8 can run on either all eight cylinders or just four, depending on driving mode/conditions, the engine note can change dramatically. To counteract any interior disturbance, microphones throughout the cabin monitor for engine drone. If detected, sound generators produce sound waves through the speakers to counteract this unwanted noise, maintaining a pleasant, quiet interior. Pretty brilliant.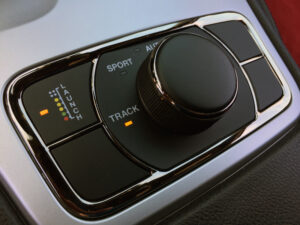 So the engine has warp drive and the interior is S-Class nice. And we haven't gotten to my favorite feature yet: launch control. This is hardly new to the auto world, most supercars and top shelf sports cars have had it for some time. But this is a 5,150 pound SUV. How effective could it possibly be? Turns out, very effective. As in, "officer it's not possible I was going that fast," effective. 
Unlike some systems that require drivers to deactivate all traction aids, push a complex order of buttons, navigate endless menus, etc. the Jeep's launch mode couldn't be more straightforward. From a stop, just stand on the brake, press the launch button, pin the accelerator and, once the display indicates conditions are good, release the brake. This can be done in any of the vehicle's driving modes, ranging from auto to track.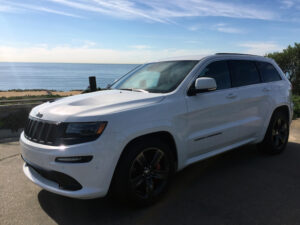 True, there are places where this SRT is compromised. There is less off road capability than typical Jeeps, for the same money you could have a larger vehicle, etc. Having said that, if you're buying an SRT, you probably don't care. To me, the biggest issue with the Grand Cherokee is that the price is right in line with the immense 700 hp Dodge Charger Hellcat.  Of course, the Hellcat doesn't have the same utility as the Grand Cherokee, which depending on your needs, may be enough to win your down payment.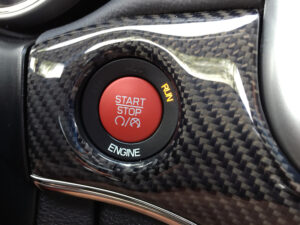 If what you're looking for is maximum SRT performance, for $71k you're best off in a Challenger or Charger Hellcat. However, if what you're after is a full size SUV with a luxurious interior and performance ready to embarrass most sports cars, this Jeep is tailor made for your garage. The school run, long holiday, Sunday drive or even drag strip session… this all-rounder can handle it all.
Expensive? Yes. A little compromised? Yes. Would I have one? Absolutely.
Please follow me on Twitter, Facebook, and Instagram, and read my other car reviews at dukesdrive.com..
Exhaust
I've got a thing for exhaust notes, especially with V8s. Have a listen to the sound of the exhaust on this 2015 Jeep Grand Cherokee SRT.
It's so sweet, and far more entertaining in person! Click the photo to enhance your audio experience while looking at the pipes of this Jeep!
On The Radio
I'm also a co-host on the syndicated radio car show "The Drive", hosted by my Motorz co-host, Alan Taylor. Here's what we said about the 2015 Jeep Grand Cherokee SRT on the air! Start listening to the segment at 1:30 into this broadcast.
March 14, 2015
Photos
Summary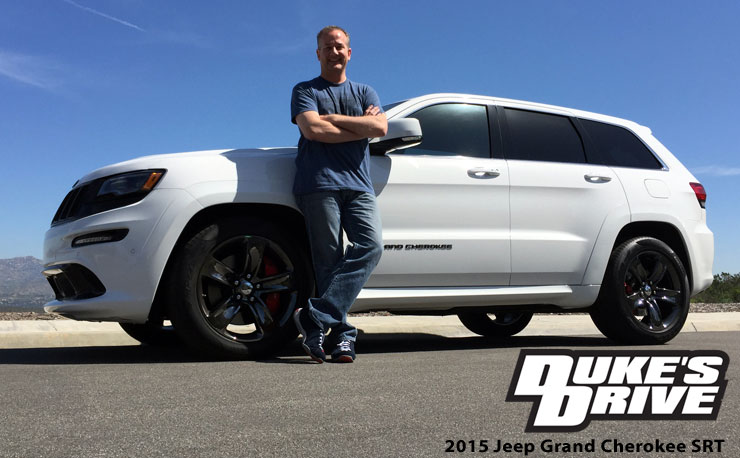 Duke's Drive: 2015 Jeep Grand Cherokee SRT 4×4
Description
In my opinion, cars don't get much better than sheer American muscle. Both of my previous Duke's Drives, the Challenger and Charger, were classic powerhouses through and through. Just in case you need a third option, say hello to the insane 2015 Jeep Grand Cherokee SRT.
Chris Duke
No Replies to "Duke's Drive: 2015 Jeep Grand Cherokee SRT 4×4 Review"
---