Aug 31, 2016
Duke's Drive: 2016 Ford Edge Sport AWD Review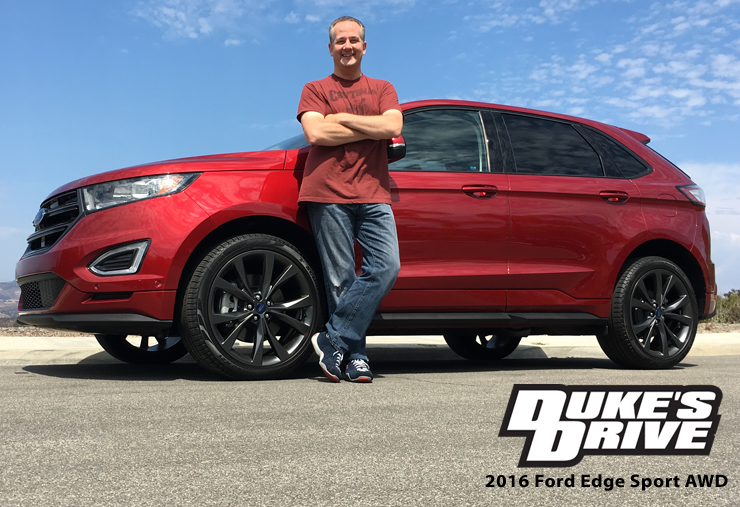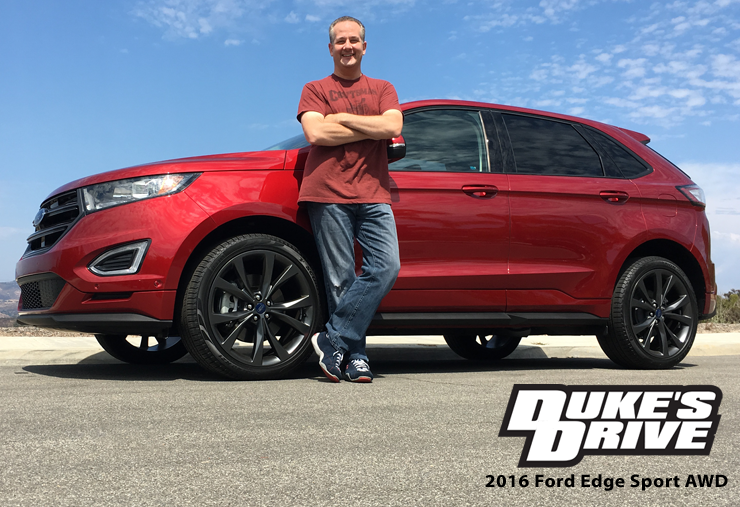 Duke's Drive is all about my experiences with driving new vehicles. It truly is a privilege to be able to drive a brand new vehicle for a week and share my thoughts with you. It is a responsibility that I don't take lightly, or for granted. I know the pains of wanting to test-drive a vehicle you're interested in buying, and it's not an enjoyable experience. These are the stories of my experiences.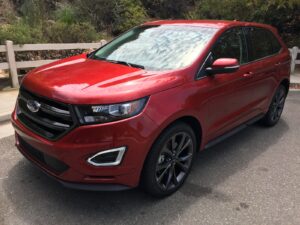 It's hard to imagine a segment more jam-packed with options than the crossover market. Virtually every manufacturer has a mini-SUV in one form or another. The result: there's a staggering amount of white noise for buyers looking for something unique. Yet, if you look hard enough, there are some standouts that offer much more appeal than the rest of the pack. One of those has always been the Ford Edge. Offering a unique look that suggests sportiness, utility and sophistication all at the same time, it's one of the few options that actively turns heads. Is there enough substance to match the style? I grabbed the keys for a seriously long test drive to find out.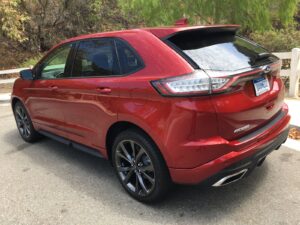 For most of my testers, it's a matter of getting to know them over a matter of days. Not with the 2016 Ford Edge Sport AWD. I jumped right in with a 20-hour, 1,000-mile cruise to Reno and back for Hot August Nights. Needless to say, I became quickly familiar with what this latest Ford offers. First impressions: this is an almost perfect design. While I'd make a few minor changes (more on that later), this is about as good looking a crossover as you're going to find. It's one of those designs that looks remarkably sharp from any angle. I'm a particularly big fan of the all-new LED taillight layout. The beautifully deep Ruby Red paint doesn't exactly hurt, either.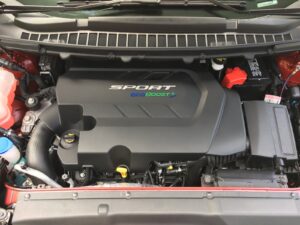 When it comes to power, I was surprised at how much oomph the 2.7L EcoBoost V6 delivered. Combining 315 hp and 350 lb-ft. torque, this Edge Sport has no difficulty coming to life when metal meets floor mat. It's a wonderfully smooth drivetrain, with power always available, but very easy to modulate for everyday driving. Speaking of commuting, this thing was absolutely made to be a grand tourer. It's not uncommon for me to come across some back pain on long cruises. Yet, from San Diego to Reno, I was perfectly relaxed the entire time. This would be an outstanding daily driver or long vacation hauler. It just eats the miles in a way few cars can manage.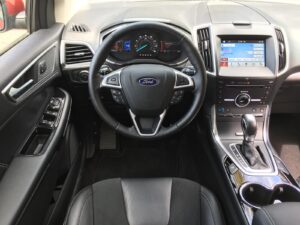 As much as I enjoyed the Edge Sport's performance, the arrival of Sync 3 was even more welcome. It's a considerable step forward in terms of infotainment systems, combining a very well designed touchscreen and color displays around the center gauges. It's one of the better systems I've come across, which is certainly a big plus when on 1,000+ mile road trips. I wasn't quite as fond of the lane departure system. It's a blessing for extended drives, but for short hops, it can become slightly annoying. Not a major issue, but something to be aware of when purchasing.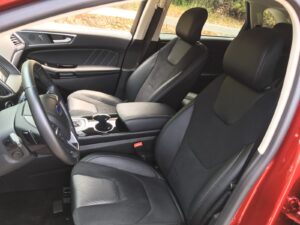 Moving on from technology, the interior itself is a great place to cover serious miles. The heated/cooled front seats (rear seats are heated as well) are the perfect mix of supportive and comfortable. That's in no small part thanks to the suede seat inserts, which look as good as they feel. One of the coolest interior innovations is actually one you'll (hopefully) never see. In the case of an accident, inflatable rear seatbelts help to reduce passenger head, neck and chest injuries. It's a phenomenal option and one I expect to see proliferated throughout the industry before long.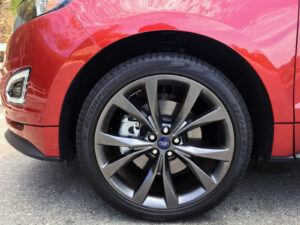 Considering everything the Ford Edge Sport AWD offers, you'd probably expect it to come at a premium. At $48,790, my tester certainly fits that description. Having said that, it has just about every option available, including 21″ painted aluminum wheels, adaptive cruise control, sporty summer tires, blind spot detection, etc. Leave off a few of those options and you can stay much closer to the Edge Sport's $40k starting price. A BMW X1 comes in at about the same price point, but at a nearly 100 hp disadvantage.
Duke's Mods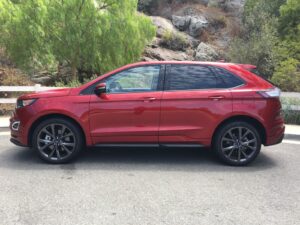 Earlier I mentioned that the Ford Edge Sport is nearly perfect when it comes to design. With a few minor cosmetic changes, this stylish crossover goes from head turner to show stopper. First up, getting rid of the wheel gap. A moderately aggressive set of springs is all it should take for a much more purposeful, custom look that doesn't compromise ride quality. Especially in Ruby Red and with black 21″ wheels, this same Edge a few inches lower would look properly modified.
Second, I'd look into some LED or HID daytime running lights. While the lower bumper light rings are quite cool, the yellow halogen bulbs that are on at the same time seem a little out of place. I'd replace with an aftermarket alternative that compliments the great look of the lower running lights, instead of working against them.
Summary
I thought there was a chance I'd be let down by the Ford Edge Sport AWD. At nearly $50k it's not a cheap crossover, and I feared the whole package wouldn't be as compelling as the remarkably good looks. After thousands of miles of road testing, I'm happy to report that my expectations were more than exceeded. Even in a segment awash with options, the Ford Edge offers a unique, incredibly tempting option that I'd be hard pressed to turn down. Leave a few options on the table (for example, lane departure warning), and you'll have one of the greatest anything-anytime vehicles available, and all for a surprisingly reasonable MSRP.
Please follow me on Twitter, Facebook, and Instagram, and read my other car reviews at dukesdrive.com.
On The Radio
I'm also a co-host on the syndicated radio car show "The Drive", hosted by my Motorz co-host, Alan Taylor. Here's what we said about the 2016 Ford Edge Sport AWD on the air, August 13, 2016!
Photos
Summary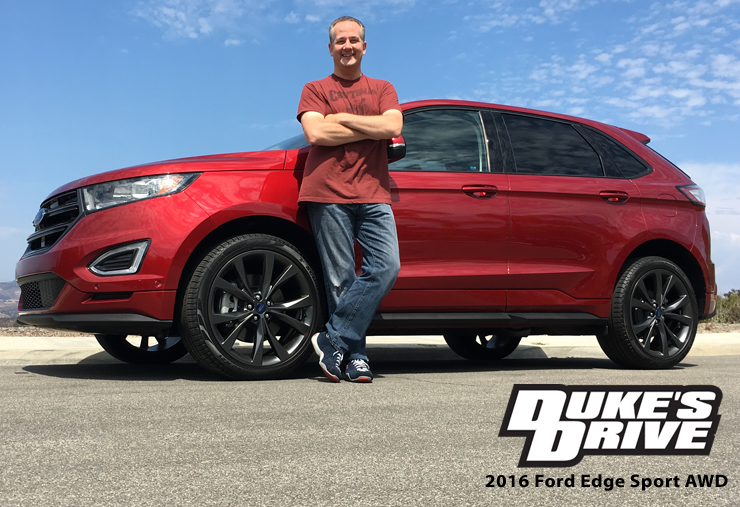 Duke's Drive: 2016 Ford Edge Sport AWD
Description
After thousands of miles of road testing the 2016 Ford Edge Sport AWD, I'm happy to report that my expectations were more than exceeded. Read on to find out why!
Chris Duke
No Replies to "Duke's Drive: 2016 Ford Edge Sport AWD Review"
---