Jul 31, 2017
Duke's Drive: 2017 Jeep Grand Cherokee SRT 4×4 Review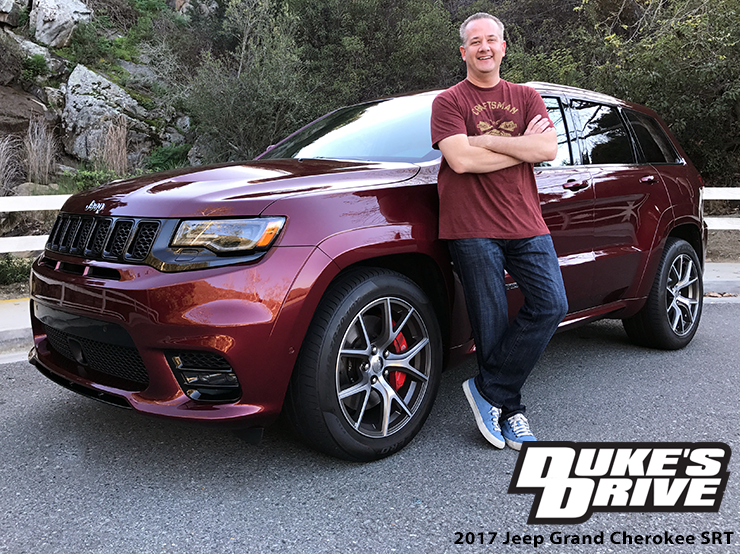 Duke's Drive is all about my experiences with driving new vehicles. It truly is a privilege to be able to drive a brand new vehicle for a week and share my thoughts with you. It is a responsibility that I don't take lightly, or for granted. I know the pains of wanting to test-drive a vehicle you're interested in buying, and it's not an enjoyable experience. These are the stories of my experiences.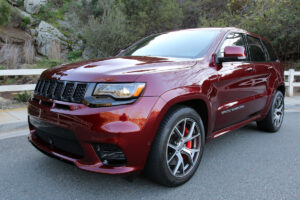 It's ironic that a truly great car, truck or SUV can be an automaker's undoing. Getting a smash hit is great. But if the follow-up isn't as good, those originally positive sentiments can quickly sour. Which brings us to my latest Duke's Drive. When I tested the 2015 Jeep Grand Cherokee SRT, I was absolutely blown away. What a breathtakingly good machine. Moving forward a few years, has Jeep kept the magic going, or is this SRT not quite the same animal? Let's find out…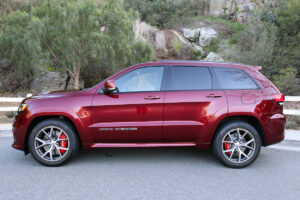 Spoiler alert: there's a lot of good stuff to get to, but we need to start with the exterior. This is a freakishly good looking SUV. Even if you're not particularly into SUVs, Jeep has found a way to make the SRT version of the Grand Cherokee more striking than some sports cars. The look is aggressive, border-line menacing, but not over done. There's no "style for style's sake", and that's a very good thing. In my opinion, it looks good in any color, but especially this Velvet Red Pearl. Absolutely stunning.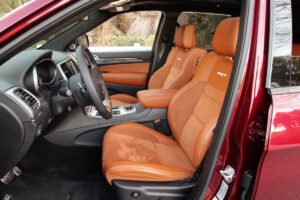 Moving inside, I do slightly miss the black interior of my 2015 tester. There's nothing wrong here, but to my eye, the caramel color leather doesn't quite mesh with the exterior. I think they were going for the classic Italian sports car red-on-tan look, but it doesn't do it for me. Style points aside, this is FCA at its very best. And yes, I'm including Maserati. The seats are hugely supportive yet comfortable, with a nicely executed mix of leather and suede. Everything you touch feels high quality, as it should in a $78,355 vehicle.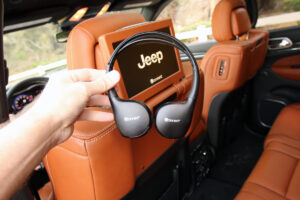 As far as toys go, the rear seat dual-screen Blu-Ray/DVD player with wireless headphones is a nice touch. Coming in at $2k, it's not a bad deal at all. I'm a little less enthralled with the additional $2k for the dual-pane panoramic sunroof. It is impressive, and if you enjoy opening the roof and the black roofline, go for it. Personally, that's money I'd use for performance upgrades (more on that later). The nineteen speaker, 825-Watt Harmon Kardon sound system absolutely delivers, and maintains clarity seemingly regardless of volume.
O
k. Dinner is out of the way, time for dessert. Let's talk SRT performance. Just like last time around, this thing is a genuine ground based missile. A mere 475 hp and 470 lb-ft torque scoots this 5,291 lb. beast from 0-60 in 4.4 seconds and on to a 1/4 mile time of 13 seconds @ 106 mph. That's obnoxiously fast. Forget "it's quick for an SUV". Doesn't apply. This is fast for anything, full-stop. Along with those numbers, the 6.4L HEMI V8 sounds insane, and launch control has to be experienced to be believed. Press the button, follow the on-screen instructions, and engage warp drive. No law of diminishing returns here. It's a blast every time.
Duke's Mods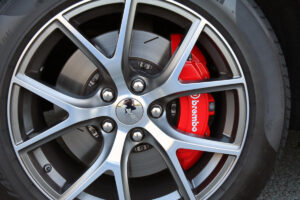 In a vehicle this quick, I'd typically run to suspension mods, but with the $1,295 Brembo big brake kit available from the factory (make sure to check this box), we can turn to extracting a little extra from the 6.4L V8. If money is less of an object, there are some outstanding turbo and supercharger kits on the market that can make the Grand Cherokee SRT a legitimate supercar killer. Even on the conservative end, you're looking at 600+ hp, and 0-60 in the sub-four second range.
If budget (and warranty) are bigger factors, I'd absolutely spring for a more aggressive exhaust system. This HEMI is an absolute monster, and should sound like one. A free-flowing exhaust and performance air intake can give this SRT the voice it was made to have.
Summary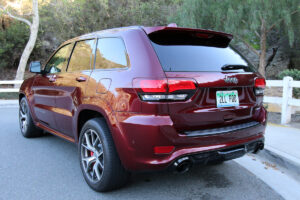 It's incredibly difficult to find fault with the 2017 Grand Cherokee SRT. Yes, I'd have a different interior color and lose the sunroof. Otherwise, we're closing in on the perfect mix of functionality and raw performance. Which, at $78k+, we probably should be. Be a little more careful with the options, and you can grab a 2017 SRT in the mid 60s (base price is $66,795). Not cheap, but when you compare it with its German rivals, the price delta is staggering.
I was concerned about the 2017 Grand Cherokee SRT stacking up to the 2015. But, in a number of ways, Jeep has left the recipe alone, with both model years sharing almost exactly the same DNA. Fine by me. What was nearly perfect two years ago remains the same case today. As far as luxury performance SUVs go, it simply doesn't get better than this.
Please follow me on Instagram, Facebook, and Twitter, and read my other car reviews at dukesdrive.com.
Photos
No Replies to "Duke's Drive: 2017 Jeep Grand Cherokee SRT 4x4 Review"
---