Mar 9, 2017
Duke's Drive: 2017 VW Touareg V6 Wolfsburg Edition Review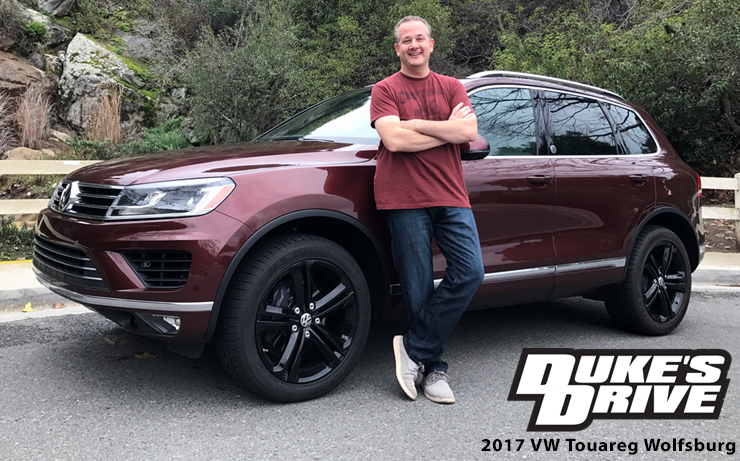 Duke's Drive is all about my experiences with driving new vehicles. It truly is a privilege to be able to drive a brand new vehicle for a week and share my thoughts with you. It is a responsibility that I don't take lightly, or for granted. I know the pains of wanting to test-drive a vehicle you're interested in buying, and it's not an enjoyable experience. These are the stories of my experiences.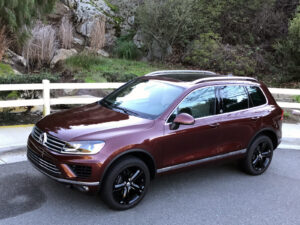 For a time in the late 90's/early 2000's, VWs had a habit of annoying Audi drivers. The reason: not only did VWs look remarkably close to Audi designs, but they offered nearly everything you'd expect from an upmarket German sports sedan for substantially less. As the years have progressed, Audi has distanced itself from its more entry-level cousin, but VW remains a very compelling argument for spending less and getting nearly as much.
Which brings us to the 2017 VW Touareg Wolfsburg Edition. It looks remarkably good, comes standard with all-wheel drive, has a lovely interior and a strong engine. At least on paper, this looks like a legitimate alternative to the Audi Q7 and other upmarket rivals. Does that play out in the real world? Time to find out.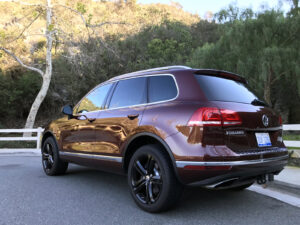 First things first: this is a ridiculously good looking SUV. I've never been one to call SUVs "beautiful", but that all changed when the Porsche Macan, particularly in GTS trim, came into the world. Perhaps not all that surprisingly, much of that same design DNA found its way into the Touareg. It gets it just right. Hard edges mix intoxicatingly well with flowing character lines, and each element resolves neatly. There's no "design for design's sake" going on here, and the Touareg is so much better off for it. I still maintain the Macan GTS is about as good looking an SUV as you'll find, but this VW is a very close second (and, of course, much more attractively priced).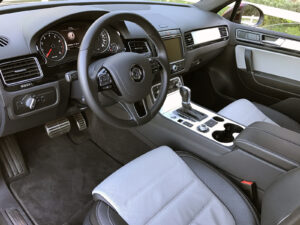 If the Touareg gets its good looks from Porsche, then the intelligently designed interior has Audi written all over it. Considering Audi makes just about the best interiors in the auto industry, that's high praise. Everything is where you'd expect it to be and materials are well placed. Minor exception: the engine stop/start is next to the shifter, not on the dash. Not an issue, just something to note.
Yes, there are some plastics, but for the most part everything you touch is either metal, leather or high-quality soft touch material. Bonus points for the panoramic sunroof, which is expansive to say the least. Combined with the black/white two-tone interior, it makes the cabin feel open and spacious. I was also a fan of the split center console. While not a big feature for daily driving, that feels like it could be a blessing on long road trips with a passenger riding shotgun.
Another nice interior feature: the on-road/off-road knob. Coming from someone who likes to head off-road, it's always a delight to come across an SUV that's actually designed to take the path less traveled. Via this knob, the driver has access to a low-range set of gear ratios. That includes ratios extending to 2.66:1 for heavy-duty off-roading and maximum power delivery at low speeds. Case in point: it can handle grades of up to 100 percent (45 degrees). It can also ford through 22.8″ of water, or two inches higher than a '14 Jeep Grand Cherokee. No marketing ploy at work here. Off-road mode means off-road mode.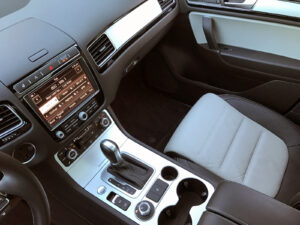 Beyond a smart layout and easy-to-use off-road interface, my tester also had about every interior option you can imagine. Cooled glove compartment? Check. Heated and ventilated seats? You got it. Heated steering wheel? Sure, why not. You'll also find a comprehensive technology suite, which includes navigation, 8-speaker sound system, remote power tailgate, rearview camera and much more. Pretty much the literal definition of 'fully loaded'.
As for power, I expected to be slightly disappointed. There's nothing wrong with a 3.6L V6, but in an SUV of this size, I set the bar pretty low. Which, to my pleasant surprise, the Touareg had no problem stepping over. With 280 hp, I always felt like I had plenty of power for passing, with a little extra in reserve. It won't blow the doors off of anything, but you won't be left wanting for more, either.
Duke's Mods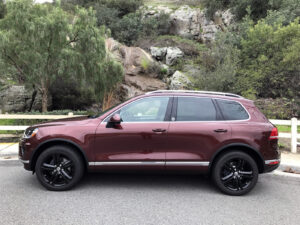 Depending on the look you're going for, I might try to find blackout trim pieces to edge the Touareg that much closer to its Porsche brethren. I loved the contrast of my tester's deep burgundy and black, which could be further emphasized if certain chrome elements, particularly the window surround and portions of the grille, were a darker color/black.
If you don't plan on heading off of pavement, it also might be worth bringing the body down a few inches with mild lowering springs. Even a very conservative drop would work wonders for this SUV's gorgeous lines, without compromising ride quality.
Summary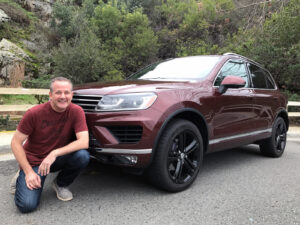 Time for the slight elephant in the room: price. No, the Touareg Wolfsburg I tested wasn't exactly cheap, coming in at $53,705. Having said that, this was about as fully loaded as the Wolfsburg can possibly get. Plus, even at that price point, it's many, many miles less expensive than a similarly optioned Audi Q7 or Porsche Macan. For an SUV of this caliber, with this many options, I'd say the low $50k range is a very competitive price.
If you're looking to spend slightly less, there's also Sport with Technology trim, which comes in at $49,495. Conversely, for the top of the range VW SUV, Executive trim starts at $60,195. Personally, I think the Wolfsburg is probably the best mix, giving you 99.9% of what you'll find in the Executive, but for a nice discount.
If anything, the Touareg proves that having a deep parts bin can work magic. Mix Porsche good looks, Audi interior design and VW practicality, and you'll end up with a vehicle that hits just about every mark you could set for it. This was the first VW SUV I've driven, but something tells me it won't be the last.
Please follow me on Instagram, Facebook, and Twitter, and read my other car reviews at dukesdrive.com.
Photos
Summary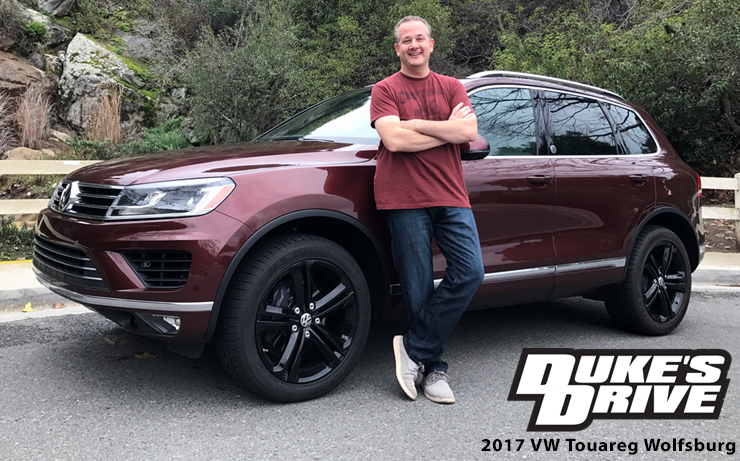 2017 VW Touareg V6 Wolfsburg Edition
Description
The 2017 VW Touareg Wolfsburg Edition looks remarkably good, comes standard with all-wheel drive, has a lovely interior and a strong engine. But how does all this play out on the road? I found out.
Chris Duke
No Replies to "Duke's Drive: 2017 VW Touareg V6 Wolfsburg Edition Review"
---