Oct 19, 2018
Duke's Drive: 2018 Chevrolet Traverse Review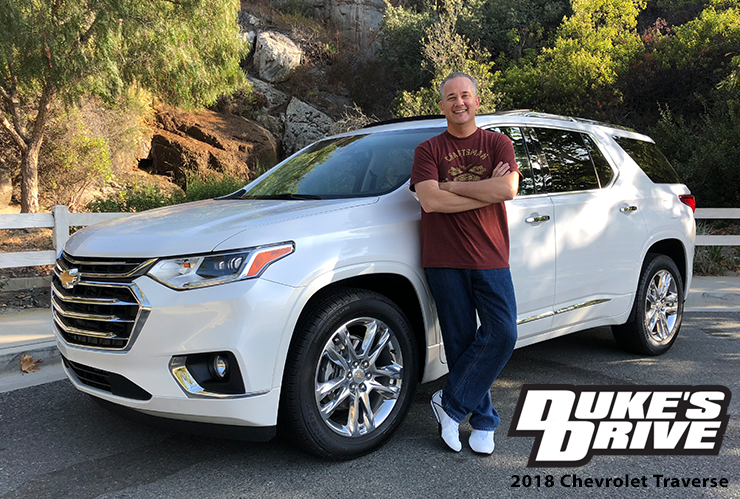 Duke's Drive is all about my experiences with driving new vehicles. It truly is a privilege to be able to drive a brand new vehicle for a week and share my thoughts with you. It is a responsibility that I don't take lightly, or for granted. I know the pains of wanting to test-drive a vehicle you're interested in buying, and it's not an enjoyable experience. These are the stories of my experiences.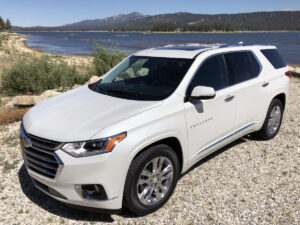 Road trip anyone? A road trip seemed like the best way to test out the new fully loaded AWD High Country 2018 Chevrolet Traverse, so I packed up my family and off we went. A long drive up to the mountains to Big Bear Lake, CA was just the ticket for really getting a feel for this seven passenger midsize SUV.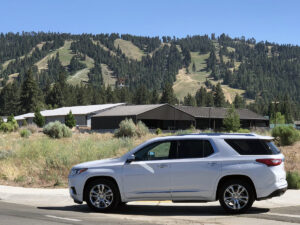 Our trip began with several hours of straight California highway. The adaptive cruise control and lane change/blind spot alert system helped to ease the monotony. During the drive we encountered quite a bit of traffic (including a major accident on the I-15 freeway that stopped us for over an hour), making our trip extra long. Surprisingly, we stayed in good spirits due to all the amenities in the Traverse. Even with all our luggage, we had plenty of room to sprawl out.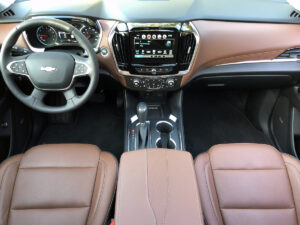 The Bose 10-speaker system made our travel tunes sound amazing, and kept us entertained as we traveled up the mountain. I was pleasantly surprised how the Traverse handled the many miles of hairpin turns up the mountain road. It had nice pick up and the brake system was nice and smooth with all the accelerating and braking one uses while driving those windy roads. My 12 year old experienced such a great ride that the usual car sickness issues were not even hinted at during our trip. I'm sure the air conditioning, tri-zone auto climate control system was a huge help in this department.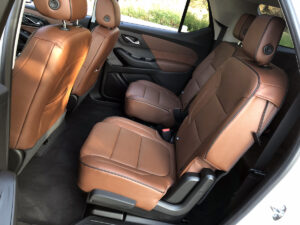 The interior of the Traverse was well equipped with beautiful "loft brown" leather seats. Heated and ventilated seats for both the driver and front passenger, and heated second row bucket seats. The third row seating offered power-folding 60/40 split-bench seats. If two rows are good enough for all your passengers, fold down the 3rd row and you have a ton of space for just about anything, with room to spare. The center console provides lots of storage for all those necessities you need at your fingertips. Chevy definitely kept families in mind with ample storage, cup holders and wireless device connectivity.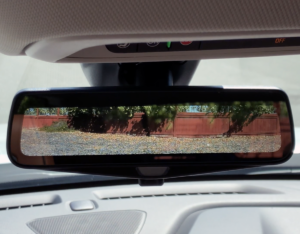 With every vehicle I test drive, there's usually something that blows me away… surprises me and makes me say out loud (even if I'm alone), "holy…!" With the Traverse, this moment came when I flipped the toggle switch at the bottom of the rearview mirror. Instantly the mirror changed to a widescreen backup camera view. I quickly investigated and found that on the back of the vehicle there are actually two cameras, side-by-side. One for the actual backup camera, and a second for this rearview mirror camera. I ended up driving with it all the time, I loved it so much. It's an incredible view of everything behind the vehicle, without seats and the interior in the way. Well done, Chevrolet. (see video below)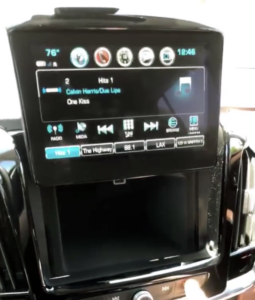 A big hit was the 4G LTE WiFi hotspot. On long drives such as this one, everyone was able to get online if they needed to. This is also a great backup plan should your phone not be able to connect. The infotainment center's 8-inch touchscreen even offered a motorized secret compartment for anything you might want to keep out of sight (press a button and it moves up or down). While using the navigation system, we did seem to encounter some inaccuracies with its estimated times and mapping system. Using Apple Maps via Apple CarPlay quickly remedied the situation.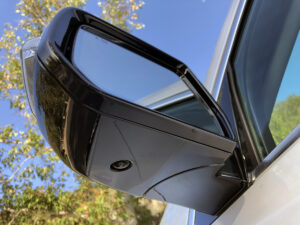 Some of the other great features of this vehicle includes the dual skyscape sunroof and the "bird's eye view" 360 surround vision camera. The 360 camera (there are cameras everywhere!) along with the rear camera mirror were helpful maneuvering the Traverse in tight parking lots once we got to town and stopped for supplies. Unloading all our gear was just a little easier with hands free lift gate.
As nice as the Traverse is to drive, it sports a nice sleek body style without being too big. The 20" polished aluminum wheels seemed to be the finishing touch on this clean design.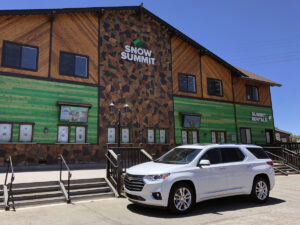 The trip home was even smoother than the ride up. The 3.6L V6 9-speed automatic engine was perfect for all our needs. The perfect car for this family trip. At a sticker price $54,590 (base price $52,600), the Traverse surpassed my expectations. This is the ultimate family SUV.
Please follow me on Instagram, Facebook, and Twitter, and read my other car reviews at dukesdrive.com.
On The Radio
I'm also a contributor to the syndicated radio car show "The Drive With Alan Taylor". Here's what I said about the 2018 Chevrolet Traverse on the air, July 21, 2018. Start listening at 1:15 into broadcast.
Video
Photos
No Replies to "Duke's Drive: 2018 Chevrolet Traverse Review"
---