Oct 18, 2018
Duke's Drive: 2018 VW Tiguan Review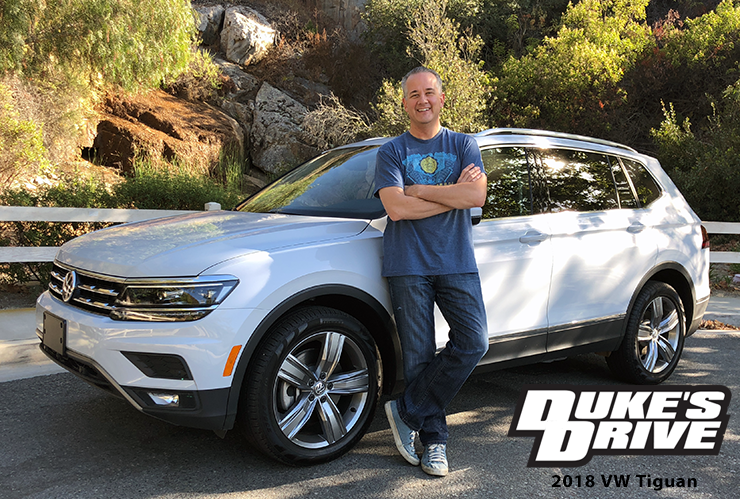 Duke's Drive is all about my experiences with driving new vehicles. It truly is a privilege to be able to drive a brand new vehicle for a week and share my thoughts with you. It is a responsibility that I don't take lightly, or for granted. I know the pains of wanting to test-drive a vehicle you're interested in buying, and it's not an enjoyable experience. These are the stories of my experiences.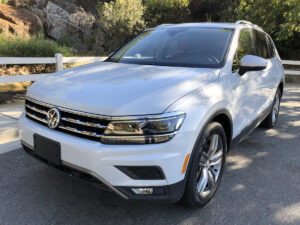 The 2017 Volkswagen Touareg I reviewed last year was removed from the 2018 VW line-up here in the U.S. It was replaced with the 2018 Volkswagen Atlas which I've yet to get my hands on. So what does that leave in VW's world of SUVs for 2018? The Tiguan. They dropped one off at my home to drive around for a week and report back here to DD. This is my story about the 2018 Tiguan 2.0T SEL Premium with 4MOTION®.
This is the 2nd VW SUV that I have had the chance to test drive. The Tiguan is the smaller SUV in their line-up, but don't think it's small on space inside–because it's not. I was actually surprised how much space the interior had. Where it does fall a little short is on the rear cargo space. So, if you are evaluating the Tiguan vs. the new 2018 Atlas and you need more cargo space for frequent family road trips, be sure to check out the Atlas as well.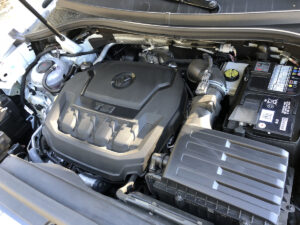 The power plant for this Tiguan is VW's 2.0L 16-valve turbo 4-cylinder engine. Think about that for a second. A rather large sized SUV with a 2L 4-cylinder turbo engine. It's amazing what German engineers have done to produce the power it does. 23 average MPG, 184 horsepower, and 221 ft-lbs torque. I didn't feel short changed with all the city driving I put on it, putting its 8-speed automatic transmission through its paces. Thanks to the 4MOTION all-wheel-drive with active control and four-wheel independent suspension, the handling was incredible.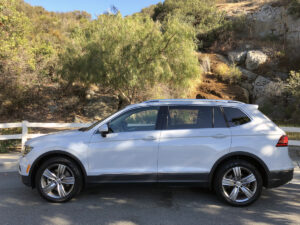 What surprised me the most was what a stunner this SUV is. It just looks incredible from any angle. Perfect lines. No fluff. I would love to have one of these as my family's daily people mover. It includes a ton of safety features that carry amazing acronyms such as EBA, ASR, EBD, HBA, ESC, EDL, ICRS, LATCH, and of course TPMS. Whoever can comment below with an explanation of each, wins Internet respect! In addition to all the safety features, it has all your typical interior and exterior comforts. Dual-zone automatic climate control, 2nd-row air vents, two-tone saffrano & black two-tone leather, a digital instrument panel, 360 cameras, and more. I found myself asking the question–what didn't it have?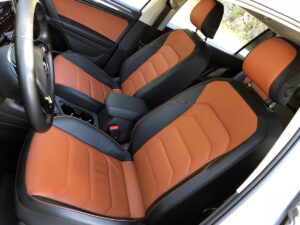 For my reviews, I always try to find something that I didn't like about a vehicle. Hard to do here, kids. The only thing I could come up with were the seat bottom bolsters. They were a bit too firm. This is good when you're in the seat, as you feel cradled. But getting out of the seat, the sides tend to get in the way. Maybe they're too tall? Too firm? Just not right for me. But that's it!
Summary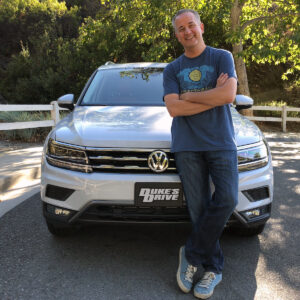 As driven, the price tag was just under $39k with a base price of $37,500. That included the $900 destination charge and the only upgrade was the 3rd row seat package at $500. In other words, this was a base model Tiguan SEL Premium. It packs a lot for the price. We own a 2016 VW Jetta as our family vehicle. This is a much bigger version, and would be a natural upgrade for us one day. I'm also going to look at the Atlas, but this would be a no-brainer. If you're considering a mid-size SUV for your family, this is one to include in your test drives this weekend.
Please follow me on Instagram, Facebook, and Twitter, and read my other car reviews at dukesdrive.com.
Photos
No Replies to "Duke's Drive: 2018 VW Tiguan Review"
---