Jun 30, 2011
Final Cut Pro X Training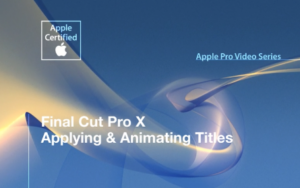 I spent the last few evenings learning the new Apple FCP X by way of Ripple Training's awesome video tutorials (I highly recommend them) and one thing I discovered is this: throw out everything you knew about editing with FCP 7 because if you try to edit the same way, you will become very frustrated.
If you're coming from a traditional NLE, get a book or buy some video training and go through each and every lesson before you even think about touching one of your own projects. I'm so glad I did.
This isn't a full review of the video series, but I will say that it's well done and came out the day FCP X was released. It was $40 at the time, and well worth it. It got me up to speed quickly, instead of complaining about all of the changes.
Some advanced techniques weren't covered, such as working with Motion, so as I discover ways to do things I'll document them on my blog. I'm still in the evaluation stages of FCP X, and if it doesn't work out then I'll be switching to Adobe Premiere Pro CS5.5. I already downloaded the 30-day trial and am impressed. I was able to export some old content from FCP7 via XML and import it into Premiere in just a few seconds. The import wasn't perfect, which is why I'm seriously considering sticking with FCP X.
I will add that I cut using a tapeless workflow, so all of the missing features the Pros are complaining about (for good reason) don't affect me. The only thing I would like is the ability to import old FCP7 projects. I do still have a Sony Betacam deck but it's no longer in use as my current uplinks don't require tape anymore. So, as long as I don't need to use that deck and my AJA box, FCP X will do the trick. The jury is still out where I'll end up. Stay tuned…
No Replies to "Final Cut Pro X Training"
---