Dec 16, 2022
Finally hit a weight loss goal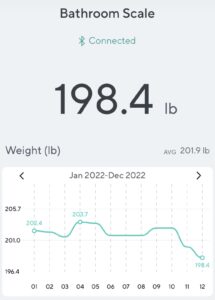 As the new year approaches, I wanted to take a moment to reflect on my journey towards better health and wellness. This year, I made the decision to prioritize my physical and mental well-being, and I'm proud to say that my hard work has paid off.
For the first time in over two years, my weight is below 200 pounds. Specifically, I'm currently at 198 pounds, and I couldn't be happier with my progress. For a guy who's always struggled with weight issues, I've always felt healthy if I kept my weight below 200 pounds. My ultimate goal is 190 but if I can get down to 195 I'll be happy–which isn't that far away now :)
One of the strategies that has been most effective for me in my weight loss journey has been using my Peloton Bike+ and using Apple Fitness+ instead of Peloton's $44/mo program. Not only is it a fun and enjoyable way to get in some exercise, but it has also been a convenient way for me to fit physical activity into my busy schedule. This combo has been a game-changer for me, and it's easy to fit into my schedule before I shower.
In addition to staying consistent with exercise, I've also been paying closer attention to what I eat. I've been mindful of portion sizes (most of the time, anyway!) and have made an effort to choose healthier options when possible. It's not always easy, but I've found that it's worth it for the positive impact it has on my energy levels and well-being.
Overall, I'm feeling better than ever. I have more energy, and I feel good about myself and my body. Reaching this weight loss goal has been a huge accomplishment for me, and I'm excited to keep going. I must admit, however, that as I get older it's increasingly more difficult to lose weight. While that's important, my bigger goal is to stay consistent with exercise every week. So, even if my weight isn't going down… I'm happy as long as it's not increasing and I'm working out.
As we look towards the new year, I'm setting some new goals for myself. I plan to continue working out and making healthy choices when it comes to my diet. I'm also thinking about incorporating other forms of exercise, like yoga or weight lifting, into my routine.
I'm grateful for the progress I've made so far, and I'm looking forward to seeing what the future holds. Here's to a happy and healthy new year!
No Replies to "Finally hit a weight loss goal"
---