Dec 19, 2022
How to get Apple Music on Windows 11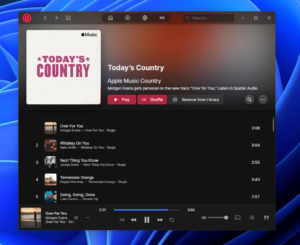 This past October, Microsoft and Apple announced that they are bringing iCloud Photos and Apple Music to Windows. They've already brought Photos, but Music will have to wait until sometime in 2023. No waiting needed, though… here's how to get it right now, and it's awesome!
There's an open-source project called Cider. It's in Beta, but you'd never know it. An Apple Music subscription is required at this time. You can download and install it right now from the Microsoft Store.
In case you didn't already know, you can currently play Apple Music via your web browser. It works great, however it doesn't work with your computer's media controls to pause, skip forward/back. This frustrated me, so tonight I searched to find something else.
Cider was quick and easy to install, looks bitchen, is super duper configurable (check out all those settings–wow!). It supports full screen, all the features of the Apple Music app (that I can find), lyrics, and so much more. It might even best Apple's offering once it's released.
It's free, although they do offer an in-app purchase for $1.99 (currently $1.49). I couldn't tell what it's for (anywhere) but purchased it to show my support for this incredible project. You should, too.
BTW, if you hate the Apple Music on macOS like I do, you can consider using Cider instead (it's even available for Linux!):
Update 1/12/23
You can now get the preview version of Apple Music from the Microsoft store. I still prefer Cider :)
No Replies to "How to get Apple Music on Windows 11"
---