Aug 8, 2022
Insta360 Link Webcam: Honest Review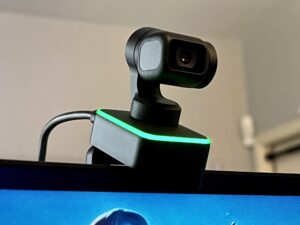 I currently own the ONE X2 and GO 2 from Insta360. Their 360 cameras are top quality, as is their software. When they announced their first-ever webcam called the Insta360 Link on August 2nd, I excitedly ordered it immediately and it arrived 6 days later directly from China.
Ok, that's a little bit of a white lie. I actually watched all the available "influencer" reviews on YouTube (all of them at the time were sponsored videos because the webcam wasn't yet available) and then ordered one. The thing is, none of the paid reviewers had anything bad to say about it–I mean, it's almost like they were given a list of talking points from Insta360 and ran with it, without providing their own honest thoughts.
So if you, like me, are looking for an honest review of the Insta360 Link, hopefully this is what you were hoping to find. I've also provided all my feedback directly to Insta360 so they can improve the hardware and software. I'll update this review over time with additional things I find, and when they fix the problems.
I have a long history with webcams, with my most recent being the Logitech StreamCam which I've been using for the past year+. It's got great quality, but like most webcams it suffers in low light.
First, let me say that the camera is excellent quality. In the past I've owned the DJI Pocket 2 and this Insta360 Link is like they chopped the top of that device off and slapped it on a monitor mount with a USB-C cable. It works great. The quality is stunning, even in low light thanks to its F/1.8 half-inch sensor. The 4K is great, but honestly its 1080 performs better with the camera's features (such as tracking) and it will be hard to tell the difference on the receiving end of your Zoom, Microsoft Teams, Skype, or Google Meet call.
Here are the problems I've discovered. BTW, the camera came with the latest firmware and there were no updates at the time of posting this review.
The top of the unit (the base, not the camera) runs extremely hot, even when it's in standby mode. Using my infrared thermometer, it reads more than 110F (standby or active). The highest I saw at the time I was scanning it was 113F. This makes me question the longevity for a product that generates this much heat constantly… not to mention the power draw/energy use (even while not being used). There is just no logical reason why a device in a standby state like this should be generating this much heat. They must fix this. Seriously, it hasn't been used for 6 hours and it's still insanely hot. I digress.
Bug/Fixed: If a preset position uses zoom and you switch to a normal (full wide, no zoom) preset, it quite often doesn't zoom back out. This is consistently happening and quite annoying because I have to manually zoom out on the wide angle preset every time. Update: Fixed 8/16/22 with firmware v1.1.3.5_build14
Bug: My monitor doesn't move, nor does the Link webcam. Yet, sometimes I have to update the preset position because the camera isn't able to keep that position I've set. It moves off its preset slightly sometimes.
Bug: The tracking works great in 1080 but when I switch to 4K it easily loses track of me. I think it may have something to do with my collection of Star Wars helmets behind me. I've seen the software put a square over them (thinking it's a head).
Bug: Presets using Zoom changes framing (amount of zoom) depending on the resolution (especially going between 1080 and 4K). The software needs to better handle this change.
I was somehow under the impression (perhaps from a sponsored YouTube review I watched) that the camera would do a full 360-degree rotation. It does not. There's a good 20-30° that's not covered.
When it's in standby mode, I would like to either be able to control the brightness of the blue LED or turn it off entirely. It's too distracting as is, always on. No other webcam I've ever had before has a "powered on" indicator like the Link. They gotta turn this off, or at least make it configurable to dim or disable in standby mode.
Also while in standby mode (camera pointed down for privacy), the very bright blue LED will flash off occasionally. It attracts my attention when this happens to see what's up and ends up being a distraction while working.
It's not travel friendly. This webcam has a built in fragile 3-axis gimbal stabilizer, just like the DJI Pocket. But it doesn't have a travel-friendly case, cover, or even a protective cap for the lens. Hopefully someone will create a 3D print file for one if Insta360 doesn't make a proper accessory first.
It does support HDR but not in 4K mode. Note a huge deal because again, I don't think anyone on the other side will notice that you're using 4K over 1080. Hopefully a firmware update will add it.
There are only 6 preset camera positions. I'd like to see 10-12.
The Windows version of the app needs to support full dark mode (Hi, it's 2022!). I haven't checked it on my Mac yet because Windows is my primary for work.
The zoom in/out hand gesture doesn't work very well at all for me. The gesture for turning on/off tracking works like a charm, though.
The supplied 5-foot USB-C cable sticks straight out of the back. Since the intended purpose is to hang off the back of a monitor where the cable goes straight down, a 90 degree cable would have been preferred. It also needs to be a few inches longer. I ordered this 10-foot cable to satisfy both my needs and it works perfectly.
Some great things:
The built-in dual microphones perform very well. I typically use my RODE VideoMic NTG as my mic of choice when I'm not using a headset. During Teams calls, nobody could tell the difference. It cancels out most typical office noises like keyboard clatter. However, for a true test I turned on my in-wall air conditioner which sits approximately 4 feet away and while it did cut it out, my voice became highly compressed. It did cut out the loud A/C noise but the quality was sacrificed considerably. Using my old Bose QuietComfort II's will still be necessary in that loud of an environment (it cancels the air conditioner sounds with little sacrifice in quality).
The video quality compared to my old Logitech StreamCam are also so close that nobody can detect the difference. Obviously it's far superior in low light plus you can get jiggy with it.
It's tiny. Smaller than the smallest webcam I've ever tested. Video reviews and photos don't do it justice.
For Insta360's first ever webcam, they knocked it out of the park. While they did totally rip off the DJI Pocket handheld gimbal camera, they went all-in with an AI-powered webcam, 4K video, 3-axis gimbal, small form factor, 1/2″ sensor with a low light F/1.8 aperture, excellent auto tracking, great software & packaging, and so much more.
As I said, I will continue to update this post as time goes on. I'm very excited about this camera, but its initial release needs some work. I feel like it's still beta and not yet fully cooked. The saving grace here is that I'm used to Insta360 products and their frequent updates. I know it's going to get better but I hate paying $300 to be a beta tester for them.
Also, in case you're wondering, you can't plug this webcam into your smartphone or tablet to use it for video conferencing calls or social media (Mac and Windows only). In fact, I don't think there's a single webcam on the market that can. But let's hope Insta360 is working on it. I think it would be awesome to use this to track a subject and stream video right into Instagram or Teams/Zoom using my iPhone. I understand if it's not possible due to technical limitations of iOS and Android and the apps themselves. I love how I can use my RODE VideoMic NTG or my Wireless GO II on pretty much every device I own (Mac, Windows, iOS, Android, plus directly into my Sony camera of course) and I hope they can accomplish this as well with video.
All of the YouTube reviews for this camera aren't wrong. It is the "best webcam ever", "breaking the mold", "best webcam you can buy today", "astounding", "the smartest webcam", "the new webcam king", blah blah blah. I just wished that they were honest with their reviews, because there are obvious problems that I found within 10 minutes of initial use.
I use the Link primarily for Teams calls, so I don't have a need for it to track a whiteboard or me dancing (nobody wants to see that!) Do I recommend it? Yes. It raises the bar for what a webcam is in 2022 and moving forward. It's not cheap, but you can wait for the holidays or next year for the price to come down.
If you're a teacher with a whiteboard (it doesn't have to be a formal whiteboard–any flat surface would work) or want to replace your cameraman then this is a no-brainer. The number of real life use cases opens up tremendously with the Insta360 Link webcam beyond all others currently on the market.
5 Replies to "Insta360 Link Webcam: Honest Review"
Rony Eshaque

May 22, 2023 (4:25 pm)

Hi,
Do you have an update for this camera?

May 22, 2023 (4:31 pm)

Sure… I use it every single business day and it's awesome! I have no complaints at all…

SD

Aug 24, 2023 (4:19 am)

I find that it's constantly moving around a little and zooming in and out a bit even when I'm sitting perfectly still, which induces a feeling of seasickness in the viewer!! I have adjusted the tracking speed to slow, but it still does it – do you find this too?

SD

Aug 24, 2023 (7:57 am)

Ah… I've found that switching the AI Zoom mode to Half Body instead of Head massively improves things

Aug 24, 2023 (8:34 am)

I found out the same you did, and eventually disabled it after the novelty of it wore off. I love the presets, though, to zoom around my office quickly. Still an awesome cam and I haven't found anything better!
---