Jul 25, 2023
MLB.TV, T-Mobile Tuesdays and Padres Live Streaming: Explained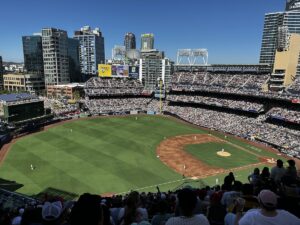 Free MLB.TV is back with T-Mobile… unless you live in San Diego and want to watch the Padres. If you were as excited as I was at the beginning of the 2023 Padres season for T-Mobile to offer their T-Mobile Tuesdays promotion ($74.99 free!) only to find out your season pass no longer works, then you are probably as confused as I was until I did a deep dive into why. Let me explain why you can no longer watch Padres games through the MLB app and get a blackout notification instead.
How it started
This really isn't T-Mobile's fault. At the beginning of the season, BSN (Bally Sports Network / Bally Sports San Diego) owned the local broadcast rights to the Padres games. So, the season pass worked like it did for all other MLB teams: you could watch away games through the app, but not local games.
What changed
BSN's owner (Diamond Sports Group) filed for bankruptcy and as a result, the San Diego Padres became the first MLB team to be unchained from ridiculous broadcast contracts. This allowed MLB to have television rights and thus, stream the Padres however they wanted (yet still with a few national broadcast blackouts). A snippet from Wikipedia states: "On May 31, 2023, Diamond officially missed a second payment to the Padres, and the Padres' television rights were returned to Major League Baseball."
Where we are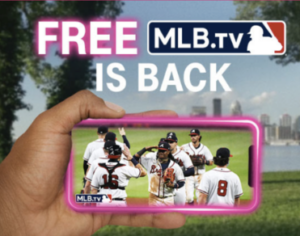 If you are subscribed to the MLB.TV Single Team Yearly plan ($74.99) through T-Mobile or not, guess what? You can no longer watch the Padres games played locally or away. If you got the plan through T-Mobile, you're more-or-less S.O.L. (or call T-Mobile and see if there's anything they can do).
Why? It's because of the BSN change-up, there's now a "Padres and D-Backs Yearly" plan (yeah, the Arizona Diamondbacks were also affected by the Bally Sports Network downfall) for $54.99/year. This new plan allows you to watch all local and away games through your MLB.TV app, subject to national blackouts.
Update 8/18/23: Now $34.99 since more than half the season is over.
If you paid for the Single Team yearly plan outside of T-Mobile, then I suggest you call MLB (866-244-2291) and ask them to re-adjust your paid plan (side note: MLB's phone support is awesome).
What to do now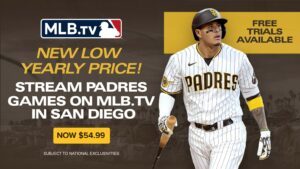 If you're a T-Mobile customer and want to continue watching Padres (or Diamondbacks) through MLB.TV, you're going to have to pay for the new $54.99 plan. MLB suggests that you create a new/second account and not re-use your existing MLB.TV email address/account. I guess they have issues with 3rd-party contract-applied plans and it's best to just start clean.
Since half the season is over at the time of this post, and the Padres aren't doing that great, you might want to hold off to see if they discount it to something like $24.99 in the coming few months. Or, if you're a Friar faithful, bite the bullet and spring for the $54.99 if you don't have another way to easily watch the games.
For more information, visit this page at MLB. It should hopefully answer any remaining questions you may have.
Go Padres! ⚾️
No Replies to "MLB.TV, T-Mobile Tuesdays and Padres Live Streaming: Explained"
---