Apr 23, 2019
OBDLink MX+ Scan Tool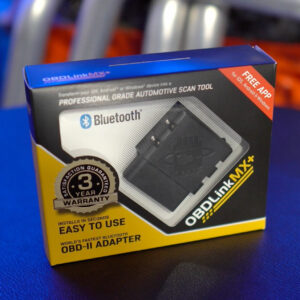 In this episode of Tool Talk I review the OBDLink MX+ Scan Tool.
To buy, click this link.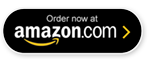 My Review
Today I am reviewing the OBDLink MX+, a bluetooth scan tool for your ride.
Before we get to what's inside the box and we talk a little bit about what this product is capable of, let's first talk about your vehicle's OBD2 port. In the end, all you do is open up the box, take the dongle out of it, plug it into your OBD2 port, and then from there on out you're using a smartphone app. So let's first get a better understanding of your vehicle's OBD2 port.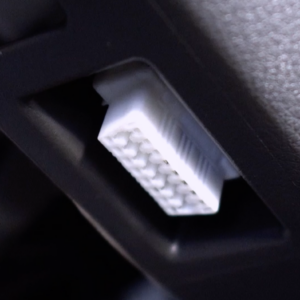 OBD2 (or OBDII) Ports
All vehicles since 1996, at least here in the U.S., have what's called an OBD2 port. This is a way for your local dealership's service technician or your local shop to hook up a scan tool or a computer to your vehicle to see what's going on.
A scan tool isn't just used for figuring out why you've got a check engine light is on, or to troubleshoot some other problem. It could be used as a diagnostic tool, allowing you to see real-time information directly from your vehicle's computer such as engine temp, air temp, battery level, fuel consumption rate, and a whole lot more.
This is all done through your vehicle's OBD2 port. It's usually located right below your dash. OBD stands for On-Board Diagnostics, and it's a standard interface that allows you to connect any scan tool to diagnose problems or just monitor what's going on with your vehicle.
Scan tools range from inexpensive $20 corded units that give you basic information, all the way up to expensive handheld tablets that cost over a grand and that's just overkill for the average guy like you and me. Plus, they don't update them very often… and when they do they're hard to update, and they're corded. So when you're driving around with them plugged in, you really shouldn't because it's a hazard!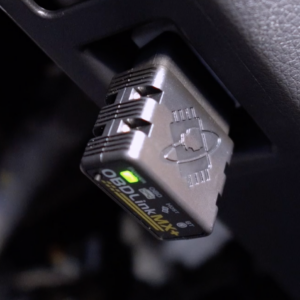 The Modern Scan Tool
The best solution for a scan tool that I've noticed over recent years is called a bluetooth "dongle". It's basically a piece of plastic that you plug it into your OBD2 port, and you're good to go. You can leave it in, it's powered by the port, and it works wirelessly over bluetooth with your smartphone. The app, which is also free, is updated frequently and automatically.
The one I'm taking about today is called the OBDLink MX+. It sells for under 80 bucks, supports vehicles 1996 and newer in the US, 1998 and newer in Canada. There are also free additional add-ons for GM, Ford, Toyota, Nissan, and Mazda vehicles that allow you to see much more data such as tire pressure, wheel speed, transmission temp, and thousands more. It works with Android, Windows PC, Mac (with a third party app), and of course iOS devices that includes the iPhone, iPad, and even the Apple Watch.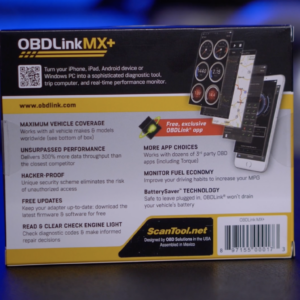 Inside The Box
Inside the box you get the dongle, information about the add-ons, and quick start guides for Windows, Android, and iOS. The dongle has LEDs right on the front labelled Power, OBD, Host, and Bluetooth. And on the back is where it plugs right into your vehicle's OBD2 port.
Features
Let's discuss their free iOS app called OBDLink. It's worth mentioning that the app has been around for about 4 years, is updated regularly, and has a high rating in the Apple App Store. That's quite an achievement, but how well does it play out in real life?
From my experiences, actually quite well. The app offers a huge range of features, it's intuitive, it's stable, and easy to use. Here are some of the things it can do: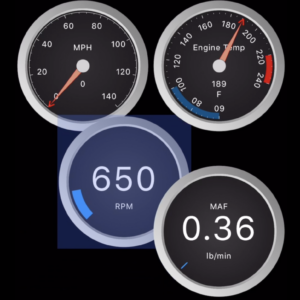 Customizable gauges and the dashboard is fully customizable too, allowing you to drag and drop your gauges anywhere you want
0-60 and 1/4 mile times to test the stock performance of your vehicle, and after you have added some aftermarket performance accessories.
Trip logging with GPS and map support, speed display and instant fuel economy.
Need to get your car checked for emissions? This will tell you whether your vehicle is going to pass BEFORE you go.
It will tell you why your check engine light is on, and allow you to clear it if you've fixed the problem.
Other interesting features I've noticed is that the dongle will actually go to sleep when you turn your engine off so it won't drain your battery. Through the app you can also export the data out to Excel/CSV format so you can analyze it further or share it with someone.
There are literally so many features that I couldn't possibly talk about them all, and since the app is updated on a regular basis, new features are being added constantly.
If you're like me and like to geek out on all that information that your vehicle's computer manages, or you just want to read a trouble code in plain English, or clear that check engine light, this is a cool little gadget to get. It's small and compact so you can take it anywhere, especially if you're checking out a used car, I highly recommend you bring this with you. The bonus is that there are no cables or batteries to keep charged. All you need is just your smartphone to operate it.
For more information and to buy the OBDLink MX+ click this link.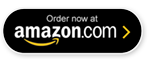 Merch
Please help support and promote my show! Shirts are now available at Amazon Prime. Click here to shop or search Amazon for "Tool Talk Duke".
No Replies to "OBDLink MX+ Scan Tool"
---