Tool Talk #003: CRAFTSMAN V20 Bluetooth Speaker
Posted on February 26, 2019 by Chris Duke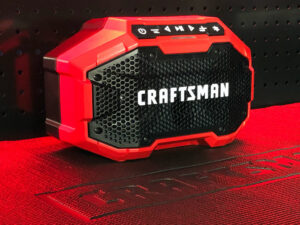 In this episode of Tool Talk, I take a look at the CRAFTSMAN V20 Bluetooth Speaker.
Watch now on my Instagram @chrisduketv
📺 Direct link: https://www.instagram.com/
Lowe's (To Buy)
CRAFTSMAN 20-Volt Max Cordless Jobsite Bluetooth Speaker (Item # 1056466)
CRAFTSMAN V20 2-Pack 20-volt Max 2-Amp-Hours Lithium Power Tool Battery Kit (Item # 1045307)
Craftsman (For Info)
V20 Cordless Bluetooth Speaker (Tool Only) (Item # CMCR001B)
V20 2.0AH Lithium Ion Starter Kit (Item # CMCB202-2CK)
Disclaimer
I am sponsored by CRAFTSMAN, however "Tool Talk" is a video series I created outside of my contract. All opinions and content direction are my own. I do this for my love of tools, the brand, and educating others about great new products. Thank you for watching!
---