Dec 11, 2016
Duke's Drive: 2016 Ford F-150 V6 SuperCrew Platinum Limited Edition Review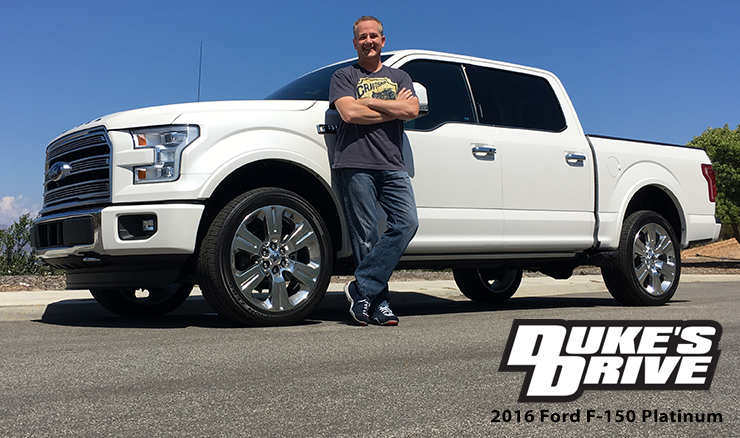 Duke's Drive is all about my experiences with driving new vehicles. It truly is a privilege to be able to drive a brand new vehicle for a week and share my thoughts with you. It is a responsibility that I don't take lightly, or for granted. I know the pains of wanting to test-drive a vehicle you're interested in buying, and it's not an enjoyable experience. These are the stories of my experiences.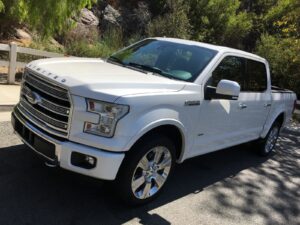 Ford handed me the keys to a 2015 Ford F-150 3.5L V6 EcoBoost last year and the result of my Duke's Drive can be found here. More recently, I had the opportunity to turn the wheels of their latest 2016 model. I thought to myself–how could they possibly improve on the best selling vehicle in the U.S.? Last year (2015), Ford racked up over 780,000 sales of the popular F-Series truck, and that was a 3.5% increase over the previous year. In order to maintain that top sales number, Ford knows well enough not to rest on their laurels.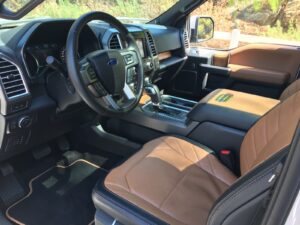 So what's new in 2016? For starters, this truck! It's the new luxury top-of-the-line limited edition, in white platinum metallic. This includes 22″ polished aluminum wheels, power running boards similar to the AMP-Research PowerStep, beautiful Mojave leather wrapped seats that provide heating and cooling–and massagers as well, a panoramic roof, 360-degree camera, lane keeping system, and more. This is Ford's new high end F-150, and it shows. With a base price of $61,905, or $67,270 as driven, its price also reflects the upgrade. But, as Alan and I noted on the radio (below), a $70k pickup truck isn't so unusual these days.
The 2016 model also includes some cool new Ford tech called Pro Trailer Backup Assist. Backing up your trailer has never been easier… you simply take your hands off the steering wheel and use a knob on the dash to steer the trailer left or right while looking at the backup camera to the right.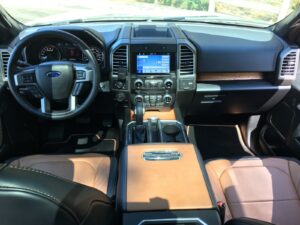 One of the features of Ford's line-up that I always felt was lacking was their use of Microsoft's SYNC 2 factory-installed communications and entertainment system. After driving other new vehicles and using SYNC 2, I always found it to be a bit clunky and downright unusable at times. No longer. Ford Sync 3 fixes all my gripes with a much better designed user interface and the speed to go along with it. A touch screen needs to have immediate response, especially when your eyeballs need to be on the road, and I'm happy to report that Sync 3 delivers. Not all 2016 model Ford vehicles have it though, but by the time 2017 models are released I'm sure they will. This new system along with the awesome Sony stereo was awesome.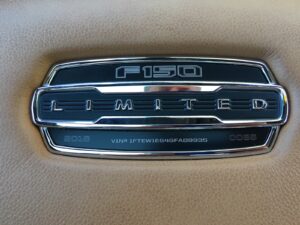 As for this shiny new truck that Ford dropped off for me to play with? It is a beautiful luxury truck and it was hard to give the keys back after my one week test drive. I drove #85, and it was fully loaded. That number, along with the VIN #, was featured on a badge right on the center console. Nice touch. I absolutely loved the brown Mojave leather seats, the unique wood accents (a pattern I've never seen before), and all the included (what would normally be) aftermarket upgrades like the retractable power steps, bed step, spray-in bedliner, chrome exhaust tip, and LED lighting in the bed.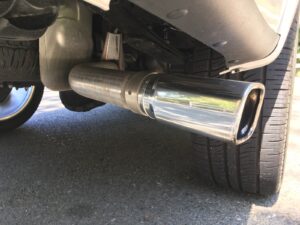 My complaint (and yours too!) for the V6 EcoBoost is not having that throaty V8 exhaust note. I'm not quite sure if Ford changed the exhaust from 2015 to 2016 but I did notice this V6's exhaust note was much closer to sounding more V8-esque. That I liked.
Duke's Mods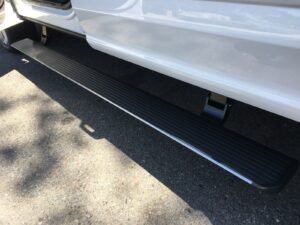 I love that Ford is now including either as standard or as an upgrade, products you would normally have to hunt down and purchase/install after you roll off the lot. I looked into this a bit to see how their prices compared. The retractable steps, for example, are very similar to AMP Research's PowerStep product, which I have shown how to install many times on my show. I also have them on my 2005 F-150 truck (yes, still my daily driver!) I absolutely love them. Through Ford, they are a $325 upgrade. Aftermarket, you're looking at spending about a grand, plus installing them. I give the nod to Ford here.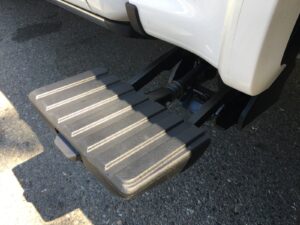 Another common pickup truck aftermarket add-on is a bed step, also very similar to AMP Research's BedStep product. In this comparison, however, the aftermarket equivalent is $220, compared to Ford's $375 upgrade cost. Whether the $155 difference is enough to go aftermarket and install it yourself is entirely up to you.
And finally, the factory spray-in bedliner is a $495 upgrade from Ford. A similar aftermarket product such as Line-X (which I highly recommend if you're going that route) is around $480. Very comparable. Again, I give the nod to Ford here because it's installed at the factory and is better than any aftermarket spray-in bedliner you can find.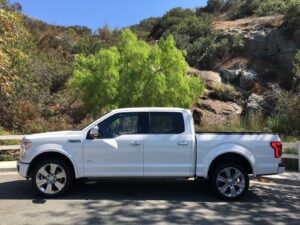 So much aftermarket is already done to this truck. What's left to do? I would look into an aftermarket exhaust. There's bound to be something that is deeper sounding, although I was fairly impressed with the stock pipes. A mild lift with bigger tires is also in order but I'm torn with doing that. This limited edition's stance with 22″ wheels and P275 /45 tires looks pretty damn mean and sexy as is. I might not mess with it!
Summary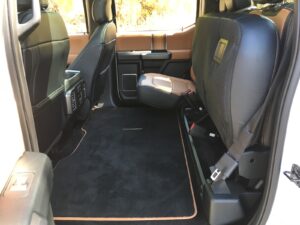 This truck is simply a stunner, inside and out. It rides smooth, feels big like a full size truck should, and is the one to get if you're looking for Ford's top of the line F-150. It's got all the creature comforts you want in a truck, and some that will make you smile when you find them, like the incredible 360-degree camera, second row heated seats that fold up to provide enough space to park a Ford Focus, or the rear safety belts that have airbags built in. Ford is keeping the best-selling vehicle in America current with new technology and features, while keeping the F-150 Ford tough and fun to drive.
Please follow me on Twitter, Facebook, and Instagram, and read my other car reviews at dukesdrive.com.
On The Radio
I'm also a co-host on the syndicated radio car show "The Drive", hosted by my Motorz co-host, Alan Taylor. Here's what we said about the 2016 Ford F-150 V6 Platinum on the air, September 24, 2016!
Part 1

Part 2

Photos
Summary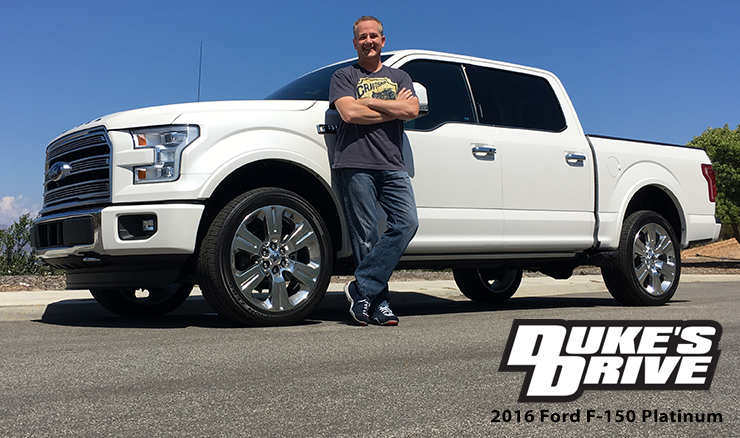 Duke's Drive: 2016 Ford F-150 V6 Platinum
Description
Ford is keeping the best-selling vehicle in America current with the 2016's new technology and features, while keeping the F-150 Ford tough and fun to drive.
Chris Duke
No Replies to "Duke's Drive: 2016 Ford F-150 V6 SuperCrew Platinum Limited Edition Review"
---