Duke's Drive: 2016 Ram 2500 Laramie Longhorn Crew Cab 4×4 Review
Posted on December 17, 2016 by Chris Duke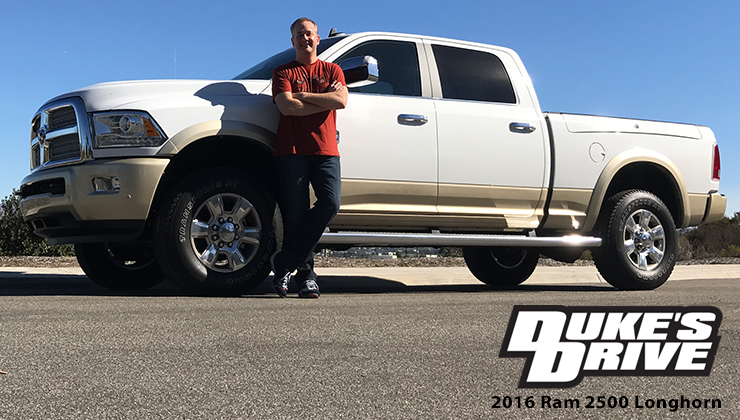 Duke's Drive is all about my experiences with driving new vehicles. It truly is a privilege to be able to drive a brand new vehicle for a week and share my thoughts with you. It is a responsibility that I don't take lightly, or for granted. I know the pains of wanting to test-drive a vehicle you're interested in buying, and it's not an enjoyable experience. These are the stories of my experiences.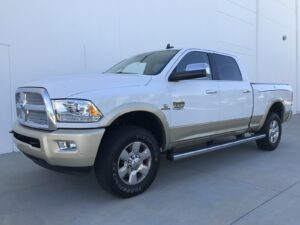 Properly reviewing a full-size, heavy duty pickup truck isn't easy. Unlike a sports car, which can typically be put through its paces on a decent backroad, testing the capabilities of a towing machine requires the right circumstances. Like the circumstances that came together during my time with the 2016 Ram 2500 Laramie Longhorn Crew Cab 4×4. Over the course of ten days, I was able to thoroughly see what this Ram is made of, including a long-distance road trip with a serious towing requirement. Does the 2016 Ram 2500 Longhorn have what it takes to be a front-runner among its rivals? It's time to find out.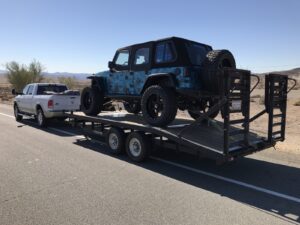 After being handed the keys, I knew exactly how I was going to challenge this 2016 Ram. Instead of an easy long-weekend, it'd be used to tow a 5,000 lb. trailer, with a 5,000 lb. Jeep Wrangler for Motorz TV on top, from San Diego to Las Vegas to be a featured project vehicle at the 2016 SEMA Show. That kind of road trip is an ideal test for a pickup, as it demands quite a lot from the powertrain, suspension and three passengers inside. Immediately after setting off, one thing was perfectly clear: this Ram is an absolute tower of power.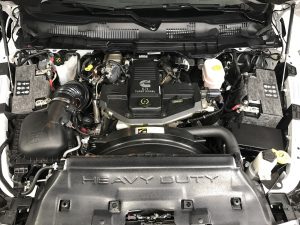 With a 6.7L Cummins turbo diesel, everything about this truck is right now. Need more torque? Given that there are 900 ft. lbs. of it, that's not a problem anywhere in the rev range. Just put your foot down ever so slightly and you're on your way to hauling serious mass. Speaking of which, this 2016 Ram towed our 10,000 lb. cargo like it genuinely wasn't there at all. Had it not been for the rearview mirrors, we likely would have forgotten ourselves. Trust me, and this isn't hyperbole, you actually cannot believe how this truck shrugs off even heavy duty payloads. That Cummins diesel gives the impression it would be more appropriate powering a nuclear submarine than it would a Ram pickup. It actually is that impressive.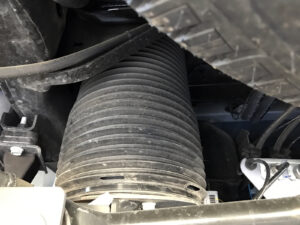 Power is one thing, but when you're towing over long distances, the suspension better be just as well engineered. That's really not a problem here. To compensate for even the most demanding payloads, the Ram incorporates rear air suspension. Under normal circumstances, it automatically levels the truck. However, when needed, it can also be manually controlled from inside the cabin. For us, it made hitching up the trailer much easier than usual. Just reverse, position the ball under the trailer hitch, and raise up into place. That alone saves a fairly astonishing amount of time.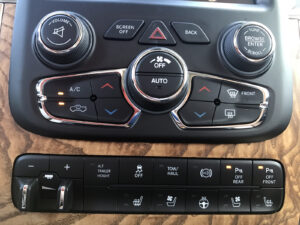 One of the coolest features available with the 2016 Ram 2500 Longhorn is the exhaust brake. This typically is a feature you'd only expect to find on Class 8 semi-trucks, definitely not pickups. So finding it here is quite a pleasant surprise. Not only does it work well (essentially slowing without using the brakes), but the sound alone is worth the price of admission. It's another example of how the 2016 Ram doesn't just deliver on its promise of being over-engineered to face any challenge. It goes well above and beyond.
Moving inside, it's clear the designers were given free reign to make the interior as inviting as possible. I couldn't get enough of all the Texas-inspired leather, logos, buckle seat back pockets, floor mats and even incredibly cool instrument panel graphics. No matter how many times I got into the Ram, I was always finding new touches I hadn't noticed before. For additional comfort, the heated and ventilated front seats, heated second row seats, heated steering wheel, etc., make for an outstanding place to spend quality time. The Alpine speaker system (and integrated sub) definitely doesn't disappoint, either.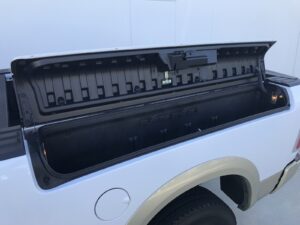 Going around back, it's clear the truck bed had the same level of engineering invested as the towing hardware. Spray-in bedliner comes straight from the factory, which is a must-have for me. The LED bed lighting and Ram Box cargo management system add a substantial amount of convenience as well. Plus, when you lock the truck, the tailgate and Ram Boxes are automatically locked, too. One of those relatively minor features that ends up saving a huge amount of time.
Duke's Mods
This is the one part of the review where the 2016 Ram 2500 Longhorn really gave me a headache. Since it checks virtually every box, finding areas to further improve isn't exactly straightforward. If this was my truck, I'd likely add some bolder wheels to start with. The factory spec hardware looks fine, but some slightly more aggressive metal can further accentuate the power underneath the hood of this beast. Speaking of which, I'd also look into a more free-flowing exhaust system. When your truck is as capable as my Ram tester, letting it exhale a little louder is never a bad thing.
Summary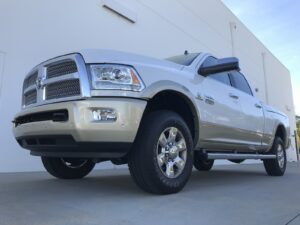 Up until this point, the only other Ram I had driven was a (relatively) bare bones HEMI 1500. There's no point in even comparing it to this latest tester of mine, as the 2500 is a completely different animal in a very different league. From power to comfort to innovative features, this Ram never let me down, or even failed to continuously raise the bar of seriously high expectations. After all, with a base price of $55,835 and as-is tag of $70,885, it isn't the most expensive full-size on the market, but it needs to seriously deliver at that price point.
Needless to say, not only is the Ram 2500 worth the price of admission, it almost becomes a bargain when you consider what you're getting for the money. It's simply one of, if not the most, well-rounded and purpose-built vehicles on sale today. No questions asked.
Job seriously well done, Ram. You're made one heck of a champion for the long haul.
Please follow me on Twitter, Facebook, and Instagram, and read my other car reviews at dukesdrive.com.
On The Radio
I'm also a co-host on the syndicated radio car show "The Drive", hosted by my Motorz co-host, Alan Taylor. Here's what we said about the 2016 Ram 2500 Laramie Longhorn Crew Cab 4×4 on the air, December 17, 2016!
Photos
Summary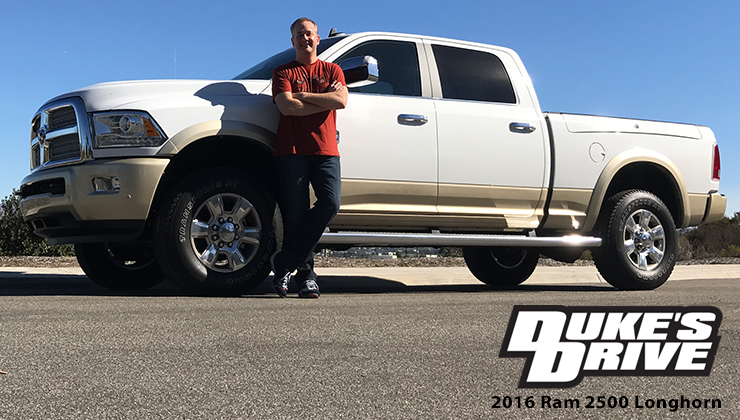 Duke's Drive: 2016 Ram 2500 Laramie Longhorn Crew Cab 4x4
Description
Over the course of ten days, I was able to thoroughly see what this Ram is made of, including a long-distance road trip to Vegas with a serious towing requirement. Does the 2016 Ram 2500 Longhorn have what it takes to be a front-runner among its rivals? Read to find out!
Chris Duke
---