Sep 22, 2015
Duke's Drive: 2015 Chrysler 200S Review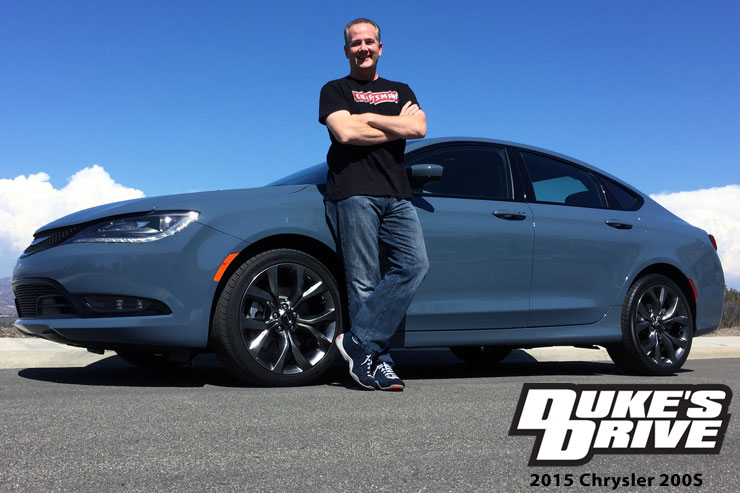 Duke's Drive is all about my experiences with driving new vehicles. It truly is a privilege to be able to drive a brand new vehicle for a week and share my thoughts with you. It is a responsibility that I don't take lightly, or for granted. I know the pains of wanting to test-drive a vehicle you're interested in buying, and it's not an enjoyable experience. These are the stories of my experiences.
The Chrysler 200 has been a peculiar car since its conception. Aimed directly at rivals like the Honda Accord and Mazda 6, the premise of a fun, mid-size American sedan is tempting. It has been a while since the domestic market offered such a car, which made itself known with the first 200. It wasn't a bad car by any means. Has the refreshed 200 taken things up a notch? I grabbed the keys to find out.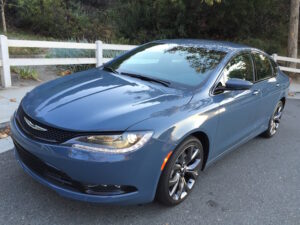 Right off the bat, the 200S I was testing had a lot of one thing: blue. Inside and out, this is one of the most unique color specifications I've seen. Props to Chrysler for the exterior shade, which they're calling Ceramic Blue. It has the complexity of a tone normally seen in matte finishes, but with a far easier to maintain gloss overcoat. It definitely turns heads and I quickly became a fan. The same goes for the blue interior, which may not be a universal favorite, but it perfectly matches my sunglasses. Good by me :)
As for the exterior in general, this is the best looking 200 by miles. Especially in 200S trim, the black accents, curved lines and sharp running lights make it very identifiable. This is one of those cars that looks decent in photos but genuinely handsome in person. Yes, I wouldn't mind if the Dodge Dart connection was toned down, but it's hard to fault the designers since it's essentially a Dart frame. Overall, it's a surprisingly good looking machine.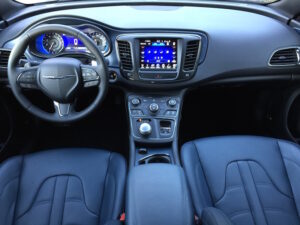 Sliding behind the wheel, the interior feels similar to other Chrysler models, which certainly is a compliment. Like the 300S I reviewed earlier, the spec includes UConnect (love it) along with the very useful ParkView backup camera and blind spot detection. The sound system uses Alpine hardware, which leaves me somewhat perplexed. The 300S has Beats Audio, the Grand Cherokee SRT has Harmon Kardon and now the 200 introduces a third audio company. Since each brand is under the FCA umbrella, it's an unusual variety.
Unusual, but certainly not bad. The Beats Audio in the 300S had bass for days and the Grand Cherokee SRT's Harmon Kardon option was pretty impressive. Then we arrive at the 200S' Alpine setup. The nine speaker (an upgrade from the base six) system had a few noticeable issues. Most troubling was interior rattling caused by the rear-mounted subwoofer. Uneven sound distribution up-front didn't help, either. It's a decent sound system, but falls short of the tour-de-force units I've experienced in other FCA cars.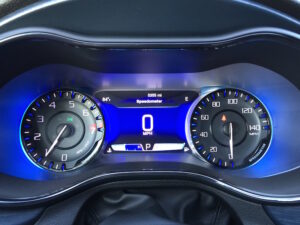 The driving experience, on the other hand, is much more positive. The 3.6L V6, putting out 295 hp, is one of the strongest six-bangers I've driven. The acceleration is linear and pulls hard throughout the powerband. It's also important to note the AWD system in the 200S, which is a rarity in the segment. If you're in a northern climate, that alone makes this Chrysler worth a serious look.
Handling is decent but could be made better. Weight (3,811 pounds) and eco-tires work against what could be a feisty sport sedan. With its willing engine, upgraded tires and a diet would genuinely transform the package. Both of those can be addressed via aftermarket options, which I'd factor in when ordering your 200. Keep some dough stashed away for sporty rubber and you'll be set.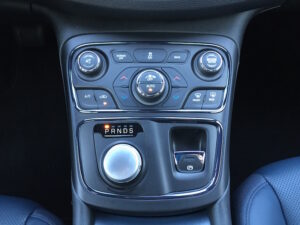 The nine-speed transmission has reasonably quick responses, which grow sharper when put into sport mode. Plus, and this is a big plus: it's not a CVT (Continuously Variable Transmission). Numerous competitors around this price range option CVTs, which while economical, are hardly enjoyable. It's refreshing to have a genuine gearbox and the 200S makes pretty good use of it.
All of that adds up to a 0-60 dash in six seconds dead. That's a solid number, coming in near the top of the mid-$30s sedan class. Along the way, the chassis feels sorted, doing its best to limit excessive body motion while keeping the ride comfortable. It's a nicely sorted compromise that won't disappoint.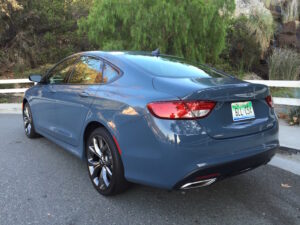 At this point, you might not be sure what to make of the 2015 200S. Here's my take: its come a long way from the original and is now showing substantial potential. With minor tweaks here and there, I think this could be a force to be reckoned with in the mid-size sedan market. Plus, while my tester was $35,935, you can have a base 200S for $29,370. In anybody's book, that's a steal for a mid-size, AWD, 295 hp Chrysler. Especially one that looks this good.
Duke's Mods
Ready to take your 200S to that next level? Considering how strong the base package is, it doesn't take much to turn it into a world better. In essence, there are two areas to address with this sporty sedan: handling and aesthetics. Combined, they make a compelling argument for turning this sleek Chrysler into a serious build.
First up, the factory tires are begging to be replaced. Eco-tires and soft suspension tuning are fine for a standard daily driver, but let down the 200 when pushed hard. By adding grip, the feel dramatically changes from somewhat compromised to far more focused. As I mentioned with the 200S sister car, the Dodge Dart, it's hard to go wrong with Michelin Pilot Sports, in this case the A/S 3. It's a tire that provides a solid mix of wet/dry performance and ride quality. There are more aggressive tires, but these seem to be a great fit for the Chrysler's character.
Beyond tires, handling (along with aesthetics) can be greatly improved with aftermarket wheels. The math varies depending on who you talk to, but the generally accepted formula is every 1 pound of unsprung weight lost equates to 6 pounds off the frame. Thus, lightweight wheels not only look great but offer a much more dynamic driving experience. If money is less of an object, I recommend OZ Ultraleggera's, which will fit the 200S AWD without modification. Beyond killer good looks, they come in at 18 1/2 pounds, which represents impressive weight savings.
For a slightly more budget minded approach, check out the Sparco Assetto Gara. While they don't have the same jaw-dropping looks as the OZ's, they're half the price and near-as-makes-no-difference the same weight. If you're geared more toward performance than looks, it's an incredible bargain.
With a much more capable handling package mated to a gem of a V6, why not look the part? Mopar offers a great body/exterior molding kit for the 200S. When painted to match a standout color like Ceramic Blue, it adds just that extra touch to the already handsome sedan. This is a really great looking car, so that slight extra aggression is all that's needed.
Summary
When I first got behind the wheel of the 200S, it was a bit perplexing. However, after spending some time in the driver's seat, it becomes obvious this Chrysler has a solid niche. If you're willing to pay the slight premium, it's a big step up from its sister and offers a platform well prepared for additional investment. Overall, I have no difficulty giving it a recommendation. Grab one in Ceramic Blue, save up for aftermarket upgrades, and you'll have quite a special sedan.
Please follow me on Twitter, Facebook, and Instagram, and read my other car reviews at dukesdrive.com.
On The Radio
I'm also a co-host on the syndicated radio car show "The Drive", hosted by my Motorz co-host, Alan Taylor. Here's what we said about the 2015 Chrysler 200S on the air!
December 5, 2015
Photos
Summary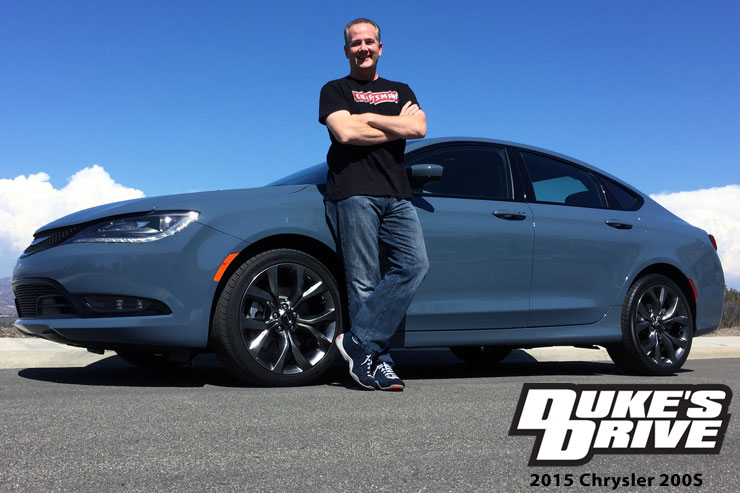 Duke's Drive: 2015 Chrysler 200S
Description
How does the Chrysler 200S mid-size American sedan hold up with the 2015 model? I take the keys for a week to find out.
Chris Duke
No Replies to "Duke's Drive: 2015 Chrysler 200S Review"
---