Mar 21, 2016
Duke's Drive: 2016 Chrysler Town & Country Platinum Review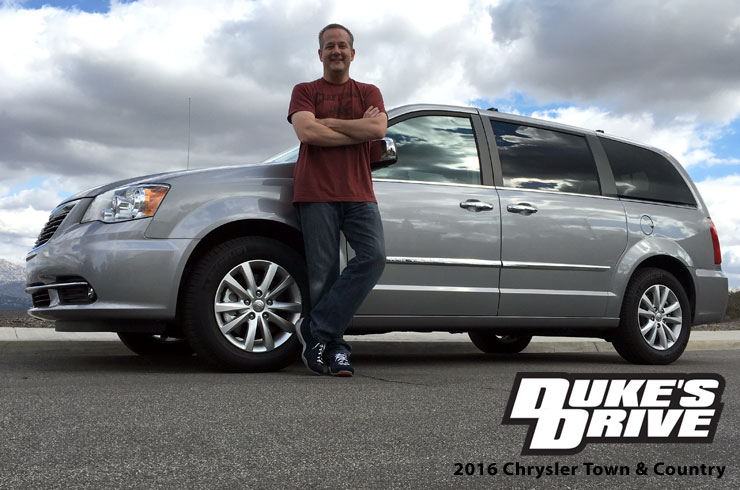 Duke's Drive is all about my experiences with driving new vehicles. It truly is a privilege to be able to drive a brand new vehicle for a week and share my thoughts with you. It is a responsibility that I don't take lightly, or for granted. I know the pains of wanting to test-drive a vehicle you're interested in buying, and it's not an enjoyable experience. These are the stories of my experiences.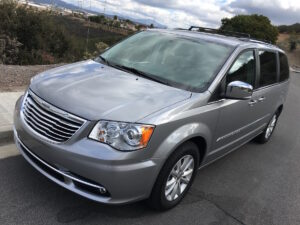 Despite the stereotypes, minivans are some of the most underrated vehicles around. They offer substantially more interior space than SUVs and a huge amount of utility for significantly cheaper. Admittedly, before I got the keys to this 2016 Chrysler Town & Country, it had been a while since I was behind the wheel of a minivan. Exactly how much bang-for-your-buck does this family-mobile offer? Let's find out!
The timing couldn't have been better for my Town & Country test: I had this loaner during Christmas vacation. Even with my sister and her family of four in town, going everywhere in one vehicle proved little challenge. Not only could we fit seven but each person had plenty of room thanks to a cavernous interior. In fact, let's take a moment to really dive into that interior. It genuinely stunned me to see how much you get for your money with this Chrysler.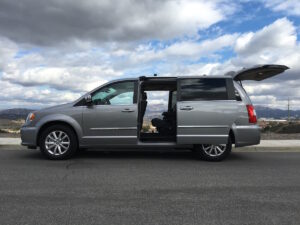 To name just a few of the numerous features, my Town & Country came with pull down window shades, Blu-ray/DVD player with two 2.9″ flip-down screens, first and second row heated seats, wireless headphones, stow-and-go second row seats, power folding third row, power lift gate, remote start… seriously the list just goes on forever. Plus, while it's obviously nothing close to performance oriented, the V6 had power on demand whenever needed. Don't have a pickup? With both second and third rows tucked into the floor, you can haul full 4×8 sheets of plywood without hassle, and still have the lift gate closed.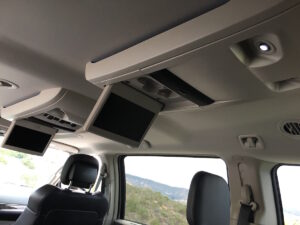 Ready for the truly mind blowing part? With all of those amenities, huge interior space, capable engine, very comfortable ride… it all adds up to $41,490. If that's not an absolute steal, I have no idea what one is anymore. Try spec'ing those same features in a luxury SUV and you'd be way, way past the forty grand marker. In more than a few cases, it's genuinely challenging to get this much utility and luxury for twice the price.
Honestly, if you're looking for a loaded family vehicle, only look towards an SUV if you don't mind a steep MSRP. Otherwise, I cannot recommend the Town & Country highly enough. Remarkable value for money with almost no downside.
Duke's Mods
There's not much I'd change about this family cruiser thanks to so many features coming from the factory. For fun more than anything, I'd love to drop in a relatively powerful sound system. Given the plethora of options for speaker placement and the interior space available, you could turn your Town & Country into an absolute concert hall without sacrificing cargo room.
For a surprisingly sharp appearance, order yours in a dark color and add a well styled black or grey mesh grille with dark wheels. Those minor changes give the Town & Country an unexpectedly upper-tier look for very little investment.
Summary
Forget what you've come to assume is the ideal family vehicle. If you're looking for more space than a wagon but don't want to pay SUV money, Chrysler is offering the deal of the century. For barely more than you'd pay for a midsize sedan (and many thousands less than an equivalently decked out SUV), you can have an ideal family cruiser. One of the most surprising vehicles I've driven yet, and for that it easily earns my seal of approval. Get one soon, though, because this is the last year for the Town & Country minivan. Chrysler is retiring the T&C and bringing back the Pacifica in its place for 2017.
Please follow me on Twitter, Facebook, and Instagram, and read my other car reviews at dukesdrive.com.
On The Radio
I'm also a co-host on the syndicated radio car show "The Drive", hosted by my Motorz co-host, Alan Taylor. Here's what we said about the 2016 Chrysler Town & Country Platinum on the air, March 5, 2016!
Photos
Summary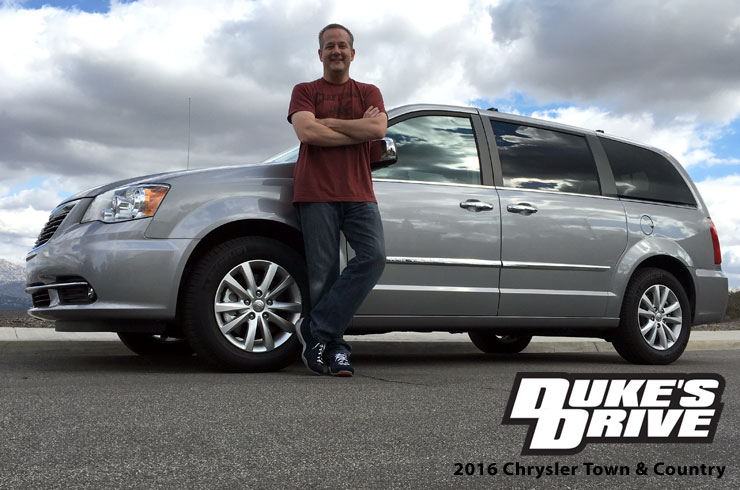 Duke's Drive: 2016 Chrysler Town & Country Platinum
Description
If you're looking for more space than a wagon but don't want to pay SUV money, Chrysler is offering the deal of the century.
Chris Duke
No Replies to "Duke's Drive: 2016 Chrysler Town & Country Platinum Review"
---