Apr 7, 2016
Duke's Drive: 2016 FIAT 500X Review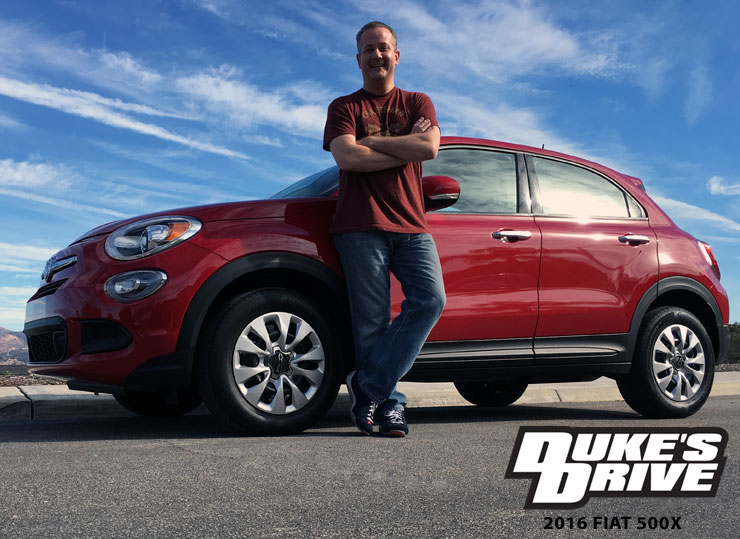 Duke's Drive is all about my experiences with driving new vehicles. It truly is a privilege to be able to drive a brand new vehicle for a week and share my thoughts with you. It is a responsibility that I don't take lightly, or for granted. I know the pains of wanting to test-drive a vehicle you're interested in buying, and it's not an enjoyable experience. These are the stories of my experiences.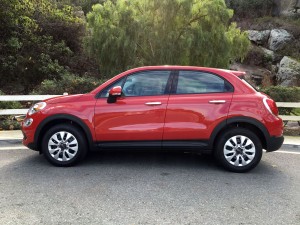 When FIAT first brought the 500C over to our shores years ago, the excitement proved to be justified. Not only did the 500 meet expectations, but in Abarth trim, it proved to be a surprisingly capable and aggressive compact sports car. That incredibly pervasive sense of fun exuded from the 500C Cabrio I tested earlier. As the range has gotten larger, now including the likes of the 2016 500X, is that inherent smiles-per-gallon factor still high? Time to find out…
Probably should clear this up right away: the 500X is a seriously cheap car. My loaner came to a grand total of $20,900, a whole $900 above base price. Which is important to keep in mind, considering that it's a little lacking when it comes to amenities. The 1.4L I4 engine isn't exactly a missile, requiring 7.8 seconds to reach 60 from a standstill. Inside, you'll have an AM/FM radio… and that's about it. Even satellite radio is not to be found in this model I tested. However (and it's a big, bold however), that's only a small part of the story. Because once you dive into it, the 500X has plenty of character to go around.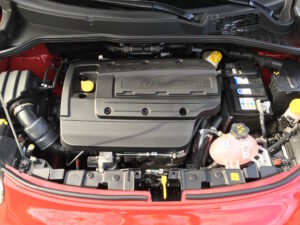 First up, it comes with a six speed manual. Not just any manual either, but a properly good one. Think about that: in an age when the clutch pedal is an endangered species, you can spec one on a compact FIAT crossover. It's absolutely awesome, a highlight that can't be overstated. Even though the 160 hp engine doesn't have a ton to give, the six speed makes every pony far more engaging. It brings a solid amount of the 500C's playful character over, which is a huge positive.
A more crucial benefit is the increased capacity of the 500X. Unlike the 500C, this larger version has a very usable and spacious backseat. Even the truck space is a massive improvement, providing more than enough room for extended weekend trips. If the 500C is a city car and backroad toy, than the 500X is a much more well rounded daily driver, for practically the same money, still with plenty of panache. Not a bad proposition.
Duke's Mods
If you plan on using the 500X as your daily driver, I hugely recommend going for a sound system upgrade. It's one of few areas of the car that could use a significant refresh. A new head unit, amp and speaker system will make a huge difference in every drive. Well worth the investment.
Additionally, I'd look for a mild set of lowering springs to bring the 500X closer to the earth. With sharp styling and a compact body, removing some of the wheel gaps adds that much more refinement to an already attractive profile. The realitively cheap prices for quality springs allows a great look, sharper handling and still comfortable ride quality for minimal cost.
Summary
For the best combination of FIAT style with daily livability, the 500X is as close to ideal as you'll likely find. It's not quite as big as the 500L, but it offers far more impressive options, including four-wheel drive, advanced safety technology and much sharper lines. My advice: considering the very low cost of entry, don't be afraid to check a few options. I'd immediately go for the Trekking package, which adds another 20 hp, more head-turning body trim and a much better infotainment system, all for a little over $2k more.
Does the 500X deliver all the fun of the smallest FIAT? Not quite, but it comes awfully close, and offers a much more compelling overall package in the process. Mama mia, this is a deal worth a second look.
Please follow me on Twitter, Facebook, and Instagram, and read my other car reviews at dukesdrive.com.
On The Radio
I'm also a co-host on the syndicated radio car show "The Drive", hosted by my Motorz co-host, Alan Taylor. Here's what we said about the 2016 FIAT 500X on the air, April 16, 2016!
Photos
Summary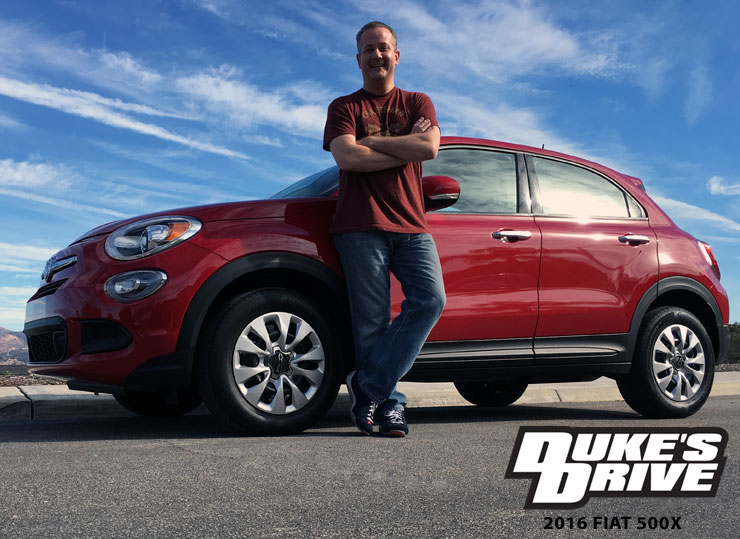 Duke's Drive: 2016 FIAT 500X
Description
For the best combination of FIAT style with daily livability, the 500X is as close to ideal as you'll likely find. How close? Find out!
Chris Duke
No Replies to "Duke's Drive: 2016 FIAT 500X Review"
---