May 14, 2016
Duke's Drive: 2016 Dodge Challenger SXT Plus Review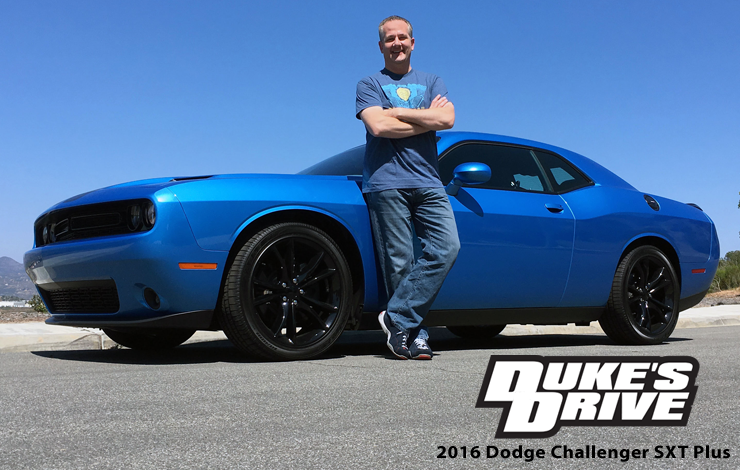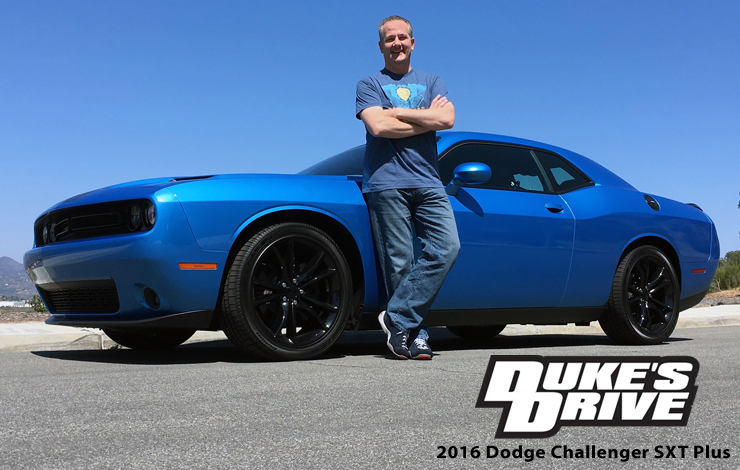 Duke's Drive is all about my experiences with driving new vehicles. It truly is a privilege to be able to drive a brand new vehicle for a week and share my thoughts with you. It is a responsibility that I don't take lightly, or for granted. I know the pains of wanting to test-drive a vehicle you're interested in buying, and it's not an enjoyable experience. These are the stories of my experiences.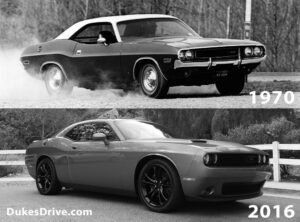 For the regular Motorz viewers out there, you've probably noticed a trend: I adore the Ford Mustang. I've modified, driven, even done full reviews of them throughout the various generations. It's hard to find anything to dislike, which can be said of any modern American sports car (including Corvette, Camaro, Charger, etc.). But that's the thing, as they've evolved, muscle cars have become sports cars. Not necessarily a bad thing at all, but I badly miss that full-on muscle car feeling. The Dodge Challenger looks the part more than its rivals, but is it still a true domestic 1/4-mile beast? I decided to find out…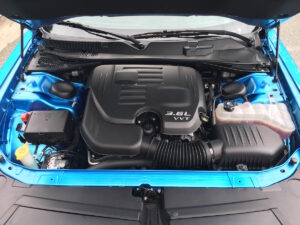 As it turns out, this isn't the first Challenger I've driven. I reviewed the 2015 Scat Pack for the first Duke's Drive, but after 17 months, trying out another is long overdue. To shake things up further, instead of a 6.4L V8, this latest tester is the SXT Plus. That means a 3.6L V6 lifted straight from the Jeep Wrangler. In total, you're looking at 305 hp, 0-60 in 6 seconds dead and a 1/4-mile of 14.5 seconds. Not exactly Earth-turning numbers, nor are they meant to be. For a base engine. 305 hp is more than capable of getting the job done.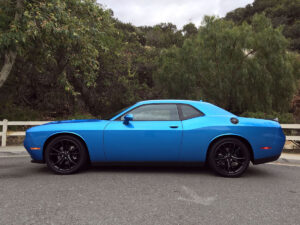 Then there's the way this thing looks. The Scat Pack was flat grey, which isn't out of place on a performance machine. But holy everything just look at that blue. Officially called B5 Blue Pearl, it's one of the most striking colors I've come across on any car, let alone a Challenger. Believe me, good as it looks in photos, they don't come close to doing it justice. Then there's the Blacktop Package. For only $695, it blacks out the exterior trim, adds 20″ x 8″ black aluminum wheels, black rear spoiler and performance steering wheel. Forget the aftermarket, this is exactly how a Challenger should look. Or, in my opinion, any car. This is about as good as it gets.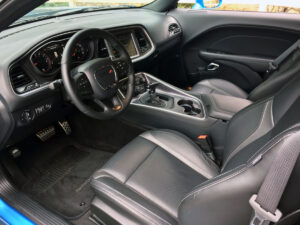 Getting inside is where the charm of the Challenger really separates it from domestic rivals. You honestly forget you're in a car meant to perform. The seats are ridiculously comfortable, space is plentiful, infotainment system beautifully integrated and the sound system is simply astonishing. I've looked all over the interior and still can't figure out how the speakers crank out so much bass. It's more like a 300 coupe than a rough and tumble sports car. Yes, the car weighs a pretty hefty 3,900 lbs. But you can tell where that weight goes: one of the best, and certainly most comfortable, muscle car interiors money can buy.
So it's quick enough (especially with the available launch control, check out the video, below), has an amazing interior and is arguably the best looking domestic car currently on sale. Want to make it even better? Let's talk about that aftermarket…
Duke's Mods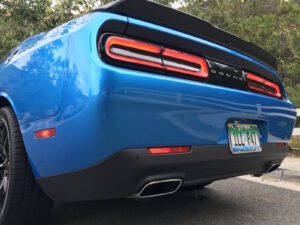 First up, we need to do something about the engine note. It'll never be quite as violent as the V8, but it's almost silent with the V6. Don't be afraid to go for a pretty aggressive aftermarket cat-back. Once you wake it up, the 3.6L has a pretty nice voice, but you'd never know it with factory running gear.
Second, pick up either coil-overs or lowering springs. You don't need an extreme drop, but I think the car sits just a touch too high. Take a moment and look up the Challenger Hellcat's stance. See how it sits just that much lower? Surprisingly, it's only about 0.7 inches, but that small drop makes a huge difference. Some quality lowering springs should more than do the trick without compromising the SXT's outstanding ride quality.
Lastly, and this one is entirely subjective, but some dark window tint (depending on your local legislation) makes this very, very bad-guy looking coupe appear even more menacing. Especially when paired with a darker color like this blue, it's a beautiful offset.
Summary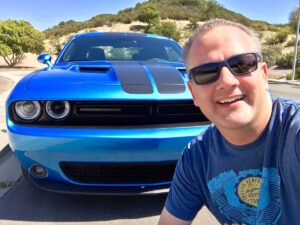 Taking all of that into consideration, the 2016 Challenger SXT Plus is really, really good. In fact, I won't mince words. It's one of the best cars I've ever driven, with one exception: the engine. No, there's nothing wrong with the 3.6L V6, except for that it isn't a 6.4L V8. My SXT Plus tester is pretty reasonably priced at $34,965, about $8k over base. However, if you want a pure, unrestrained, virtually perfect modern day muscle car, save your pennies for the V8. I can assure you, it's well worth the premium.
I've driven a huge number of cars throughout my time in the auto industry. But the 2016 Challenger has done something almost none of them have: kept the true, USA muscle car recipe alive and well. Which in large part, is why you can expect to see one, in this same blue, in my driveway as soon as humanly possible. Just expect it to read "6.4 V8" on the side.
Please follow me on Twitter, Facebook, and Instagram, and read my other car reviews at dukesdrive.com.
On The Radio
I'm also a co-host on the syndicated radio car show "The Drive", hosted by my Motorz co-host, Alan Taylor. Here's what we said about the 2016 Dodge Challenger SXT Plus on the air, May 14, 2016!
Videos
Photos
Summary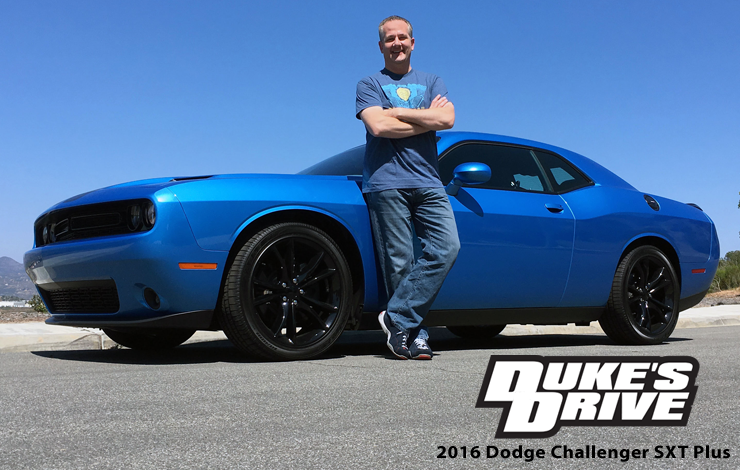 Duke's Drive: 2016 Dodge Challenger SXT Plus
Description
The 2016 Dodge Challenger has more classic muscle car looks than its rivals, but is it still a true domestic 1/4-mile beast? Read me!
Chris Duke
No Replies to "Duke's Drive: 2016 Dodge Challenger SXT Plus Review"
---