Dec 21, 2018
Duke's Drive: 2019 GMC Terrain Denali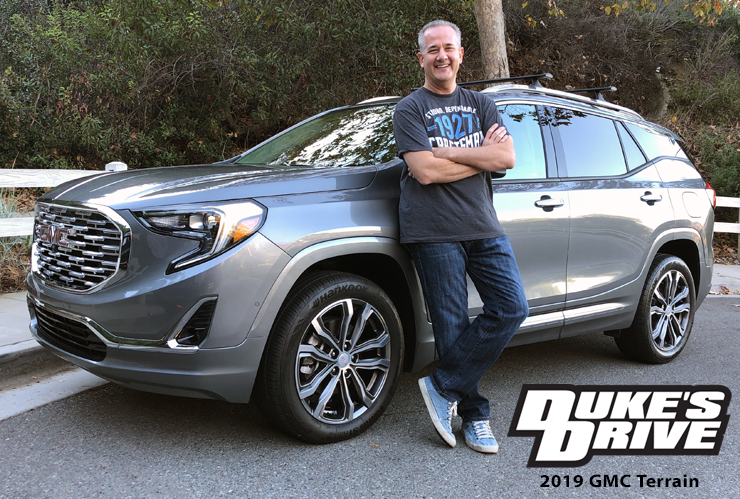 Duke's Drive is all about my experiences with driving new vehicles. It truly is a privilege to be able to drive a brand new vehicle for a week and share my thoughts with you. It is a responsibility that I don't take lightly, or for granted. I know the pains of wanting to test-drive a vehicle you're interested in buying, and it's not an enjoyable experience. These are the stories of my experiences.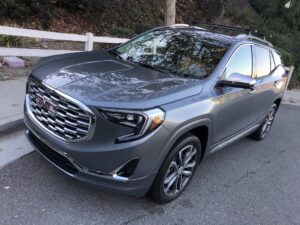 This is the 2nd generation of the GMC Terrain crossover SUV which began its life in 2010 but refreshed for gen 2 in 2018. For me, this is the first time I've had the opportunity to drive any of them, and so I was in for a few surprises. GMC dropped one off at my home for a week so I could get to know it a whole lot better.
More and more auto makers are putting 4-cylinder 2.0 turbo engines in crossovers. Why? Because the technology has come of age for these little gas engines, and they put out a ton of power, including low end torque which is what most people notice first when they get in and step on the pedal. This 2019 GMC Terrain is no exception. It gives you the feeling of a V6 engine, except for when you're barreling down the freeway and need a bigger boost.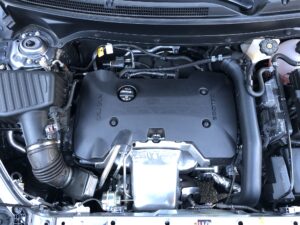 That's fine, because 252 horsepower and 260 pound-feet of torque is more than enough for a vehicle of this size. The lighter engine, smaller fuel tank combined with lighter materials being used these days allows vehicle manufacturers to make this V6-like power a reality. GMC also offers a 1.6L turbo diesel engine with improved gas mileage (22/28 for gas, 28/39 for diesel).
On to what impressed me most: the infotainment system. I've seen various iterations of GM's infotainment system before. It's impressive over-the-air app updated system is similar to what you have with iOS or Android. The one app that stood out as a surprise to me this time was the Spotify app. If you don't use Spotify, hang in there and read on… because this is a great example of where this in-car tech is these days, and will apply to other apps.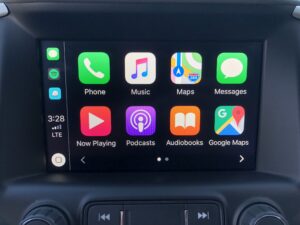 Usually with Apple Music, Spotify, Google Play Music and others, you have to keep your phone nearby. Nearby, meaning either tethered with a cable or wireless via Bluetooth. With the Spotify app in GM vehicles you just have to authenticate once and then you don't need your phone. Just like how Spotify syncs your music between your phone, computer, and even Alexa–well, your music is also synced with your vehicle. No phone needed. That's because of GM's 4G LTE capability (extra cost, mind you). Very cool. Very surprising.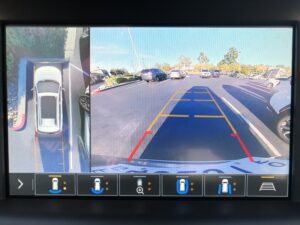 Cool tech aside, the 8-inch infotainment system is great to use. Fast, and supports both Apple CarPlay and Android Auto. The display is fingerprint friendly, meaning you can touch it quite a bit and unlike a lot of other shiny displays from other manufacturers, your fingerprints aren't visible for the most part. Touch all you want. The HD surround vision cameras is something I now expect from a premium system, but GMC did it right with the Terrain. 360 surround cameras never looked better.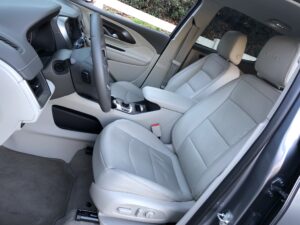 The interior is well appointed. Perforated leather seats for heated and cooled seats. The steering wheel also wrapped in leather, can warm your digits on cold days. The memory seats are a must for multiple passengers like my wife and I. The premium 7 speaker Bose sound system delivers excellent audio.
The 2019 GMC Terrain Denali delivers what you expect from a GMC Denali package. As driven, the MSRP is $43,550 ($39,500 standard). That means there are about $3k worth of options on this ride. The driver alert package runs $745 which includes adaptive cruise control (which I can no longer live without) and auto braking, the comfort package is $450 (heated and ventilated seats), $450 in towing equipment, $395 for the Satin Steel Metallic paint, and $270 for the roof rails.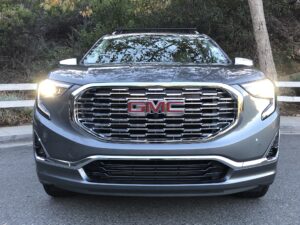 I love the aggressive flat nose and big grille of the GMC. The styling screams GMC. If you're looking for a crossover with a unique and bolt look, you've got to include the 2019 GMC Terrain Denali on your test drive list.
Please follow me on Instagram and Twitter, and read my other car reviews at dukesdrive.com.
Photos
No Replies to "Duke's Drive: 2019 GMC Terrain Denali"
---