Dec 3, 2018
Duke's Drive: 2018 VW Atlas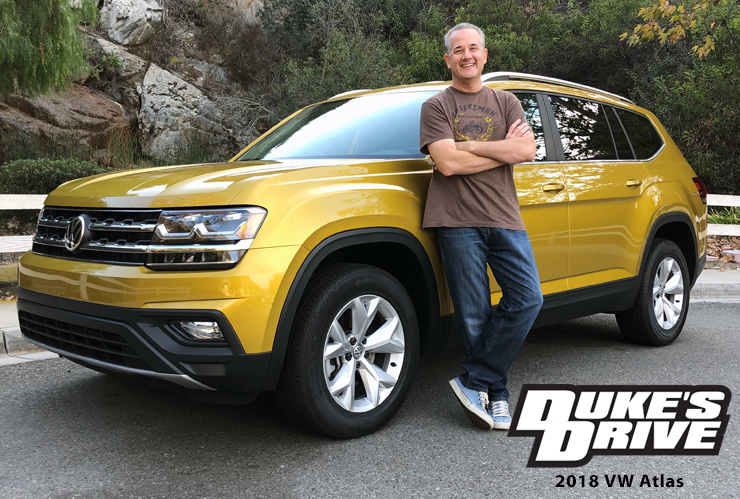 Duke's Drive is all about my experiences with driving new vehicles. It truly is a privilege to be able to drive a brand new vehicle for a week and share my thoughts with you. It is a responsibility that I don't take lightly, or for granted. I know the pains of wanting to test-drive a vehicle you're interested in buying, and it's not an enjoyable experience. These are the stories of my experiences.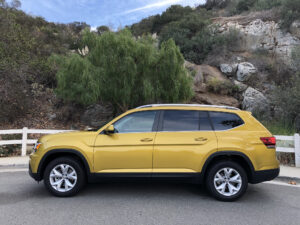 Don't let size fool you. The big, bold, and boxy (dare I say manly?) three-row 2018 VW Atlas isn't a full size SUV, but rather classified as a midsize crossover. My test drive is the 2.0T SE with a 4 cylinder turbo engine. How well does Volkswagen's largest in its lineup hold up with such a small engine? I got the keys for one for a week to find out.
All new for 2018, the made-in-the-USA (manufactured in Chattanooga, Tennessee) is answering the call from Americans for bigger, roomier vehicles. This comfortably sits above the Touareg and Tiguan, and looking at the dealer lot it's very apparent who's the new king of crossovers for VW. It's large.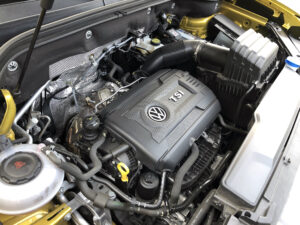 The big story for me is the 2.0-liter turbo engine. I'll cut right to the chase, because I'm sure that's what most people want to know from me. Is it gutless? Wimpy? I'm not sure how they did it… perhaps the result of lighter materials they're using in the vehicle manufacturing process, engine design, or a combination of both. It has power. Honestly? If you handed me the keys to this vehicle and did not tell me what the power plant was under the hood, I would have guessed a V6. That's exactly what it felt like.
I had to check the specs of the Atlas to make sure. Then I popped the hood to make sure. I still wasn't convinced :) Speaking of which, it's odd to see such a small engine inside the engine bay of such a large vehicle. Take a look at my photos, below. If you propped the hood up and then walked over to the vehicle from the driver's side, the air box completely hides the engine. It sits far lower. You can't even see the engine at first. You literally have to walk over to the fender and look down. It's that dramatic.
Where it's challenged most is on the freeway when you need that extra power. It's simply not there as you would expect it to be. But around town–you would think it's a V6. It's got great low end torque and quick pickup at the throttle.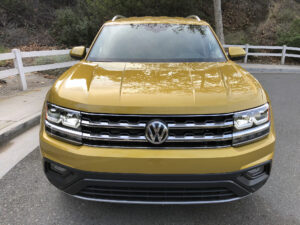 Power aside, I have to admit that I absolutely love the manly styling of the Atlas. It's got a unique look of its own. Most of the crossovers look the same. If you lined up a dozen of the top crossovers that are out on the market right now, you'd be able to pick out the Atlas from a mile away.
I guess that's why I'm so fond of the styling, as an automotive enthusiast. I always like to have the vehicle I drive stand out and be unique. The last car that I personally owned was a Chrysler 300C (when they first came out) for that reason alone. Admittedly, I only had it a few years before I went back to what I like to drive most (a pickup truck), but you get my point. This crossover is stunning at any angle.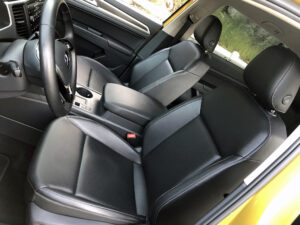 Inside, it's roomy. The seats are more comfortable than other Volkswagen's I've driven. The entire dash and instrument panel are well designed. Clean. I love how well the 8-inch touchscreen sits seamlessly in the center of the dash. How all the HVAC controls are up front and center–easy to access and intuitive. No fumbling to figure out how to use them. The steering wheel controls are the same as every other VW these days, so once you've figured it out once–you feel comfortable in any of their vehicles.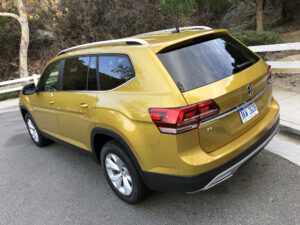 As tested, my 2018 Atlas 2.0T's MSRP is $34,515–no fancy options added. The interior is a black "V-Tex leatherette" that looks like leather to me. The color is called Kurkuma Yellow Metallic, resembling the color of turmeric spice. Most mustard yellow to me. I like it, but it wouldn't be my first choice of paint color. If you're looking for an excellent choice for a new SUV or crossover for your family, you aren't going to go wrong with the 2018 VW Atlas.
July 2019 update: We went shopping for an upgrade to our 2016 Jetta, and considered both the Tiguan and the Atlas. My heart was set on the Atlas, but ultimately we went with the Tiguan because we didn't want something so big. The 2019 Tiguan gave us the three row seating we needed, and better gas mileage due to its size. Side-by-side, the Tiguan and the Atlas look like the same vehicle (except for the Atlas towers over the Tiguan). Either way, I feel you will be happy with either. We love our Tiguan.
Please follow me on Instagram and Twitter, and read my other car reviews at dukesdrive.com.
Photos
No Replies to "Duke's Drive: 2018 VW Atlas"
---