Duke's Drive: 2015 Dodge Charger R/T Scat Pack Review
Posted on August 19, 2015 by Chris Duke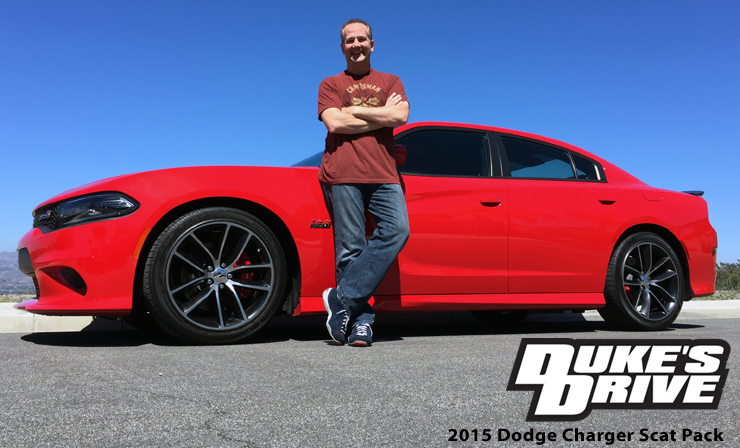 Duke's Drive is all about my experiences with driving new vehicles. It truly is a privilege to be able to drive a brand new vehicle for a week and share my thoughts with you. It is a responsibility that I don't take lightly, or for granted. I know the pains of wanting to test-drive a vehicle you're interested in buying, and it's not an enjoyable experience. These are the stories of my experiences.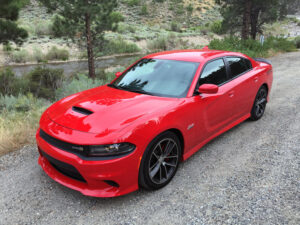 So you've made the decision: the coupe just won't do it anymore, it has to be four doors. Luckily, thanks to the wonderful maniacs over at Dodge, raw muscle can now be had with room for five. I've driven the almost unbelievably good 2015 Dodge Charger SRT already, but is there an even better option? I decided to find out with the 2015 Charger R/T Scat Pack.
For those somewhat unfamiliar with the Charger lineup, the R/T Scat Pack might be a little difficult to decode. That's mostly because it is, for the most part, a cheaper but just as potent Charger SRT. Same HEMI 6.4L V8? Check. Still an obnoxiously fast 0-60 time? You bet, a total of 4.3 seconds. And thanks to its Earth-turning 485 horsepower, and 475 lb-ft of torque (not a typo), v-max is a mere 175 mph.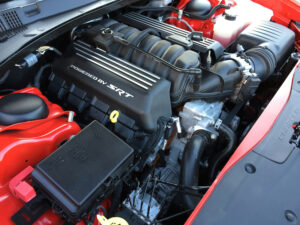 Here's the best part: that same performance in a Charger SRT will run you $48,380. In the R/T Scat Pack? Take off a pretty sizable $7,400. Of course, you are giving up some toys and performance upgrades for the savings. The most notable being adjustable Bilsteins, larger brakes and wider tires (goes from the SRT's 275/40s to 245/45s). The razor sharp styling, however, remains practically unaltered. Is it just me, or has the Charger gone from ok-ish looking to simply drop dead gorgeous?
There are some changes inside as well. I'll be honest, the SRT's flat-bottom steering wheel is eons cooler than the somewhat sporty helm of the Scat Pack. However, a few of my other favorite items, including launch control(!), UConnect and that supercar-good exhaust note, are alive and well with the Scat Pack. Seriously, it shouldn't be possible for a car under $70k to sound this good, but believe me, it does.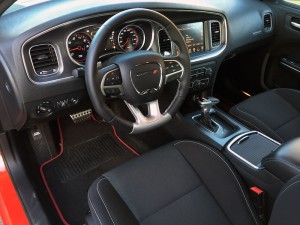 I drove it all the way from San Diego to Reno for the Hot August Nights/Barrett-Jackson event, and racked up 1,245 miles on it. My only true disappointment is that I had to give up the keys before 1,246. You might not consider a sedan a head turner, but on a drive to Reno it regularly received positive attention. More than a few onlookers (including the kind gentlemen who came to pick up the car) mistook it for the 707 hp Hellcat. That's quite a compliment.
Fuel economy here isn't anything to write home about. True, averaging around 25 mpg on some lengthy road trips is far from horrible, but it's not particularly impressive. Having said that, in a muscle car, less-than-Prius fuel economy feels right at home.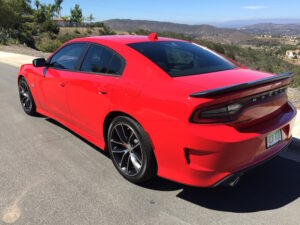 When it comes down to the exact numbers, my Charger came in at a grand total of $47,360. That may sound steep for the "cheaper" SRT and compared to what this car can be had for, it is. The base is $37,495, with my car featuring the optional 8-speed transmission ($1,400), Scat Pack Appearance Group ($1,995), Leather Interior Group ($1,500), sunroof ($1,195) and a few other smaller options. Keep ticking boxes and it suddenly becomes harder to explain why you didn't just order the full-on SRT.
Leave a few of those less critical options off, however, and the price comes south pretty quickly. Although the leather interior is quite nice, I'd be fine leaving the Scat Pack Appearance Group and sunroof on the table. Plus, in a muscle car this surprisingly raw (in a good way), why not have a proper manual transmission?
Is there anything I truly didn't like about it? Certainly nothing that would keep me from calling one my own. If you have the money for the SRT or Hellcat, you're certainly not giving anything up. But if you're on a slightly more restrictive budget or frankly don't want to drop that much on a car, the R/T Scat Pack is nearly perfection. You give up almost nothing, fly a little bit further under the radar and pay substantially less. That's a very difficult recipe to dislike.
Please follow me on Twitter, Facebook, and Instagram, and read my other car reviews at dukesdrive.com.
Exhaust
On The Radio
I'm also a co-host on the syndicated radio car show "The Drive", hosted by my Motorz co-host, Alan Taylor. Here's what we said about the 2015 Dodge Charger R/T Scat Pack on the air!
September 12, 2015
Photos
Summary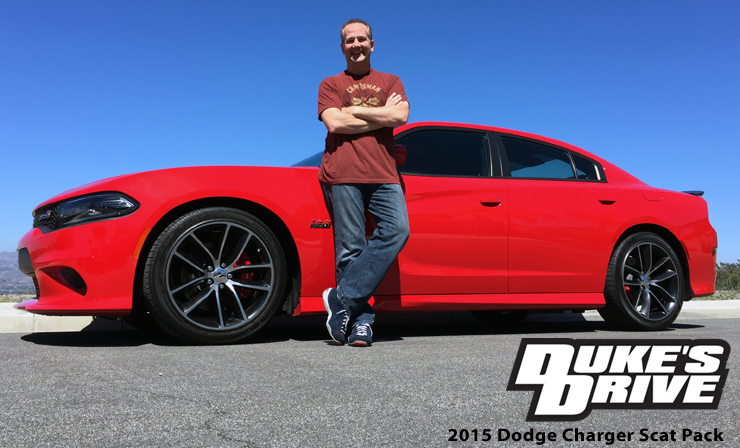 Duke's Drive: 2015 Dodge Charger R/T Scat Pack
Description
For those somewhat unfamiliar with the Charger lineup, the R/T Scat Pack might be a little difficult to decode. That's mostly because it is, for the most part, a cheaper but just as potent Charger SRT.
Chris Duke
---